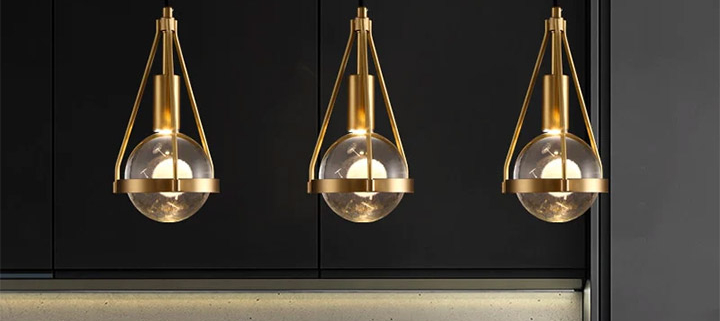 Since you have to consider lighting when designing or updating your restaurant, why not use the opportunity to make a statement and make your light fixtures work harder for you? Instead of simply picking your light pieces based on their shape, color or your personal preferences, think outside the box and bring in fixtures that make your space memorable and unique. Here are just a few ideas on how to use lighting in restaurant design to create striking views or control the ambience of the place.
Photo above: The Sol Bulb Pendant Light from DECORATIQ
Use unique pieces
The simplest method is to go for pieces with a unique character that help you reshape the lines of your ceiling. It's even better if their design relate to your restaurant theme. A sea-themed restaurant, for instance, may benefit from a few jellyfish-shaped statement pieces. An icecream parlor could let a few pendants that resemble icicles emphasize the coolness of the treats. An urban restaurant inspired by the city skyline can employ a collection of house-shaped pendants to create a fascinating floating "city" of lights.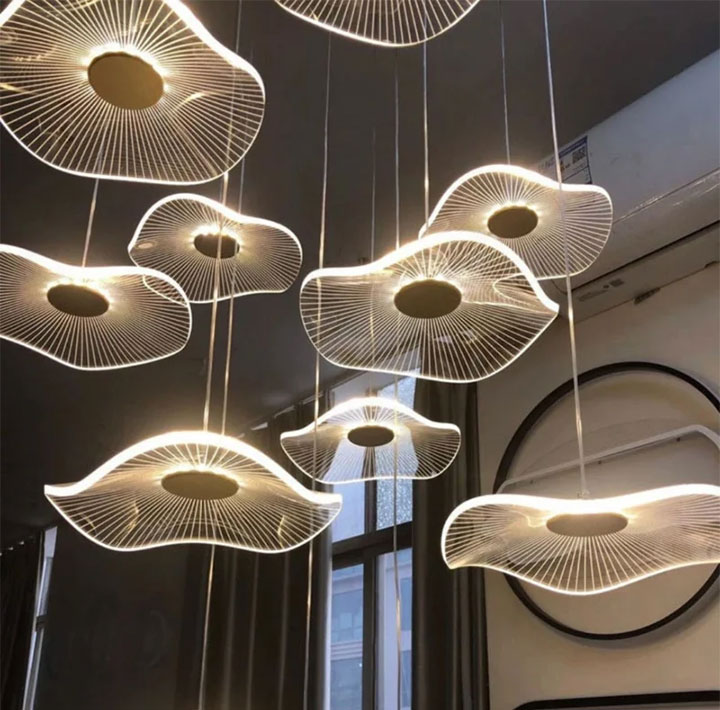 Tiered Chandelier by Mercer41 via Wayfair
Bring in atypical materials
It's not only about the design of your fixtures, however. It's also about the materials they use, or the way they can turn an ordinary object into a surprising piece. The reclaimed trend of the last decades has opend the doors for designers to look around and incorporate some unusual pieces into their spaces. Old bottles, cups, teapots, hats, even books are excellent candidates for charming unconventional lampdshades.
Book Lamp by ElephantCollection on Etsy
Install sconces
Lighting should not be relegated only to the ceiling. There is something intimate and warm about wall fixtures that bring a softer, more approachable light closer to the customers. The beauty of a sconce is more visible, so such a piece can do double duty as wall decor. Most of all, sconces can provide filtered light that helps creating just the right ambience – which makes them ideal options for lighting in restaurant design.
Sphere Wall Mounted Lamp from Clearhalo
Emphasize wall patterns
Sconces are not the only way you can bring the beauty of your walls to the forefront. An ingenious way to create beautiful vertical landscapes is using 3D wall tiles and add directional lighting to emphasize the angles and niches of their surface. You can also create this beautiful mix of solid texture and soft light by installing tiles that come with embedded lights.
Colorado Wall Tiles from Next Level Design Studio
Create patterns of light and shades
You don't need sophisticated wall treatments in order to turn your walls into the focal point of your space. Instead, use your light fixtures to create patterns of light and shades. Taking this route makes your interior even more interesting: The ethereal character of light brings in the mystery and a sense of delicate and ephemeral beauty.
Lasercut Wood Wall Lamp by Het Lichtlab on Etsy
Go for elaborate light configurations
If there is power in numbers, the concept also applies to light fixtures. Spaced out, light pendants do not have the same effect as when brought together in rich configurations of light. Some chandeliers create this look in one piece. Others you can place together according to what your space allows. The mere number of light pendants arranged in such artistic compositions brings the eye upwards, fills the space and can make your customers ignore a less than perfect ceiling.
Butterfly Chandelier from Aty Home Decor
If you are thinking to open a new business or are in the process of rebranding and remodeling your existing business, contact us to get a free consultation from Mindful Design Consulting. Click HERE to price your project design.
Also, take a look at the "Branding By Interior" e-book, the only book written on this subject at this time. It brings insight into how you can turn your business into a market-dominating competitor by using human cognitive responses.
https://mindfuldesignconsulting.com/wp-content/uploads/2022/08/Sphere-Light-Configuration-Restaurant-Design.jpg
580
720
M T
https://mindfuldesignconsulting.com/wp-content/uploads/2015/07/mindful-design-consulting-logo.png
M T
2022-08-17 21:47:30
2022-08-17 21:58:34
How to Make the Most of Lighting in Restaurant Design