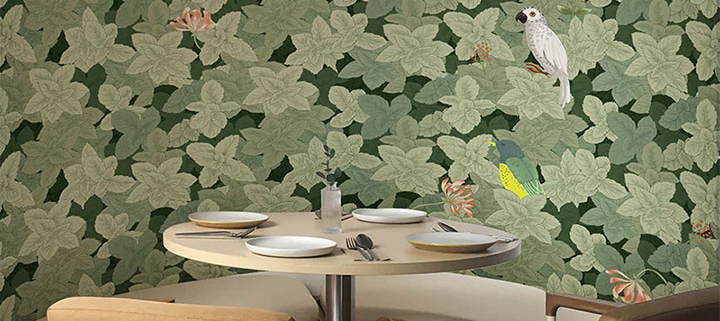 If you want to make the most of your space when designing your restaurant interior, drop the paint and take a minute to think outside the box. While painting your walls is a cheap way to fill them with color, it's sometimes also a lost opportunity. Surrounding your customers from all sides, walls are the best chance you have to make a striking impact. Consider these alternatives that make walls pop and never pass unnoticed.
Photo above: Wallpaper Mural from Ever Wallpaper
Wallpaper
Don't make the mistake of underestimating the visual power of a carefully selected wallpaper. Far from the busy floral patterns of yesteryear, wallpapers have come a long way in both their looks and the ease of installation.
Their greatest advantage, however, is that they are one of the surest ways to create a remarkable impact that fits within a more modest budget. In fact, a wallpaper with an oversized pattern or a strong presence may eliminate the need for many of your other accent pieces.
Take this example from Ever Wallpaper, with its large strokes of color and artsy design. It fills the room with both color and pattern, it offers the eye a fascinating landscape worth contemplating, and minimizes the need for much furniture or accent pieces to visually fill the space.
Wallpaper Mural from Ever Wallpaper
3D Panels
If your space misses architectural interest, you can create your own by using 3D wall panels. A rectangular space with not much going for it can turn into a fantastic display of beauty with 3D panels that help you create a true wall landscape.
In addition, their sculptural construction works in conjunction with your lighting, and is a proven method to create a cozy space with an intimate ambiance. 3D wall panels are also an excellent choice when you need some kind of pattern to make walls pop, but you don't want to overwhelm your space with any additional color.
Cast Gypsum and Fiberglass Panels from Interlam
Wood Wall Treatments
There is nothing better than wood when you want to create a warm atmosphere that appeals to the instinctive human need for safety and comfort. While wood planks of all dimensions or finishes are often used as part of rustic or traditional decors, your options are much more varied than the typical rectangular planks.
Hexagonal wood tiles, for instance, combine the modern look of a geometric pattern with wood's unmatchable cozy vibe. When used against a lighter background, the contrast brings out even more the deep color of the wood.
Wood Wall Panels by Hexagonica on Etsy
Wall Tiles
Wall tiles are a classic option for restaurants, even beyond kitchens. Easy to maintain, they give off a sense of cleanliness while making light bounce and opening up the space.
No need to settle on monochrome tile, however. Patterned alternatives give you the best of both worlds – the versatility and brightness of tile and the high-impact design that make walls pop.
Extra Brut Wall Tile from Nemo Tile + Stone Soiree Collection
Metal Wall Treatments
While not a common wall treatment in most restaurant designs, metal has a decorative potential that you should not pass up. Metal wall tiles can give your space a richness reminiscent of the glamor of mirrors. However, while metal is highly reflective, which can make it look luxurious or almost opulent, it doesn't have the intrusive feel of mirrored surfaces that capture and multiply every surrounding detail.
Metal Versailles Mosaic Wall Tile by Bloom Stone from Wayfair
Chain Links
If you really want to create a one-of-a kind restaurant interior, go bold with chain links. A curtain of falling metal chains is an intriguing decorative element and one that will definitely help you stand out.
A great advantage of using this option is that you can easily "reshape" your walls by simply positioning the chain links in the configuration you want. They can help you hide imperfections in your walls and are great choice for restaurants or bars that are searching for either a rich, extravagant look or an unconventional or eccentric vibe.
Metal Fabric Decorative Interior Wall by Kriskadecor. Photo via archdaily.com
Translucent Resin Panels
Translucent panels make light and color your biggest assets. The combination of a translucent surface and soft lighting makes walls pop, espacially when it's done on a large scale. Chroma resin panels from 3form are a smart choice. They come in 250 colors, offer you excellent light transmission and allow you to choose different effects, so that the final look becomes the very definition of your space.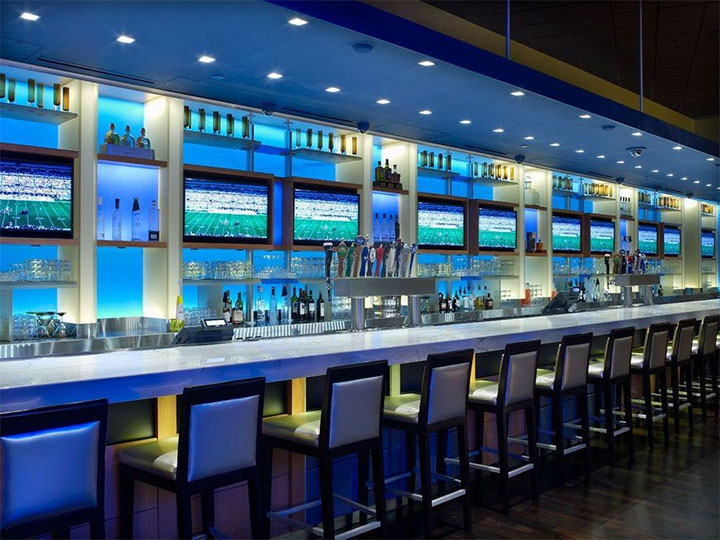 Chroma Resin Panels in Wheelhouse Bar & Grill, Pittsburgh, PA, by Floss Barber Inc. Photo via 3form
If you are thinking to open a new business or are in the process of rebranding and remodeling your existing business, contact us to get a free consultation from Mindful Design Consulting. Click HERE to price your project design.
Also, take a look at the "Branding By Interior" e-book, the only book written on this subject at this time. It brings insight into how you can turn your business into a market-dominating competitor by using human cognitive responses.
https://mindfuldesignconsulting.com/wp-content/uploads/2022/08/Nature-inspired-Wallpaper-Restaurant-Decor.jpg
1183
720
M T
https://mindfuldesignconsulting.com/wp-content/uploads/2015/07/mindful-design-consulting-logo.png
M T
2022-08-10 22:04:40
2022-12-27 08:37:26
How to Make Walls Pop – Cool Ideas for Your Restaurant Design