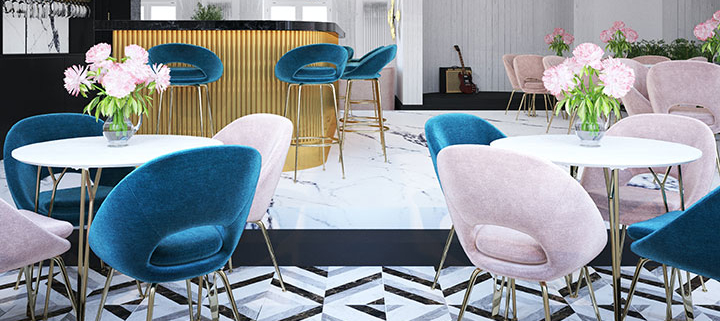 When building or updating your business, choosing your flooring is one of the less glamorous, but most important parts of your design. It's true that the look of your floors will have a great impact on the overall look of your restaurant or store. But this is not all: The quality of your floors will have a heavy say on how long they will look as intended, how much maintenance they will need, and how soon (and wide) your wallet will need to open for an update. Choosing the right flooring for retail businesses means that you need to go beyond what looks good and think of what is appropriate for your particular situation.
What to consider when choosing your flooring
Selection of floor finishes in retail depends on many factors, such as:
the type of the existing flooring and how difficult it is to remove it;

your construction budget;

the amount of traffic in the store;

whether food is being served or not;

the style of the store you are building or updating;

how long you plan to keep your store or restaurant in this particular location.
Of course, it's always cheaper to keep the existing floor and try to work around it, but most of the time the old flooring has been damaged, faded or scratched beyond the point of decent repair. In this case, you should weigh your options and get familiar with the most common flooring finishes for retail stores and food-related businesses.
Porcelain Tile
With their endless opportunities to bring in color and patterns, porcelain tiles are the standard for beautiful commercial flooring done within a budget. Made of fine-grain clay mixtures that give them an elegant smooth surface, their have a high density that makes them less prone to scrathes and the everyday wear and tear. Their great durability means that they are an excellent option for high-traffic areas. They are even suitable for outdoor spaces or humid locations, due to their waterproof quality and ease of maintenance.
Porcelain tiles can help spruce up your design with stunning patern variations, even copying the look of other materials, such as wood and marble. Since the color is present all the way through the tiles, there is no variation in color if they accidentaly chip. If you choose this option, application is easy and straightforward, but keep in mind that removing them can be a challenge.
Vinyl
Vinyl is an affordable solution for the store and restaurant owner with a strict budget. Easy to apply, even on top of existing floor tile, vinyl tiles make the process even easier. They are waterproof and moisture-resistant, which means they are easy to maintain and suitable for spill-prone areas.
Since its beginning seven decades ago, vinyl flooring has come a long way: Today, its durability is impressive. However, vinyl floors remain more prone to scratches than other finishes, and tend to lose their shine in time, especially in high-traffic areas.
The variation in colors and patterns is astounding: Vinyl floors can even convincingly mimic the look of other finishes, such as wood, tile and stone. This makes them a great option for those whose expensive tastes and small budgets are in conflict.
Concrete
If you are dreaming of an interior with industrial, urban or even rustic vibe, concrete floors may be just the solution for you. Their raw look can give your interior a feeling of authenticity and make it stand out among stores or restaurants with more formal finishes. In addition, they are resistant to fire, resistant to bacteria and are an allergen-free flooring solution for interiors designed with health in mind.
Never underestimate the beauty of concrete, however. While a polished surface may be everything you need, keep in mind that concrete flooring can lend itself to painting, staining, stamping or even etching. Artists had already tried, with great success, to make concrete their artistic medium in both residential and commercial spaces.
The heavy traffic in retail and restaurants requires, however, that you seal your concrete floors. This helps prevent scratching, chipping, staining or discoloring, and protects them from cracks caused by changes in temperature or water infiltration. If you are working with existing concrete floors, make sure you make every effort to make them presentable and fit your overall design. While they can look cool or charming when done right, there is also a risk they may make your space look old and run-down if not prepared properly.
Epoxy
When it comes to durability, epoxy flooring is right at the top of flooring options for retail businesses. It responds to a need for strong finishes that can withstand the daily wear and tear of commercial spaces, and whose non-slip quality prevents unfortunate and expensive accidents.
Photo via Heinold Home Improvement
Epoxy finishes are affordable and easy to apply, even though hard to change if needed. They seal the floors, hide their imperfections and make them more durable than concrete. They are long-lasting and perfect if you want less upkeep. Their extremly tough surface is a welcome attribute especially in restaurant kitchens, where dropping objects or spilling accidents can play a number on your floors and in the high-traffic areas of your space. In addition, different patterns and textures can add beauty to their functionality, far from the monotone look of other finishes.
Photo via Concrete Decor
If you are thinking to open a new business or are in the process of rebranding and remodeling your existing business, contact us to get a free consultation from Mindful Design Consulting. Click HERE to price your project design.
Also, take a look at the "Branding By Interior" e-book, the only book written on this subject at this time. It brings insight into how you can turn your business into a market-dominating competitor by using human cognitive responses.
https://mindfuldesignconsulting.com/wp-content/uploads/2023/01/Elegant-Restaurant-Design-Porcelain-Tile-Floor.jpg
410
720
M T
https://mindfuldesignconsulting.com/wp-content/uploads/2015/07/mindful-design-consulting-logo.png
M T
2023-01-26 21:42:15
2023-01-28 07:00:01
How to Select Flooring for Retail Businesses and Restaurants