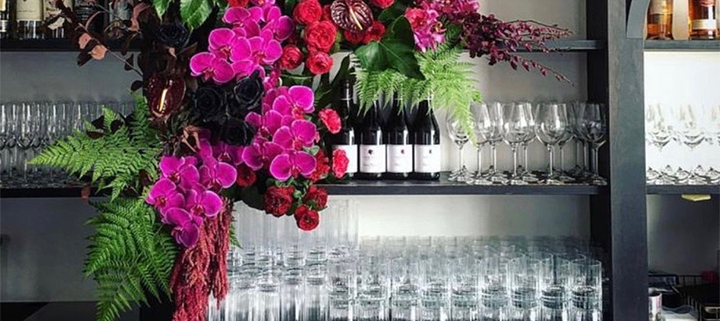 If you are a restaurant owner busy with operating a complex business, spending time, effort and money on procuring the best floral arrangements for your decor may seem like a waste. However, flowers may be a strong ally in your effort to attract and keep a clientele. Flower arrangements in restaurants can instantly change the look and ambiance of the place and are a relatively cheap way to add to the stress-reducing quality of your interior.
Photo above via Pinterest
We are strongly partial to fresh rather than artificial flower arrangements. Such a decorative addition – changed weekly and kept is top shape – is not only more elegant than anything a silk bouquet can offer, but ties in with the craving for natural beauty.
It works in your restaurant the way it works in your home: A well-chosen bouquet of flowers can make you happy for no reason, bring in the color you need, add the splash of green that calms the soul, and make a subtle decorative statement. In restaurant design, such a statement can actually define your interior. It can give it the traditional or modern look you have been trying to create, add a few focal points where they are missing, play the role of architectural elements where you need some height and substance, or emphasize the colors of your restaurant design. Used on a large scale, they can become the theme and one of the main attractions of your restaurant.
So how do you do it right, and what are some dos and don'ts of choosing and using flower arrangements in restaurants?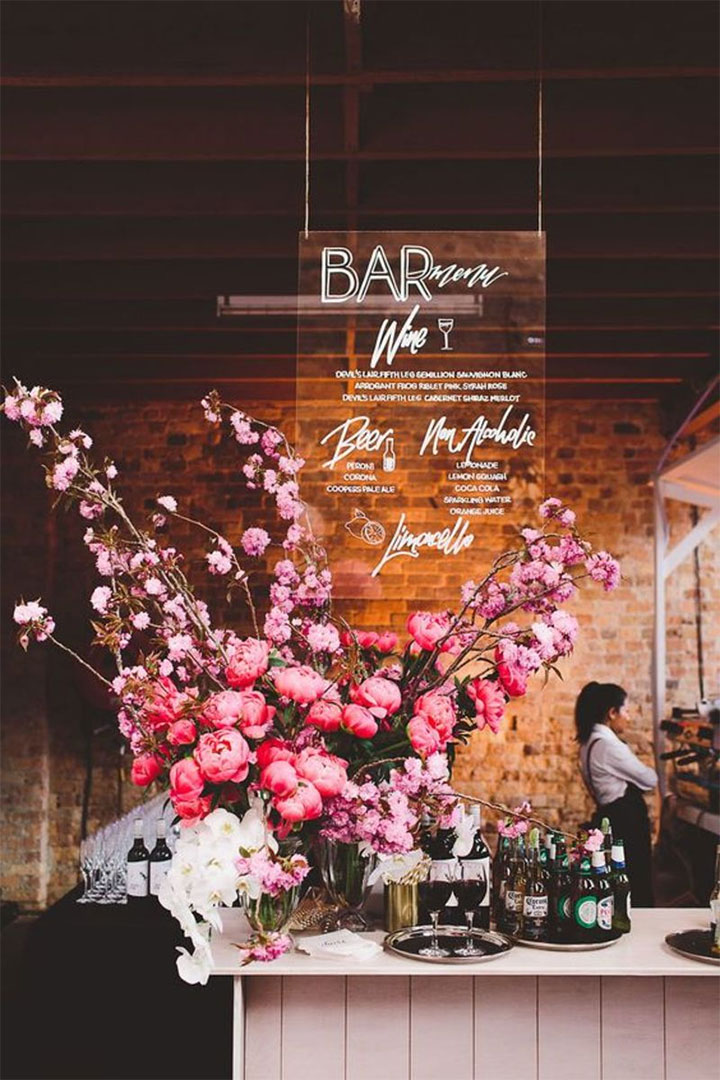 Photo: Hello May
Work with your theme and colors
When using flowers in your restaurant, make sure they add to your theme, feel and colors, rather than compete with them. A luxuriant bouquet of stately flowers may go well with a traditional interior, but it clashes with a modern minimalist look. On the other hand, a simple bouquet of long stems may go unnoticed in a restaurant with lavish decor.
Pay attention to the mood your floral arrangements create. Are they lush and heavy or airy and easy-going? Are you using them to create private nooks for intimate dining or just to emphasize the rustic look of a dining table? Consider the size of your bouquets, too. Do not overwhelm your space with flowers to the point when they block the traffic or become uncomfortable or confusing. However, keep in mind that a few large flowers can sometimes be more visually effective that complex floral arrangements.
Choose a chromatic scheme that agrees with the colors of your restaurant. Just because a bouquet is gorgeous does not mean that it may not clash with your decor.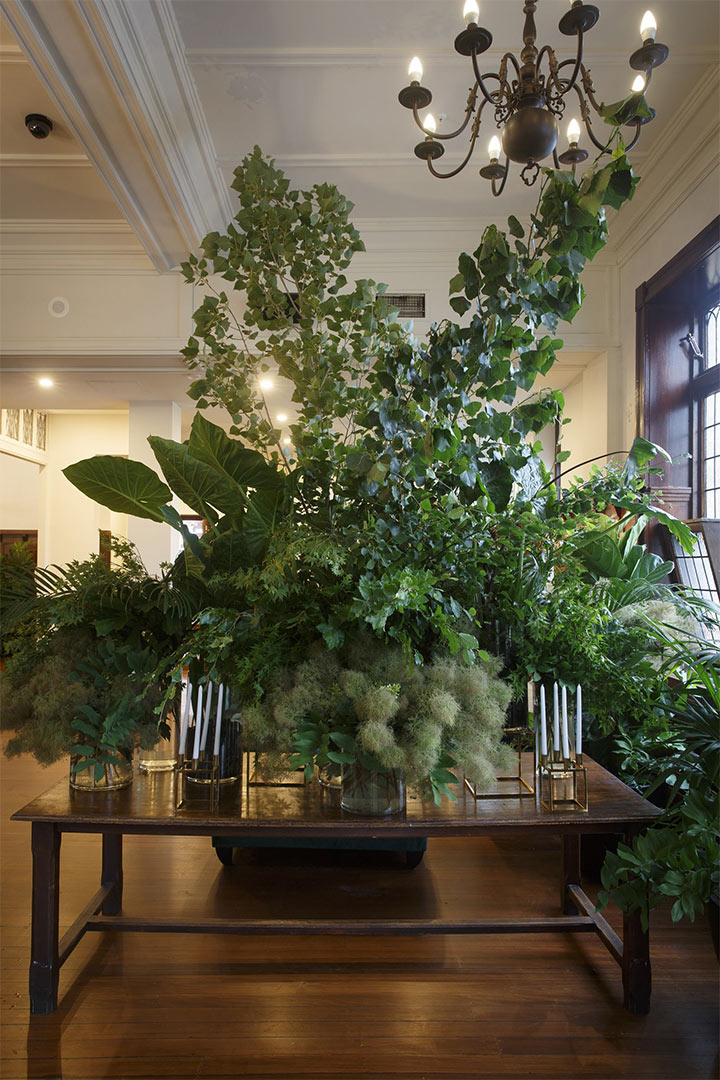 Photo: Cecilia Fox via Pinterest
Go seasonal
There is something about flowers that are in season that talks to the human soul and feeds the healthy connection with nature. People's lives follow the rhythms of nature and the craving for seasonal beauty is real.
Using your spring, summer or fall flower arrangements to celebrate each season will make a trip to your restaurant truly special for your customers, so change your flowers as seasons change. In addition, there is a practical reason for doing so: Flowers that are is season are cheaper due to larger availability, so spending money and staying within your decorating budget is easier.
Photo via Pinterest
Avoid color overload
To be sure, colors are to be celebrated, but don't try to celebrate them all at the same time. A bouquet from which no color is missing evokes the look of a farmers' market mix rather that that of an elegant floral composition. Instead of bringing together all the colors of the rainbow into one biuquet, keep your flower arrangements simple, and avoid visually overwhelming your customers. You can even go completely green for a look that can be luxuriant even if monochrome.
A smart idea is to create a working relationship with a local tree trimming company and use branches as a cheap or free base for your bouquets.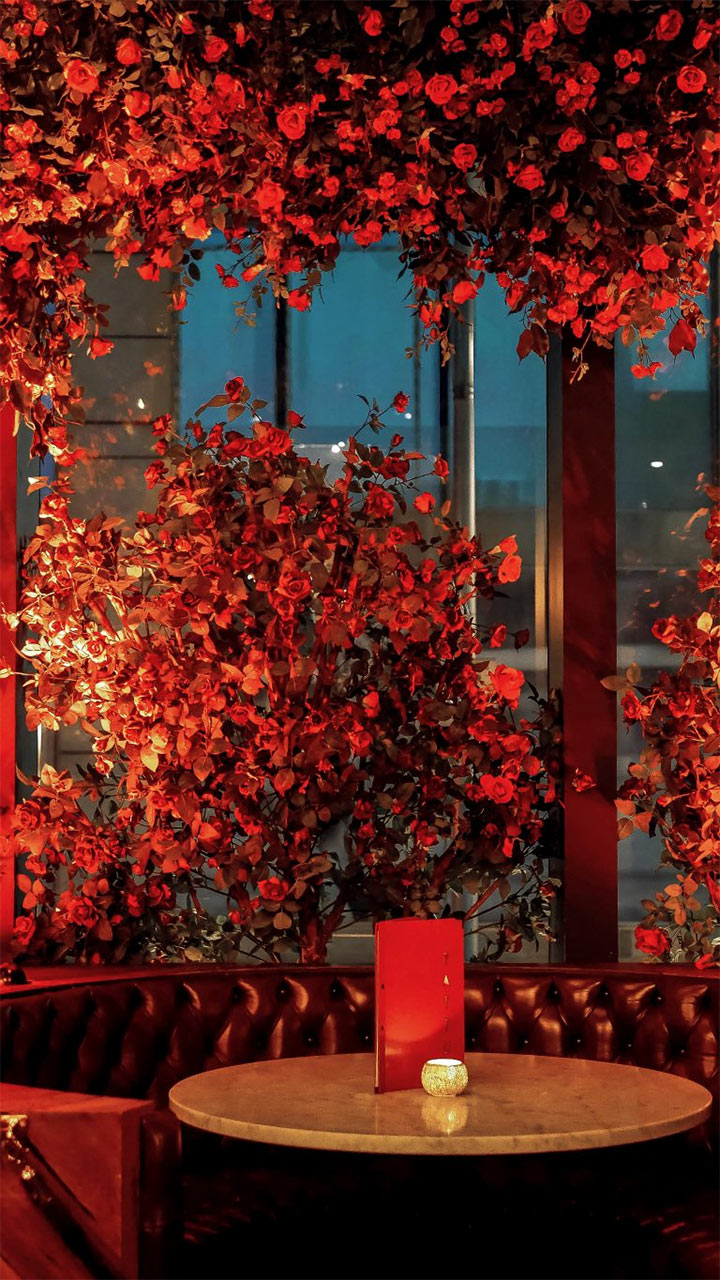 Photo: Jane Was Here
Choose odorless flowers
As beautiful as they are, your flower arrangements should not compete with your food. Choose flowers that have no smell, such as dahlias or hydrangeas, and avoid those that confuse your customers when mixing their frangrance with that of your food. Using non-fragrant flower arrangements in restaurants also keeps potential allergy-related problems at bay.
Photo via Pinterest
Don't skip maintenance
Start with good choices: The restaurant environment, with its constant cooking and heavy crowds, means that you should choose plants and flowers that can take heat. Opt for flowers that have a long vase life such as orchids or zinnias in order to add a few more days to your arangements. If your space allows it, transfer your bouquets into a refrigerated area at the end of the day, to prolong the life of your flowers. Change the water often and keep your arrangements away from sunny windows, to prevent them from wilting. Finally, remove the spent blooms so that your bouquets always look fresh.
Photo by Nicole Franzen Photography on flickr
If you are thinking to open a new business or are in the process of rebranding and remodeling your existing business, contact us to get a free consultation from Mindful Design Consulting. Click HERE to price your project design.
Also, take a look at "Branding By Interior" e-book, the only book written on this subject at this time. It brings insight on how you can turn your business into a market-dominating competitor by using human cognitive responses.
https://mindfuldesignconsulting.com/wp-content/uploads/2021/06/Flower-Arrangements-for-Restaurants.jpg
436
720
M T
https://mindfuldesignconsulting.com/wp-content/uploads/2015/07/mindful-design-consulting-logo.png
M T
2021-06-23 23:05:58
2021-07-27 09:04:46
How to Use Flower Arrangements in Restaurants