When designing your business space, do not overlook metal, one of the most underestimated yet impactful finishing materials. Metal panels give your interior a modern and sleek look and are easy to maintain in top shape to preserve the fresh look of your space. You'll find below a few ideas on how to use metal sheets in interior design, and a taste of how commercial spaces can look when treated to some fabulous Móz metal sheets.
Móz is a California-based designer and producer of metal sheets for walls, ceilings, columns and room dividers, and a constant innovator in interior design products. When these products come in contact with the creative vision of a gifted interior designer, the results go beyond functionality and turn into things of modern beauty.
Many designers choose aluminum sheets because they are lightweight, therefore easy to handle and install. While heavier, stainless steel is an excellent choice in restaurants or medical facilities, where sanitation is important. Regardless of your particular choice, metal sheets are often statement pieces that show an out-of-the-box approach to designing an interior. In addition, metals sheets can come in laser-cut, perforated or corrugated versions, which makes them higly customizable and a prime raw material for the creative designer.
To avoid overwhelming the room, the best use for decorative metal sheets is as an accent feature. This perforated divider, for instance, uses light and a graceful pattern to create a beautiful artistic effect.
Do not assume that using metal eliminates the possibility of bold colors and striking imagery in interior design. Metal sheets can be part of your artistic vision and a great medium for mesmerizing tones and images.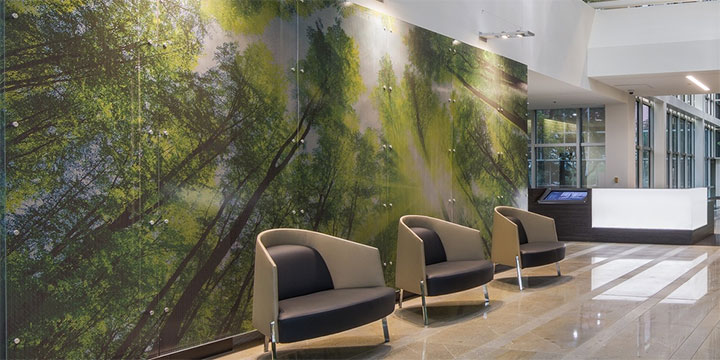 The classic look of metal, however, has a very distinct appeal. In this New York medical office, laser-cut panels with a cream metallic powder color finish create dividers between different areas, provide privacy without closing in the space, and gracefully embrace curved walls.
Constructed with aluminum sheets in a classic light champage finish, this weave wall plays the role of a massive piece of art. Its reflective qualities perfectly balance the surrounding matte textures and elevate the entire look of this lobby. Designed for a comfort care building in Sterling Heights, Michigan, the structure was assembled on the spot from a kit provided by Móz.
Due to its easy maintenance, metal is a great option for public high-traffic spaces. The welcome center of this highschool in Carmichael, California, uses aluminum sheets engraved with a fitting circuit pattern that pairs well with the GoldRush finish.
Perforated sheets can serve as easy-to-install dividers that transform a large room into several functional areas without blocking the light. This New York office makes generous use of powder-coated metal sheets to give employees a sense of privacy while keeping them in easy reach from each other. Four different colors – from purple to deep red – lend each room a different vibe and character.
Laser-cut geometric patterns can take a cold raw material and turn it into a dainty display of creativity. The Royal-pattern panels are used in different areas of this office building in Houston, bringing the space together. Set against a mostly neautral backround, their light chestnut tones mix with the rich deep blue of the upholstery to create a luxurious look and define the entire room.
The same pattern is used in the design of the reception desk, and shows the excellent versatility in layering metal sheets with other materials.
In the waiting-room looby area of this healthcare building, the cheerful Bubbles pattern changes the mood of the space while the panels give more definition to the chosen area.
Metal sheets can be used as a simply decorative addition to a room that starts with neutral elements. Even when the color palette remains restricted, the simple change in pattern and texture can bring the needed pizzazz to a bare corner.
The same office in Chicago uses metal sheets as a ceiling finish. While the patterns differ, the use of metal unifies the space. The laser-cut panels allow light to become a decorative element and hide an uninspiring exposed ceiling.
All photos via MózDesigns.com
If you are thinking to open a new business or are in the process of rebranding and remodeling your existing business, contact us to get a free consultation from Mindful Design Consulting. Click HERE to price your project design.
Also, take a look at "Branding By Interior" e-book, the only book written on this subject at this time. It brings insight on how you can turn your business into a market-dominating competitor by using human cognitive responses.
https://mindfuldesignconsulting.com/wp-content/uploads/2021/10/Perforated-Metal-Panels-Medical-Office-Design.jpg
405
720
M T
https://mindfuldesignconsulting.com/wp-content/uploads/2015/07/mindful-design-consulting-logo.png
M T
2021-10-07 11:19:21
2021-10-07 17:33:03
How to Use Metals Sheets in Interior Design