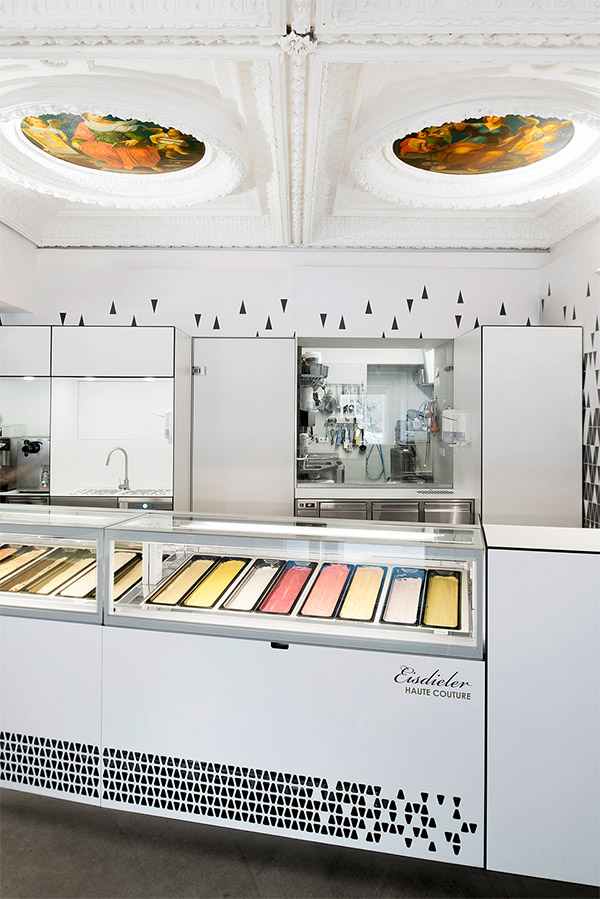 The sleek, minimalist design of Eisdieler Ice Cream Parlor in Linz, Austria makes it unlike any other. The black and white interior allows all attention to be focused on the array of brightly colored ice cream flavors that lay beneath a long white countertop. Architecture and design firm March Gut, created a futuristic space that is done completely in blacks and whites, apart from painted Erwin Rachbauer images done in color on the ceiling. The juxtaposition of traditional and modern styles is stunning!
The provocative paintings are round in shape and framed in crown molding that contrasts with the contemporary design scheme of the rest of the ice cream parlor. The store designer used a triangular motif on the walls that is reminiscent of the unique black sugar cones used at the shop.
This eclectic ice cream store design is sure to be memorable for anyone who visits, and the delicious ice cream flavors only add to its appeal. With mouthwatering flavors such as "Latte Machiatto" and "Bourbon Vanilla", Eisdieler Ice Cream Parlor is sure to please even the harshest critics. The simplicity of the menu board is also something to note: fashionable black chalkboard with white geometrical images and text. The bright rainbow of flavors laid out in a long line draws the eye and allows the ice cream to take center stage in the black and white space. Its modern take on a classic treat and emphasis on store branding makes Eisdieler Ice Cream Parlor a destination point for anyone who appreciates modern design as well as sugary treats.
To ask us questions about your commercial interior design project or to get a free consultation from Mindful Design Consulting, click HERE.
Also, take a look at "Branding By Interior" e-book, the only book written on this subject at this time. It brings insight on how you can turn your business into a market-dominating competitor by using human cognitive responses.
https://mindfuldesignconsulting.com/wp-content/uploads/2015/07/mindful-design-consulting-logo.png
0
0
Administrator
https://mindfuldesignconsulting.com/wp-content/uploads/2015/07/mindful-design-consulting-logo.png
Administrator
2014-05-05 10:49:03
2021-09-21 19:14:23
Ice Cream Parlor Branding in Linz, Austria – Commercial Interior Design News