In ongoing competition with all the new yogurt shops, ice-cream parlours are having hard time keeping up their appearances. Possi ice-cream makers, family run business on the market for the past 40 years, has figured out a way to stand out from the crowd and to make ice-cream as desirable as yogurt. Possi caters fresh and delicious ice-creams which is also organic.
Today I would like to point out the incredibly enticing interior of this ice-cream shop, which is a great joy for the eyes and immediately brings back memories from childhood.
"The idea behind the new Possi ice-cream parlour was to rethink the 50's and 60's spirit, shapes and language typical of "Riviera" holiday: pastel colours, geometrical patterns, natural and plastic materials, navy moods, etc. Antonio Gardoni's (designer) idea was to refresh a past world without being literal but playing more with a mood that resembles past childhood's memories in a contemporary updated way. References related to the product itself have been used as well like the wood stick to hold ice-lollies becoming the wood planks covering the walls or the ice-cream wafer geometries turning them into three-dimensional patterns."
Antonio Gardoni's studio was hired to completely rethink the entire existing shop's space,  functionality, identity and image.  The designer has created an inspiring pallet of colors combining beige, maroon blue, yellow and navy blues colors. Read HERE on how different colors affect our subconscious.
The backs of the benches are simple pillows attached to the back wood panels on walls.  The flooring is made of two colors wood.  And I absolutely love the the ceiling pattern!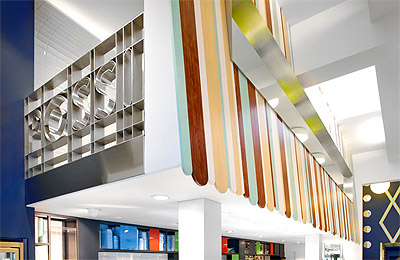 This ice cream shop's space has a very tall ceiling (23 feet tall.)The ceiling with natural skylight gives the main room an open clean feeling. On the right side wall is a long wood bench (49 feet long.)  with different size wood strips and colored cushions. The classic bar tables and chairs were redesigned with endless color combinations using plastic wicker to match the adjustable lights fixed on the wall.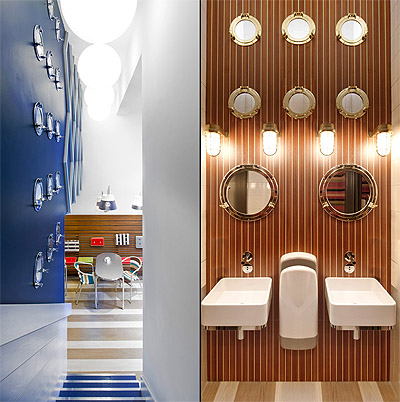 To learn more about this project and to see more images click HERE.
To request your project's personalized design quote from Mindful Design Consulting click HERE.
And HERE is how to get an excellent quality design for your new business location.
https://mindfuldesignconsulting.com/wp-content/uploads/2015/07/mindful-design-consulting-logo.png
0
0
Administrator
https://mindfuldesignconsulting.com/wp-content/uploads/2015/07/mindful-design-consulting-logo.png
Administrator
2011-10-31 17:12:46
2011-10-31 17:34:05
Italian Family Ice-Cream Shop Reinvented – Commercial Interior Design News