Whether in a residential or a commercial interior, the beauty of your stairs can elevate the look of your space as no other element of design can. Imposing and statuesque when done right, their design should never be approached as an afterthought. This is why we put together a short collection of beautiful stair railing designs that could serve as inspiration for your next project. This might convince you to allow for creativity even when it comes to something as primarily functional as stair railings.
Photo above: Wrought iron guardrail by Steel Impression Rails on Etsy
Glass Stair Railings
Glass is a much underestimated material for stair railings, often overshadowed by more traditional options. However, glass comes with remarkable strength and versatility. When expertly designed by a professional, it can go beyond its decorative role and actually contribute to the structural support of your staircase. Glass panels can be integrated seamlessly into the overall framework, providing both aesthetic elegance and robust reinforcement.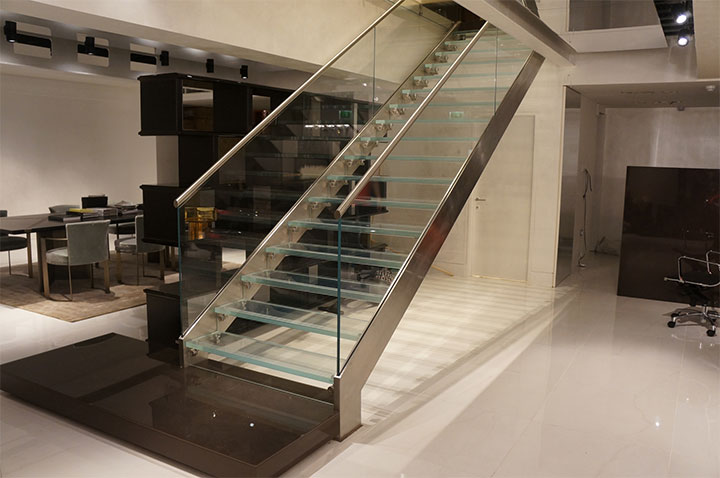 Glass stairs from Stairfactory
If having a handrail on both sides of your stairs is not a concern, you can simply add a glass guardrail on the open side making your stairs look weightless.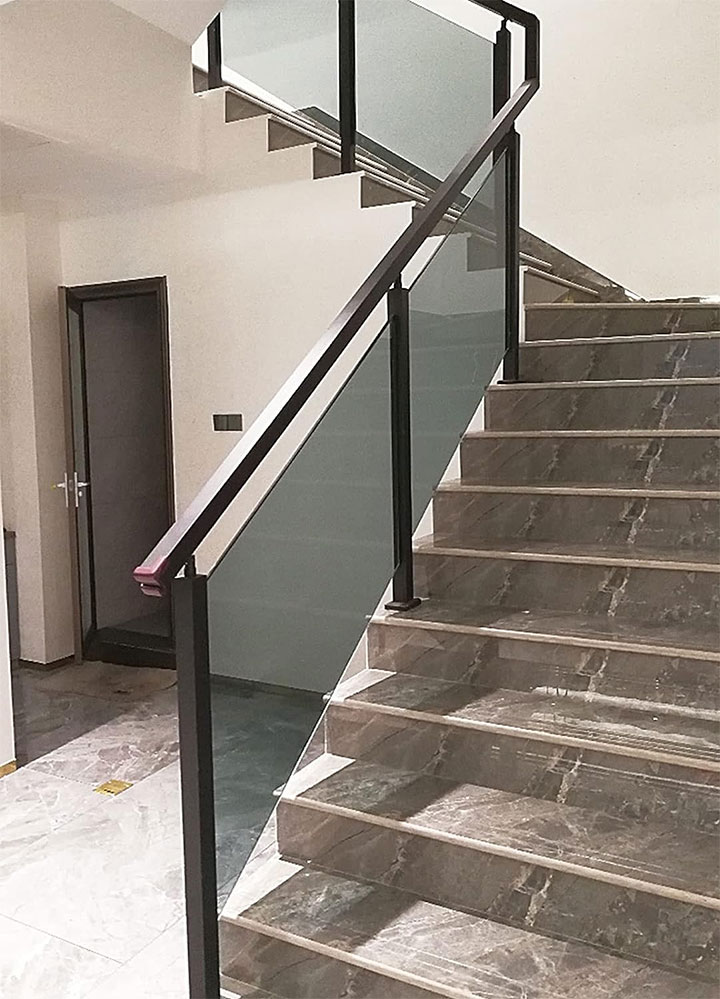 ZAQI glass stair railings with rubber clamps and stainless steel balusters
Metal Stair Railing Designs
If you prefer a more traditional style and have a penchant for metal elements, stair railings can offer infinite opportunities for embellishments. Incorporating metal elements into your glass stair railings not only underscores the sturdiness and reliability of the structure but also adds a touch of old-world charm. The introduction of ornate scrollwork, floral motifs, or even customized patterns into the metalwork fosters a sense of individuality and character, a hallmark of traditional aesthetics.
Wrought iron railing by Cam Harris Art on Etsy
Intricately forged iron balusters, reminiscent of artisan craftsmanship from yesteryears, or the choice of patina finishes or antique coatings on the metal components can enhance the vintage appeal of your space, seamlessly integrating the railings into your nostalgic design narrative.
By contrast, polished metal brings in a sense of cleanliness and sturdiness that visitors appreciate, while minimalistic constructions can awe with their unique stair railing designs.
Combining Materials
If you love the look and feel of wood in interior design, try blending traditional wood banisters with the charming elegance of iron balusters. This mix of materials not only adds depth and contrast to your space, but also introduces a captivating interplay between rustic warmth and industrial chic. Whether you opt for ornate scrollwork or minimalistic geometric patterns, the smooth natural grains of the wooden banisters harmonize beautifully with the intricate detailing and robust character of iron balusters.
Wrought iron stair spindle railing by Middle Farm Crafts UK on Etsy
To achieve a contemporary style, mixing a few slick materials will do the trick. Whether it's the juxtaposition of polished metal with minimalist glass or the strategic interplay of textures between wood, acrylic and steel, adding accents such as industrial-inspired or minimalist hardware can serve as your crowning touch, making your contemporary stairs even more sophisticated.
Iron baluster for stair railings by Snyder Stair and Rail on Etsy
If you are thinking to open a new business or are in the process of rebranding and remodeling your existing business, contact us to get a free consultation from Mindful Design Consulting. Click HERE to price your project design.
Also, take a look at the "Branding By Interior" e-book, the only book written on this subject at this time. It brings insight into how you can turn your business into a market-dominating competitor by using human cognitive responses.
https://mindfuldesignconsulting.com/wp-content/uploads/2011/09/Geometric-Stair-Railing-Design.jpg
759
720
Administrator
https://mindfuldesignconsulting.com/wp-content/uploads/2015/07/mindful-design-consulting-logo.png
Administrator
2011-09-06 00:15:48
2023-08-07 11:42:49
Inspiring Stair Railing Designs