In today's business environment, with its abundance of offers and alternatives, commercial success does not depend only on great products, excellent customers service and hard work following a vision. The brand – or the way a business presents itself to the world – often makes the difference in the consumers' decision to buy (or not) its products or services. Interior branding or "branding by interior" is a concept that helps a business manipulate the way it is perceived by its customers through the design of its interior space. Today, using interior design to create an emotional response in their clients or employees is a decisive part of a winning business strategy plan.
Big companies are doing it. Apple, Google, Chanel and Luis Vuitton are all game for a good brand. Their image includes the way they design their environment and the background against which they play the commerce game. Whether swimming with the big fish or small, all businesses need to evaluate or reevaluate their branding strategy and clearly communicate their identity through their interior.
In her "Branding by Interior" e-book, Katerina Kohlwes from Mindful Design Consulting warns her readers that branding plays an essential part in the success of a business – image, profits, client loyalty:
Products and services are not enough to help you stand apart from competition. They may help you retain those customers you already have but they do little to bring in new business. Having an outdated interior may even turn your old clients off if your competitor has something more exciting to offer.
So how is branding by interior achieved? Katerina thinks that a design overhaul is not always necessary, and that knowledge, creativity and experience may make a budget-friendly revamp of an old space possible. However, many businesses are waiting too long, in which case starting all over is the safest bet.
Urban Farm Restaurant interior design and branding by Mindful Design Consulting
Here are a few things that a good designer would consider when branding or rebranding an interior space, and a few pieces of advice from Katerina Kohlwes:
Style and theme
The style and theme of an interior design should address your target audience, or the largest demographic group among your customers. The latter is responsible for the most sales you make, so give it something to enjoy.
Colors
Consider the psychological effect of color (for example, cool versus bright colors), and do not choose a chromatic palette that contradicts the main function of your space.
Materials
You need a visual balance that takes into consideration the human emotional response to different materials (e.g., plastic versus natural materials, metal versus wood etc.) A smart mix of contrasting materials is the best option.
Sounds
Music can weaken consumers' self-control and increase sales. Noise can reduce the efficiency of your office workers by one third. Enough said.
Lighting
If there is one quick technique that makes the most dramatic difference in the way a commercial space is perceived is updating the lighting.
Layout and display design
Target and IKEA are only two examples of brands that use the layout of their stores to make sure that, by the end of their visit, their customers leave with a full cart. Their stores' layout is highly recognizable and tied in with their brand image.
Modern trends
A good way to put it is "adopt the trend, but adapt it." DO listen to the trends your target audience find important ("eco-friendly" interiors are a good example). DO NOT go trendy for the sake of being trendy (e.g., customers will soon get tired of all-concrete interiors; better include concrete in your design, but combine it with long-term design solutions).
Vine Ripe Restaurant interior design and branding by Mindful Design Consulting
Rumeur Lingerie store interior design and branding by Mindful Design Consulting
The best proof that rebranding is the only way to remain relevant is the fact that successful companies are doing it periodically. Recently, for instance, McDonalds reinvented itself by adding healthy options to its menu, addressing the needs of the coffee-loving crowd and giving its interior a new sophisticated look in select branches around the world.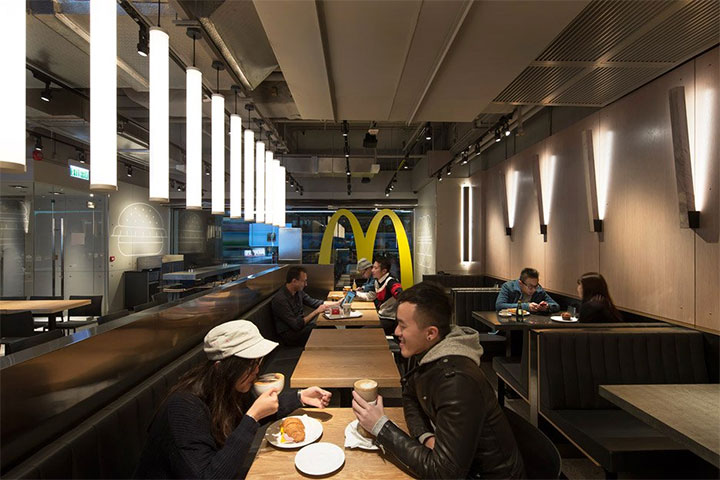 McDonald's Restaurant Interior. Designer: Landini Associates. Photo: Ross Honeysett via dezeen.com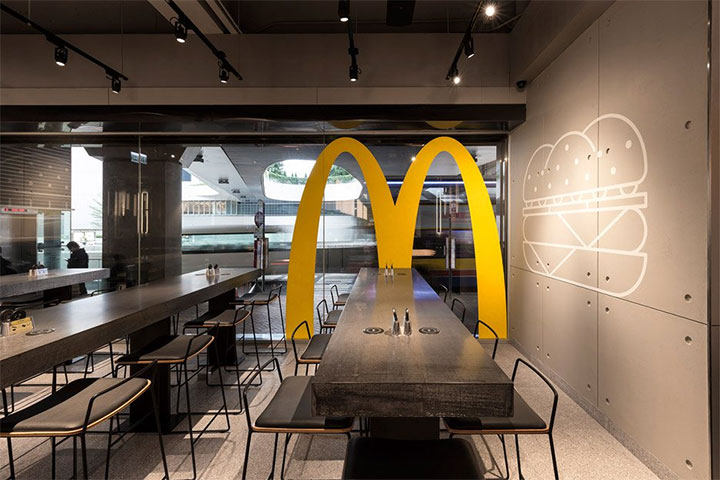 McDonald's Restaurant Interior. Designer: Landini Associates. Photo: Ross Honeysett via dezeen.com
Other big players are closely following. In January 2019, Dunkin' Donuts kept the donuts, but got rid of the word, becoming simply Dunkin'. Remodeling some of its stores was part of the rebranding process.
Dunkin' Donuts rebranded kiosk at the Ariport design, photo from: airportxnews.com
Dunkin' Donuts rebranded store, source unknown.
Mindful Design Consulting is the engine behind hundreds of such rebranding projects. Here is, for instance, the dramatic transformation of a pet store from an oppressive, tired and shabby interior into a memorable and exciting interior, bursting with color and optimally functional. Logo, business cards and graphics were all part of a total package and a branding overhaul.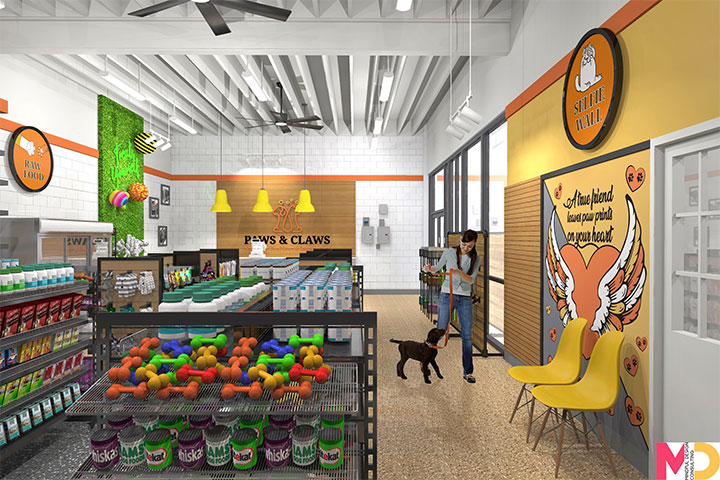 Paws & Claws pet store interior rebranding by Mindful Design Consulting
If you are thinking to open up a new business or in a process of rebranding and remodeling your existing business, contact us to get a free consultation from Mindful Design Consulting. Click HERE to price your project design.

Also, take a look at "Branding By Interior" e-book, the only book written on this subject at this time. It brings insight on how you can turn your business into a market-dominating competitor by using human cognitive responses.
https://mindfuldesignconsulting.com/wp-content/uploads/2020/06/Restaurant-Interior-Branding-Design.jpg
800
1200
M T
https://mindfuldesignconsulting.com/wp-content/uploads/2015/07/mindful-design-consulting-logo.png
M T
2020-06-10 21:41:06
2020-06-15 13:29:14
What is Interior Branding in Restaurants and Retail Industry?