Via dezeen.com
Designer: Patricia Urquiola
All photos: gan-rugs.com
While achieving a cohesive interior that brings together color, contrast and balance is not a simple task, designer Patricia Urquiola just made it a little easier. Her collection of hand-stitched rugs meets the market need for unique pieces whose aesthetics steps away from the typical look of traditional lines. But what makes her rugs even more interesting is that they serve as upholstery for furniture and accent pieces, while the modular concept behind the collection allows for an impressive number of rug, furniture and accessory combinations.

Created for GAN, which is GANDIABLASCO's indoor brand, the BANDAS collection includes long and narrow wool rugs that are heavily patterned and in which the contrast comes from the vivid colors and the grid-like oversized stitching.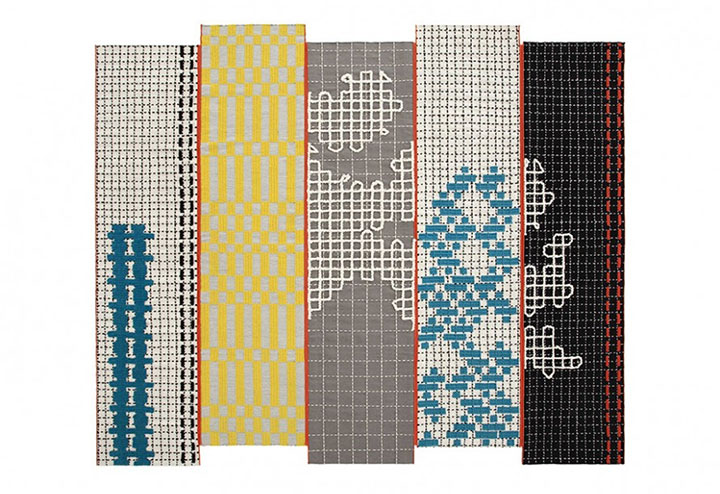 Thick-bodied patterns add more texture to the rugs. The background colors range from neutral such as gray and black to pastel tones of pink and cream, yet the contrast is always there, thanks to the vibrant colors of the stitching details.

The rugs are used to cover modular furniture pieces of the same width as the floor coverings. While the sides of the seating pieces are designed in a neutral gray, visual interest is achieved by the colorful patterns of the rugs and the orange border. The seating options include a chair, a chaise longue and an ottoman designed in two sizes – big and small.

The same fabric is used to cover throw pillows. The stitching is manually done in India, which adds a level of singularity and attention to detail that benefits the final look.

The BANDAS collection of interchangeable pieces allows for creative mixing and matching. The combinations easily adapt to any space and create plenty of opportunities for changing the interior into something new – periodically or on a whim.

Please take a look at our Before and After images of selected projects from 2015 HERE.
If you are thinking to open up a new business or in a process of rebranding and remodeling your existing business, contact us to get a free consultation from Mindful Design Consulting. Click HERE to price your project design.

Also, take a look at "Branding By Interior" e-book, the only book written on this subject at this time. It brings insight on how you can turn your business into a market-dominating competitor by using human cognitive responses.
https://mindfuldesignconsulting.com/wp-content/uploads/2016/05/Patterned-Rugs-Interior-Design-Materials.jpg
480
720
M T
https://mindfuldesignconsulting.com/wp-content/uploads/2015/07/mindful-design-consulting-logo.png
M T
2016-06-01 11:00:45
2016-06-01 12:25:35
Interior Design Materials with a Twist – Rugs Do Double Duty as Upholstery Material