Summer is nearly here and so is the appetite for colorful desserts to be enjoyed when out and about. This is always a good time to redesign your menu and create some special dessert items that will make your customers remember you. A special custom dessert can be just your personal touch to a wonderful cafe or restaurant experience, but can also make you famous if you market it well. Here are a few dessert trends and ingenious ideas that made their creators well-known in their communities and beyond. Read, get inspired, and remember: One awesome dessert you master well may be all you need to create a following.
Let's start with the outrageous and work our way down to (slightly) lighter desserts. We're kidding. No light desserts allowed on this page.
So, you take a huge glazed donut and cut it in half. You fill it with a substantial amount of icecream of your choice. You press it back together and watch dessert addicts lining up. B Sweet Dessert Bar in Los Angeles does just that. Of course, the company seems to have descended straight from Dessert Fantasyland (fried Oreos, anyone?), so checking them out would be an awesome experience for both your eyes and your taste buds.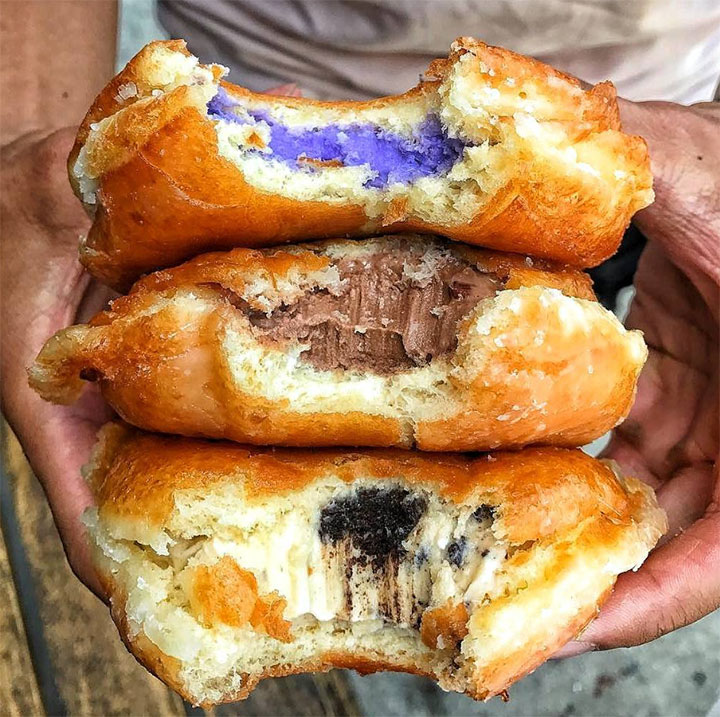 Halo Ice-cream-filled Donut from B Sweet Dessert Bar
If you want to feel better about yourself and have some dinner instead, try some tacos. More precisely, sweet rolled tacos. The eponymous store with locations in Garden Grove and Huntington Beach, California, has found a way to fill tacos with rolled ice-cream and finish them with sinful toppings according to the season and their monumental imagination. From Monster Ink to S'mores Galore, the very names of these creations are enough to fill you up.
And why would you let a cake pop sit on a stick when you can throw it on top of an icecream cone? This dessert invention from Tastemade (recipe included) offers a bit more surface to catch those sprinkles and layers of frosting, comes with a bubblegum on top, plus it looks as stylish as they come.
Bubblegum Pinata Cake Pops from Tastemade
Another twist on the cake pop idea is the Waffle Pop, courtesy of Sweet Combforts in California. Belgian waffles bathed in sprinkles, marshmallos, crushed cookies and other toppings of your choice are placed on a stick, farther from your fingers and closer to your mouth. No stickiness, no uninspiring butter and maple syrup, just out-of-this-world yumminess.
Waffle Pops from Sweet Combforts
When talking about hot dessert trends, you cannot ignore the unicorn-themed treats that are popping up everywhere. It's no wonder they are huge these days. Unicorns and fancy desserts go hand in hand. First, they both look good in pastel colors. Second, they come straight from our dreams. With a little imagination and an eye for color, every dessert can turn into a unicorn version – from fudge to trifles.
The Cotton Candy Unicorn Parfait from Homemade Hooplah brings together whipped cream, Oreos and Lucky Charms marshmallows – and leaves nothing to be desired.
Cotton Candy Unicorn Party Parfait from Homemade Hooplah
And who said hot chocolate needs to come in chocolate shades? Here is a perfectly acceptable unicorn hot chocolate version from Cookies & Cups, flaunting pastel colors and topped with sprinkles, marshmallows and whipped cream.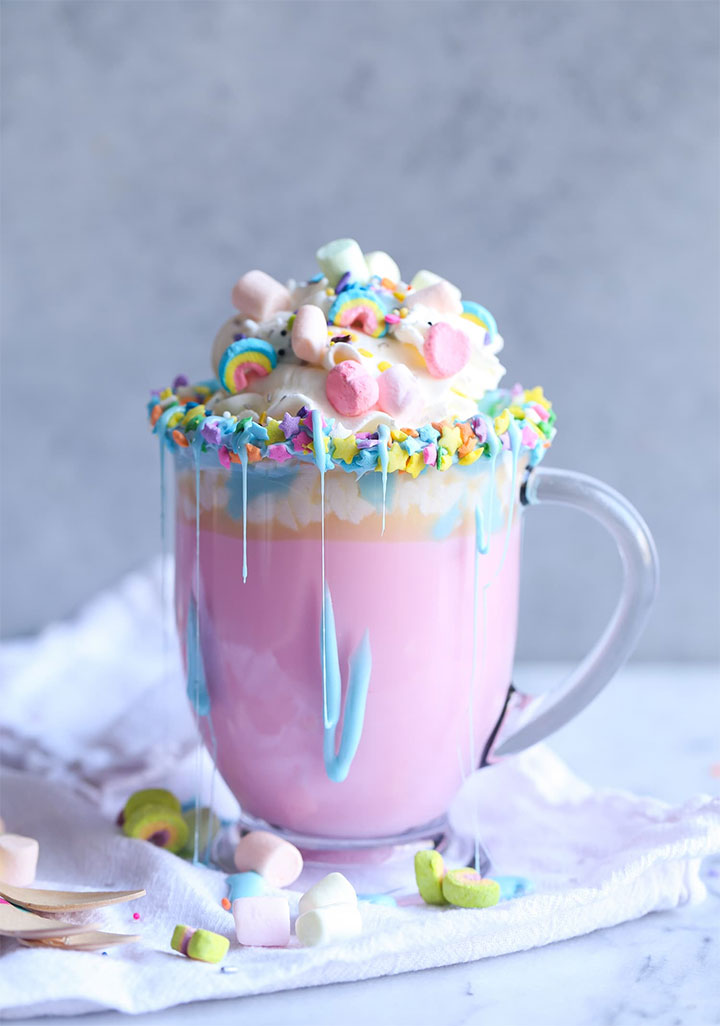 Unicorn Hot Chocolate from Cookies & Cups
When you prefer your unicorn dressed in traditional cake attire, the Unicorn Angel Cake from Sweetapolita is just the thing to deliver the magic.
Unicorn Angel Cake from Sweetapolita
If culinary inventions are not your thing, or if your imagination had dried up, have no fear. With a little bit of an artist flair you can simply give a new face to an old dessert. Here is an artistic reinvention of a layer cake by Moscow bakery Kalabasa. Beautifully decorated with chocolate brushstrokes, this is a perfect sample of one of the newest dessert trends to take over the world.
Brushstroke Cake from Kalabasa
To quench our thirst after all these desserts, let's go back to drinks. Not sure freakshakes (or mega-milkshakes that pack up everything from pastries and pretzels to popcorn and ice-cream cones), are what we need when thirsty, but they are definitely what we need whenever one is in easy reach. The new dessert trend in town is actually an international sensation, and many dessert bars seem to jump on the freakshake bandwagon.
Kooky Caramel Freakshake from taste.com.au
If you are thinking to open up a new business or in a process of rebranding and remodeling your existing business, contact us to get a free consultation from Mindful Design Consulting. Click HERE to price your project design.

Also, take a look at "Branding By Interior" e-book, the only book written on this subject at this time. It brings insight on how you can turn your business into a market-dominating competitor by using human cognitive responses.
https://mindfuldesignconsulting.com/wp-content/uploads/2020/06/Latest-Dessert-Trends-Summer-2020.jpg
523
720
M T
https://mindfuldesignconsulting.com/wp-content/uploads/2015/07/mindful-design-consulting-logo.png
M T
2020-06-04 09:18:53
2020-06-04 09:29:18
Latest Dessert Trends to Spark Your Imagination