Using one-time offers, discounts and coupons may not be enough to convince your customers to come back. Even if they do, the technique is short-lived, unreliable and insufficient. What you want as a business owner is to build a stronger and more dependable connection with your patrons and turn their visits into a thing of habit. The best way to do that is through loyalty programs.
Many businesses have implemented loyalty programs and have seen them work. In fact, these are a staple in the marketing strategy of the big players, and here are a few reasons why.
Keeping current customers
It is more difficult to attract new customers than to keep old ones. In fact, it is five times costlier, which is motivation enough to treat your current customers with special attention. In addition, return customers spend 67% more than new ones. Familiarity and the feeling of belonging are powerful incentives in both their shopping habits and their potential to become brand advocates.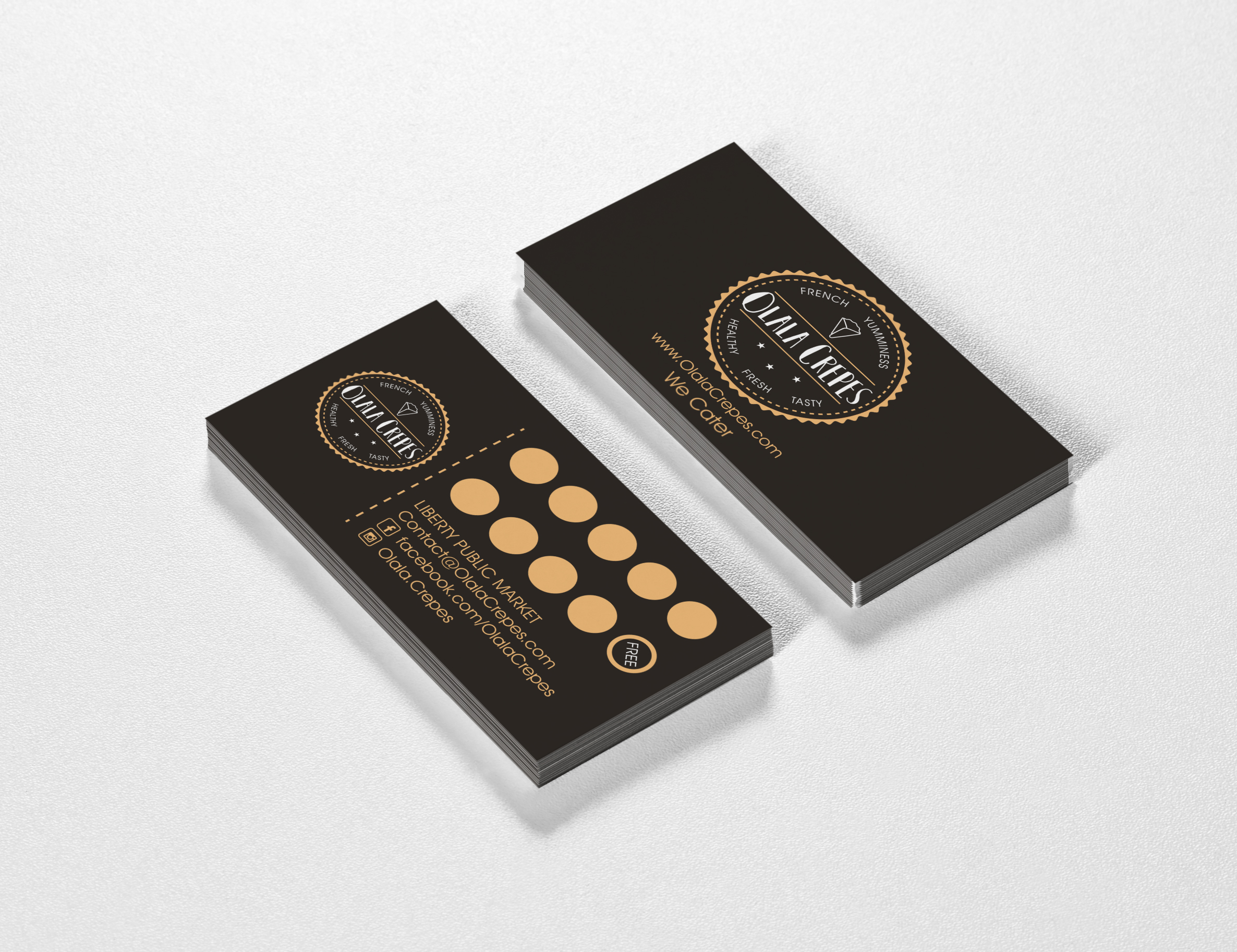 Olala Crepes loyalty card design by Mindful Design Consulting
Creating customized offers
The best tool that a loyalty program offers you is the information you collect about your customers. Knowing their preferences and spending habits allows you to customize your offers and improve the chances that your clients will respond to them.
Even more important, the data you collect is essential in defining who are your most loyal customers, the ones you are most interested in retaining, and around which your best offers must be built. Tiered points systems are excellent in keeping your top customers interested, active and satisfied. Remember the 80/20 rules: 80 percent of your revenue comes from 20 percent of your customers. Keep the 20 percent happy!
Photo by Jason Briscoe on Unsplash
Enticing customers to spend more
A loyalty program has the wonderful effect of making customers modify their shopping behavior in order to enjoy its perks. Both basic and tiered points systems are good incentives to spend more. In case you introduce a loyalty program that requires an upfront fee, this will most likely make your customers return more often and spend more money to justify this initial investment.
Giving you an extra edge
It is hard enough to compete with other business on price or the quality of your products or services alone. Loyalty programs introduce an additional element into the play and may turn the scale in your favor.
You can always customize your offers to place yourself ahead of the game and use the information you gain from the program to refine your products and services. Strive for unique offers that make your business more interesting and, especially if you are running a restaurant, make sure your loyalty program is phone friendly.
Photo by Jacek Dylag on Unsplash
In conclusion, here are a few examples of successful loyalty programs and some of their offers.
Starbucks – Free in-store coffee or tea refills, skipping the line through ordering in advance, free birthday drink, free bakery item after reaching spending threshold etc.
Baskin-Robbins – Free scoop of ice-cream with signing up, customizable ice-cream cakes, using the phone to pay.
IKEA – Free hot beverage, thank-you surprise, free exchanges for furniture damaged during assembly.
Lancôme – Early access to new products, invitations to Lancôme events, extra points for connecting through social media or sharing more information with the company.
If you are thinking to open up a new business or in a process of rebranding and remodeling your existing business, contact us to get a free consultation from Mindful Design Consulting. Click HERE to price your project design.

Also, take a look at "Branding By Interior" e-book, the only book written on this subject at this time. It brings insight on how you can turn your business into a market-dominating competitor by using human cognitive responses.
https://mindfuldesignconsulting.com/wp-content/uploads/2020/05/Loyalty-Program-for-Restaurants-and-Stores.jpg
676
1200
M T
https://mindfuldesignconsulting.com/wp-content/uploads/2015/07/mindful-design-consulting-logo.png
M T
2020-05-13 20:55:14
2020-06-10 17:02:13
Why Loyalty Programs Work for Retail and Restaurant Businesses