Kung Fu Boba Tea Cafe, a successful New York business, is expanding into San Diego territory, and we are only too happy to help them achieve their goal. This is how we ended up creating a modern tea shop interior design for their new, high-end location at Carmel Mountain Gateway Plaza Shopping Center (11491 Carmel Mountain Rd., San Diego, CA 92128).
With authentic and delicious bubble tea as its main attraction, and with a list of successful franchises on three continents, Kung Fu Tea Cafe had a lot going for it. However, we needed to infuse the brand with a few modern lines in order to attract the sophisticated and demanding local clientele in this particular location.
Material Board with ideas for the boba tea shop design. By Mindful Design Consulting.
While keeping the main elements of the brand (including colors, finishes and graphics), we added a few original touches that both cleaned and enriched the look of this tea shop interior design. We made the red and black dominant colors pop against a clean dark gray and white background and helped them come alive thanks to the strong visual contrast.
We were careful not to overwhelm the interior with strong color tones, so we spaced them out by using red sporadically and by having black play a double role as a main actor and background color. With only this chromatic combination, we would have run the risk of a cold, sterile look. So, we made use of generous amounts of warm wood finishes that softened the look and made the space inviting and welcoming.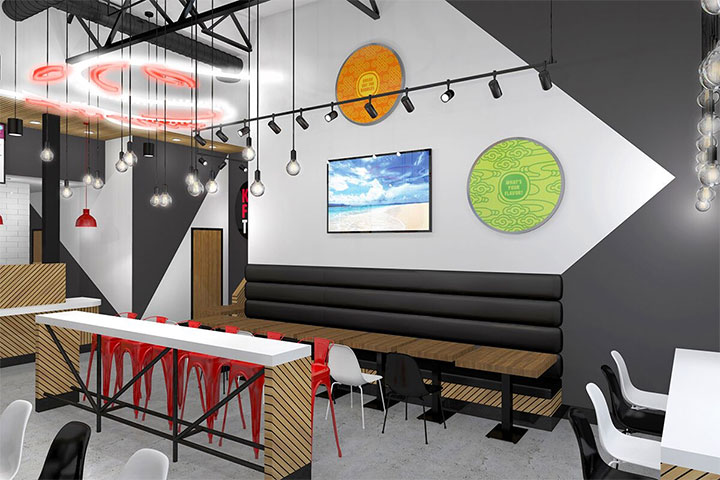 We extended the same idea of cold and warm elements to the choice of finishes. While the sealed concrete floor, the wall tiles and the Calacatta white quartz of the counter and tables are sharp and modern, the tables, counter siding, and wall and ceiling accents bring in the warm and traditional look of wood. We know that everything modern needs to keep a connecting element with tradition, so that it does not become impersonal and intimidating. In this case, wood kept the design well anchored into the pleasant and familiar.
We chose simple modern furniture because the small space required as few superfluous elements as possible. However, we varied the shapes, colors and textures to create visual interest. Small pedestal tables mix with long rectangular counters. Industrial metal chairs mix with modern molded plastic ones. Wood mixes with faux leather. While the colors are mostly neutral, these combinations mean that there is plenty to look at.
The furniture placement optimizes the traffic, makes great use of the limited space, and even emphasizes a few charming structural quirks of the room.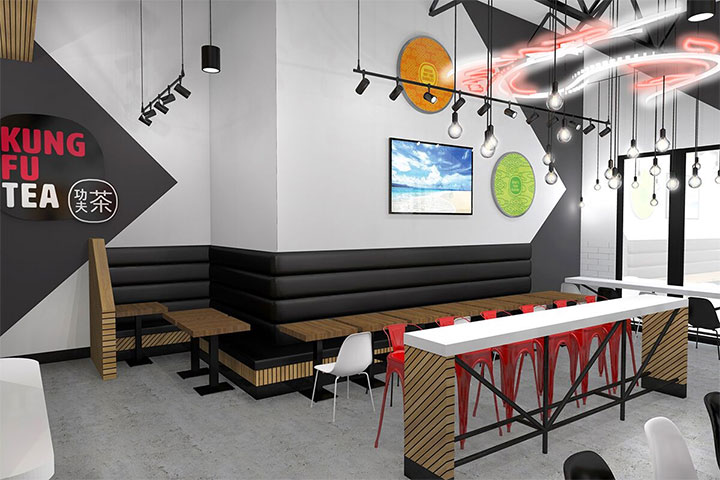 Since geometric elements cannot be absent from a modern interior, we used paint to create some simple, yet dynamic and effective wall details. Colorful wall decor sporting brand graphics help in bringing the space alive.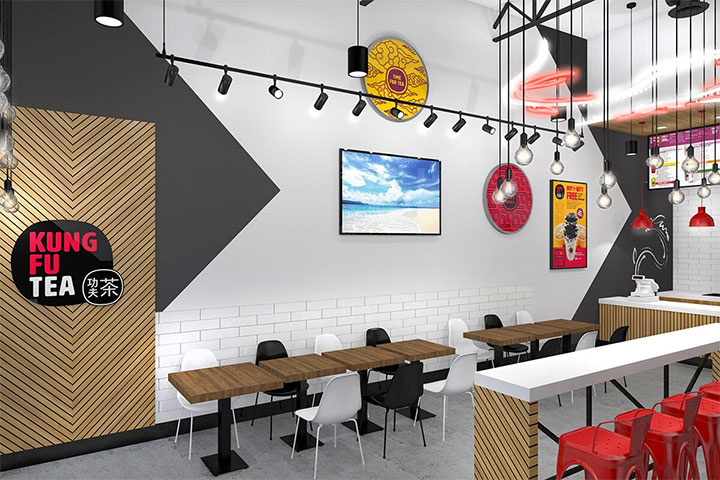 We added the finishing touch by the fun combination of track lighting, simple no-shade pendants and red metallic lampshades. The different fixtures bathe the space in light, but also define different areas and take the eye up, accentuating the height of the room. As the most important decorative detail, the two-color, dragon-shaped LED light fixture crowns this tea shop interior design with a visual element that is part of the Kung Fu Tea brand.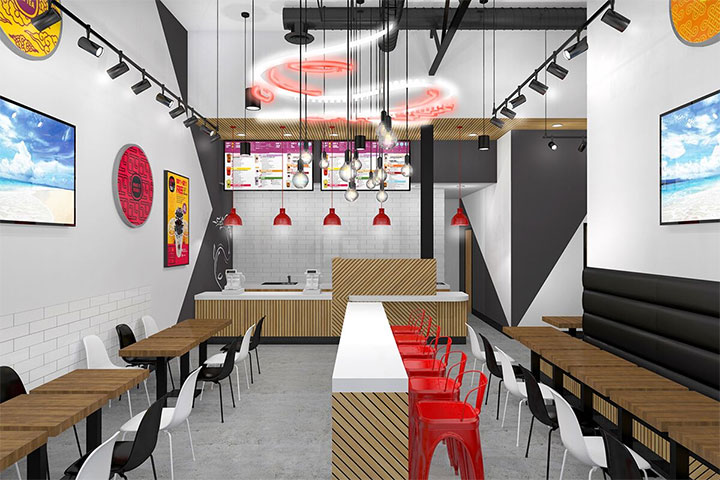 Please take a look at our Before and After images of selected projects from 2018 HERE.
If you are thinking to open up a new business or in a process of rebranding and remodeling your existing business, contact us to get a free consultation from Mindful Design Consulting. Click HERE to price your project design.

Also, take a look at "Branding By Interior" e-book, the only book written on this subject at this time. It brings insight on how you can turn your business into a market-dominating competitor by using human cognitive responses.
https://mindfuldesignconsulting.com/wp-content/uploads/2019/11/Tea-Shop-Branding-and-Design.jpg
480
720
M T
https://mindfuldesignconsulting.com/wp-content/uploads/2015/07/mindful-design-consulting-logo.png
M T
2019-11-06 23:06:43
2019-11-07 10:59:44
Boba Tea Shop Interior Design by Mindful Design Consulting