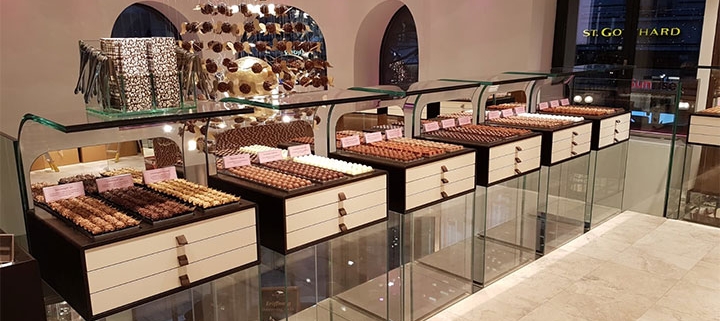 While all sweets may have their armies of lovers and followers, it's chocolate only that can cause the kind of passion and obsession that turn into a cultural reference. This can be both an advantage and a disadvantage for the interior designer. While chocolate references reflected in elements of design are always appealing, falling into the trap of doing what everyone else does is easy. We rounded up a few chocolate store designs that break this pattern by daring to be different or that manage to add something new to the traditional chocolate shop look.
Photo above: Bachmann – Chocolate World via InYourPocket.com
1. Cioccolato
Monterrey, Mexico
Designer: Savvy Studio
All photos via chuknum.com
While Cioccolato brings its customers a larger range of sweets, it pays homage to the cocoa treat with both its name and some appealing design details. The look is minimalistic in both its furnishing and its chromatic approach. White frames against white walls bring images of colorful desserts center stage. The white background allows the most interesting design details to take on a prominent role – "splashes" of chocolate on a glass display shelf, a "dripping" table leg resembling melted chocolate, "trickling" wall art etc.
2. BbyB
Tokyo, Japan
Designer: Nendo
All photos via dezeen.com
Tokyo's BbyB takes a unique approach to displaying its chocolate. Organized by color and displayed vertically in transparent drawers shelves within a perspex case, the chocolate boxes have no other visual competition. Set against a white tile wall that repeats the design of the chocolate packaging, the rows of boxes evoke the look of paint swatches in a store.
At the end of this long room, another one designed in a contrasting black offers an intimate, almost mysterious ambiance in which patrons can taste the flavored chocolates along with a cup of coffee. The counter provides the connecting element between the two rooms, extending into the display area where it serves as a display shelf.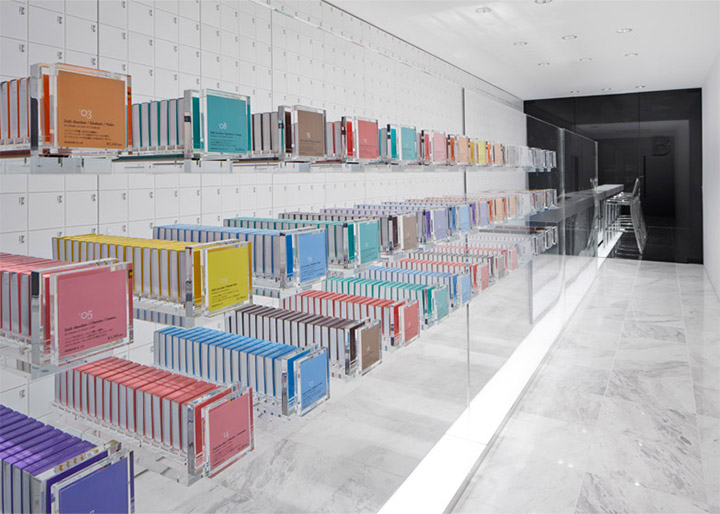 3. Bulgari II Cioccolato
Dubai
All photos: Bulgari via Buro 24/7
A completely different approach was taken by the italian luxury brand Bulgari and their Bulgari II Cioccolato shop in Dubai. Going back to a traditional look, the store combines wooden walls, gold accents and Murano chandeliers for a sophisticated high-end look. The upholstered couches and armchairs, the framed photos, the books and the ambient lighting turn this boutique into an intimate hide-out for the chocolate lover.
4. Bachmann – Chocolate World
Zurich, Switzerland
All photos via InYourPocket.com
The chromatic palette of Bachmann's Chocolate World comes from the same traditional vein, but the design treatment is different – even daring. 2,000 litres of liquid chocolate flow over an accent wall and the oversized name of Lucerne's top confectioner. The idea is reiterated in the design of the glass stairway that connects Chocolate World with the store's lower level and underneath which melted chocolate may be an irresistible sight to chocolate lovers.
The chocolate references are repeated all throughout the store, from the shape and colors of the display shelves to the ambient lighting that gives beige tints to the floors and walls.
5. Lindt
Mall of America, Bloomington, Minnesota
All photos via LindtUSA.com
Chocolate store designs loacted within malls have to adapt to the limitation of their location while appealing to the imagination of chocolate lovers through smart design elements. This is exactly what this Bloomington Lindt shop does by using warm chocolate color tones, smooth textures and some refreshing chromatic contrasts. Stored within transparent cases in the middle of the store, the sweet treats are the very image of abundance, while elegant light pendants add a touch of luxury to the design.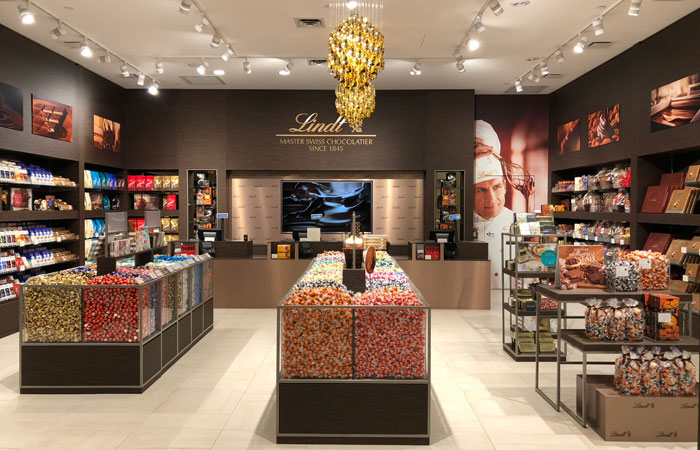 If you are thinking to open a new business or are in the process of rebranding and remodeling your existing business, contact us to get a free consultation from Mindful Design Consulting. Click HERE to price your project design.
Also, take a look at "Branding By Interior" e-book, the only book written on this subject at this time. It brings insight on how you can turn your business into a market-dominating competitor by using human cognitive responses.
https://mindfuldesignconsulting.com/wp-content/uploads/2020/10/Elegant-Chocolate-Store-Interior-Design.jpg
405
720
M T
https://mindfuldesignconsulting.com/wp-content/uploads/2015/07/mindful-design-consulting-logo.png
M T
2020-10-07 17:54:05
2020-10-07 17:55:16
Mouth-watering Chocolate Store Designs from Around the World