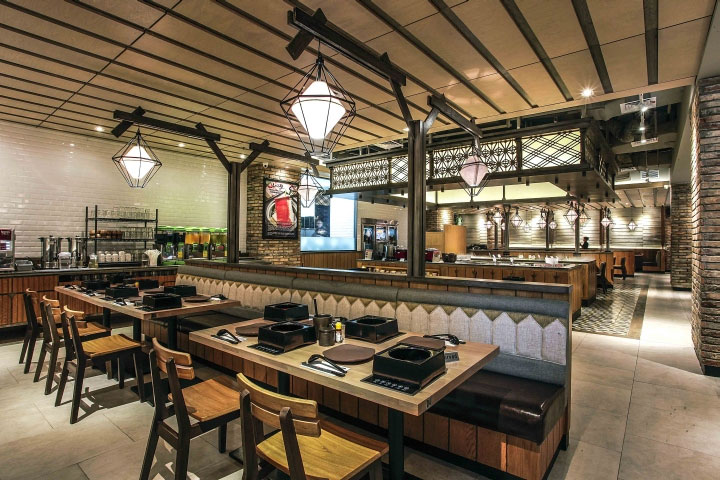 Designer: Metaphor Interior
All photos courtesy of Sanshiera
Located in the Grand Indonesia "shopping town" in Jakarta, Shaburi is an all-you-can-eat restaurant that is equally generous with what it offers to the eye. A smart combination of natural materials and a good amount of visual detail create a space that is both relaxing and captivating.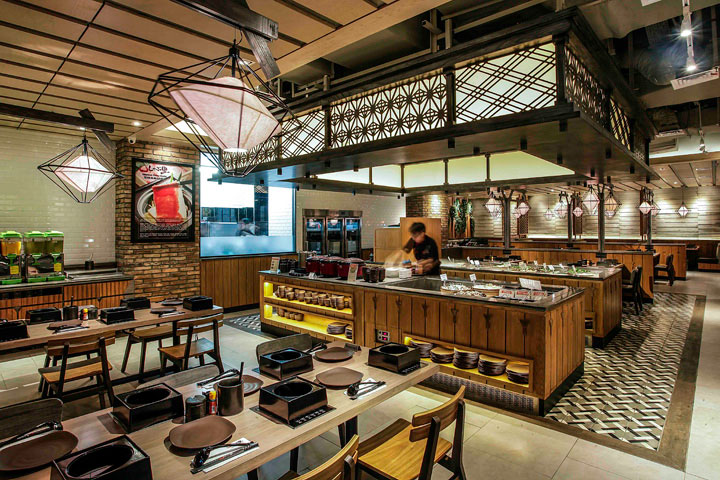 The main material is wood, which is present in the rectangular tables of minimalist design, the simple chairs, the benches, buffet structures, wainscoting, walls and ceiling. Large wooden dividers partition the place and create a sense of privacy, while keeping the space open. The diamond-shaped openings of the dividers introduce a geometric element into a place dominated by a definite preference for simple, natural materials.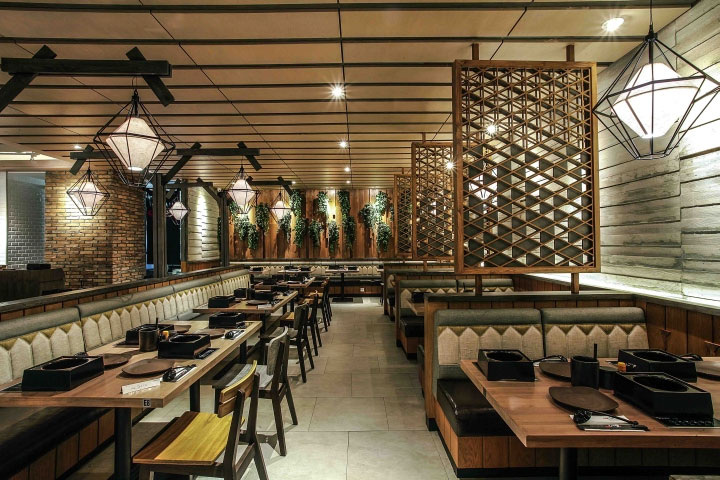 The same geometric elements are found in the pendants, where the metallic frames turn the simple structures reminiscent of paper lanterns into light fixtures of contemporary inspiration. Hanging on wooden structures with two symmetrical arms, each pair of pendants gives the impression of a balance achieved after the careful tuning of the two-handed support system.

Above the serving area, a full display of semitransparent screens with geometric patterns creates the focal point of the restaurant interior. On the floor, an intricate pattern on an earthy-colored background defines the main functional area. The same interlaced diamond pattern appears here again, echoing the shapes and patterns of the lighting fixtures, screens and dividers and unifying the space.

The occasional brick wall, tile and greenery add a little variation to the use of materials. Finding a happy compromise between the warmth of wood and the apparently cold rigor of geometry, the Shaburi restaurant is a feast for the eye and a culinary oasis for the hungry shopper.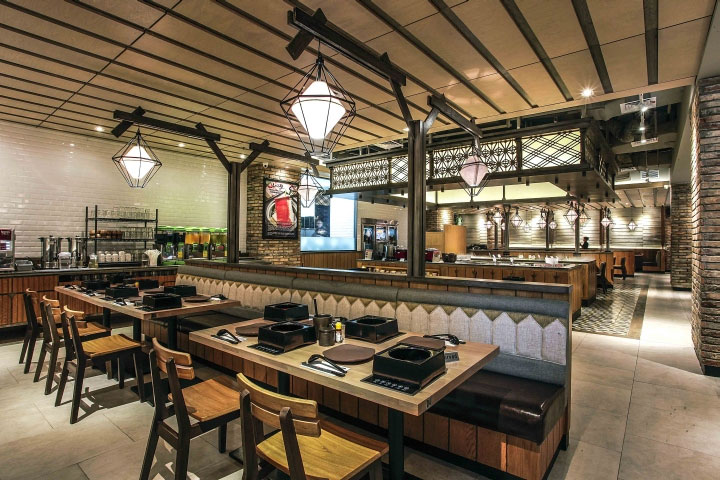 Learn about emerging trends of 2015 in commercial interior design HERE.
If you are thinking to open up a new business or in a process of rebranding and remodeling your existing business, contact us to get a free consultation from Mindful Design Consulting. Click HERE to price your project design.

Also, take a look at "Branding By Interior" e-book, the only book written on this subject at this time. It brings insight on how you can turn your business into a market-dominating competitor by using human cognitive responses.
https://mindfuldesignconsulting.com/wp-content/uploads/2015/11/Indonesia-Restaurant.jpg
480
720
Mindful Designer
https://mindfuldesignconsulting.com/wp-content/uploads/2015/07/mindful-design-consulting-logo.png
Mindful Designer
2015-11-04 14:12:27
2015-11-29 22:47:56
Nature and Geometry at the Shaburi Restaurant in Jakarta – Commercial Interior Design News