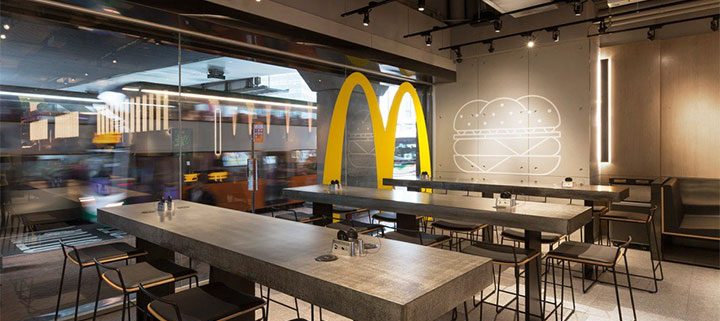 McDonald's Restaurant Interior Via dezeen.com and businessinsider.com
Designer: Landini Associates
All photos: Ross Honeysett via dezeen.com
McDonald's Restaurant Interior. In the last decade and a half, McDonald's faced a lot of scrutiny about the effect of its products on its customers' health. However, the American icon fast food chain has proved that it can reinvent itself and survive harsh times through smart rebranding. In the last years, McDonald's introduced healthy options on its menu and paired them with premium coffee alternatives for the sophisticated caffeine-starved crowd. While these were seen by some as just desperate attempts to put on a new face, McDonald's improved its sales and showed that the company was more resilient than given credit for.
But McDonald's did not stop here. Together with the changes in its menu, a dramatic change in interior design is seen in select branches around the world. From Hong Kong to Netherlands, some McDonald's restaurants are hardly recognizable and far removed from the old bright-colored and less than inspiring layout of the typical fast-food store.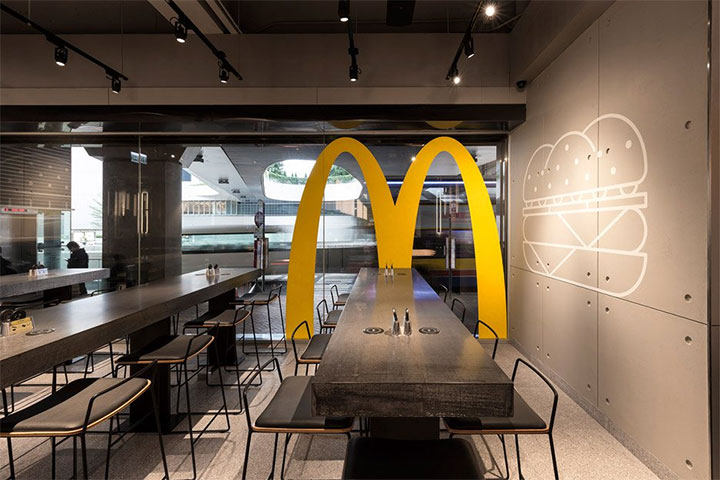 Here is, for example, the Hong Kong McDonald's branch, designed by Landini Associates, a branding and design firm based in Sydney, Australia. A display of excellent taste, modern design and new layout choices, the store is miles away from the ordinary image of McDonald's restaurants.
Using neutral-toned materials such as concrete, metal and wood, together with mood lighting, the new design creates a sophisticated look and exudes a subtle elegance that is not usually associated with fast-food restaurants. Behind this new look lies the concept of allowing the food (and people) to shine against this quiet background, without overpowering them with loud colors or design decisions.
The wall graphics are simple and unobtrusive, keeping with the idea of subtlety.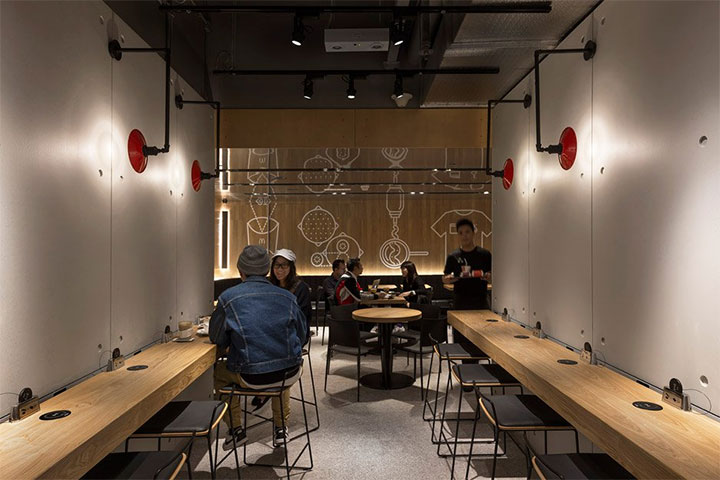 Different areas offer different seating options that accommodate both families and people who want to sit alone. Customers can also choose the way they order their food – at the counter, using a computerized kiosk or from the table, with the extra choice of a cold service bar.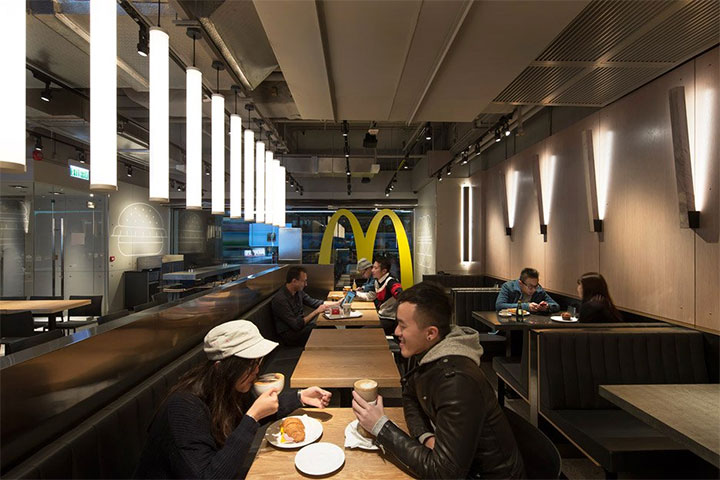 The kitchen is turned into an exposed cooking area that allows customers to witness the entire food preparation process – a dramatic change from the usual McDonald's layout.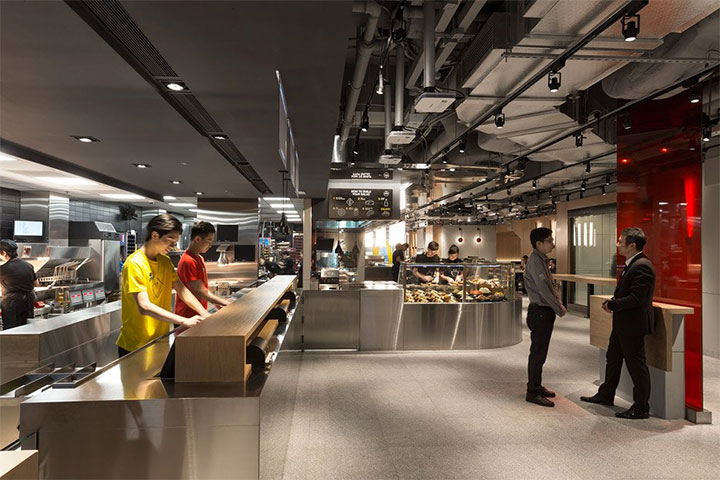 Finally, the lighting is controlled by a computerized system that periodically changes its brightness, creating a warm, cozy space at night and a more vibrant one during the day.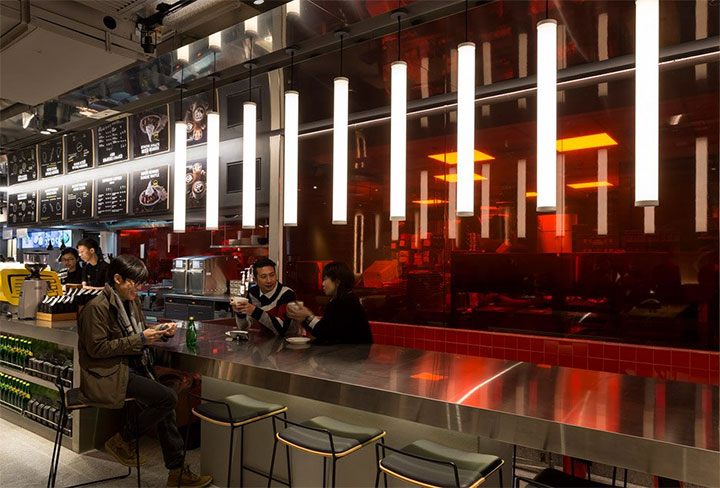 This new interior design, paired with changes in product packaging and employees' uniforms are a visual facelift and an excellent rebranding strategy that seems to work very well for McDonald's.
Please take a look at our Before and After images of selected projects from 2018 HERE.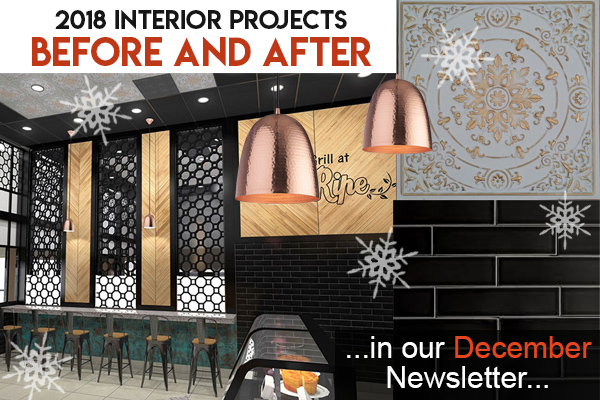 If you are thinking to open up a new business or in a process of rebranding and remodeling your existing business, contact us to get a free consultation from Mindful Design Consulting. Click HERE to price your project design.

Also, take a look at "Branding By Interior" e-book, the only book written on this subject at this time. It brings insight on how you can turn your business into a market-dominating competitor by using human cognitive responses.
https://mindfuldesignconsulting.com/wp-content/uploads/2017/07/Fast-Food-Restaurant-Branding-with-Interior-Design.jpg
514
720
M T
https://mindfuldesignconsulting.com/wp-content/uploads/2015/07/mindful-design-consulting-logo.png
M T
2017-07-26 20:35:16
2020-06-09 17:49:08
New McDonald's Restaurant Interior Design Is Part of a Smart Rebranding Strategy