Making a good impression even before customers have a chance to enter your restaurant or store may help redirect their steps from your competitor's door to yours. Your storefront design is as important as your interior, and keeping it fresh and appealing is a must. As part of this exterior look, your signage should reflect your brand and grab the attention of passers-by. The possibilities are limitless. Here are just a few examples of trendy signage design that signals from the very start the quality of your business.
Photo above: hironocraft.com
Metal letters on metal mesh or cage
Meshed facades for commercial buildings are becoming increasingly popular. They are not only attractive urban design accents, but also a cost-effective storefront finish option. They provide a quick pop of color, make the name of your business stand out, and tie in with the colors and feel of your brand. Taken further, such metal mesh signage can designate pick-up points – or any other specific areas inside your store.
Photo: louvreclad.com
A variation of the metal mesh signage is the one built on a metal cage.
Photo via Pinterest
Metal signage with creative lighting
Metal is an excellent material for high-quality signage that looks modern, elegant and robust. When it is combined with smart lighting, the effect is spectacular. Illuminated from behind, the Food & Forest park restaurant in Ukraine announces a sophisticated venue. Set against this warm light, the sign's dark copper tones create the impression of a piece of metal being forged in fire.
Photo: Andrey Avdeenko via behance.net
An equally beautiful effect can be created with delicately illuminated slim metal letters, like in this trendy signage design.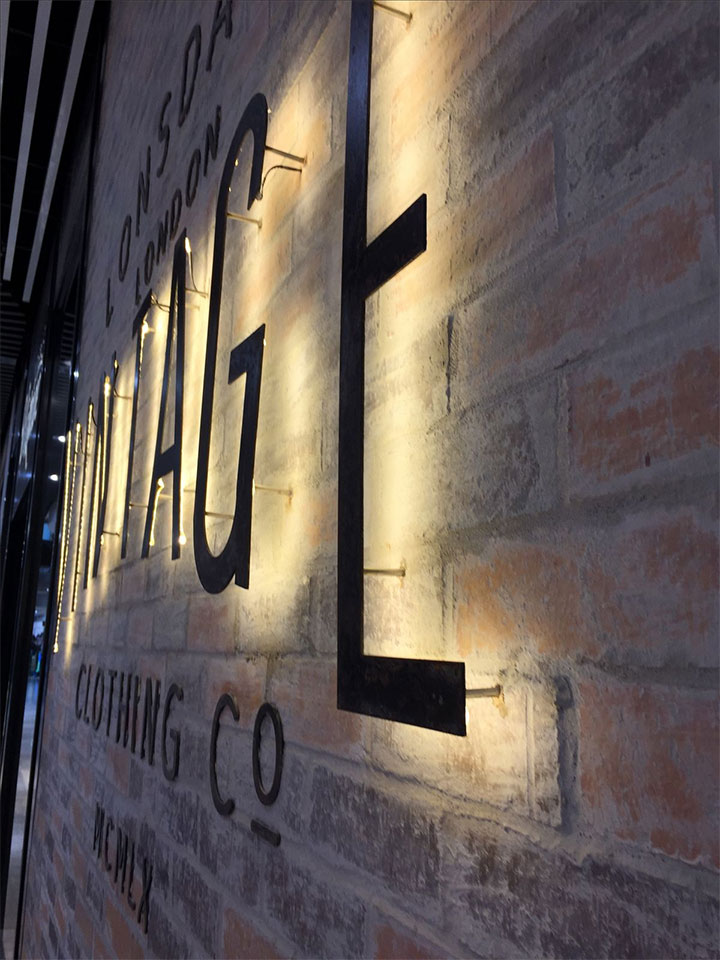 Photo via Pinterest
Neon signs revamps
Whether used inside or outside, neon signs don't seem to be going anywhere. Their ability to transform every facade into the guardian of good times is unique. Nothing promises more fun than large neon lettering that can be seen from a distance against the night sky or a dark facade.
Custom LED Neon Sign from NeonArtCreations on Etsy
However, toning down the colors can lead to truly elegant signage, such as in the case of the Orang+Utan vegetarian bar in Kiev, designed by AKZ Architectura.
Photo: Lesha Yanchenkov via designboom.com
Green Signs
Today's urban dwellers and environmentally-minded customers appreciate everything that relates to nature. Including living greenery into the design of your signage brings them visual comfort and looks exceptionally fresh and appealing. Moss is an excellent low-maintenance option, like the one designed for Kisu, an Asian restaurant in Tel Aviv created by Studio Yaron Tal.
Photo: Yoav Gurin via retaildesignblog.net
Modern Projecting Signs
It's important that your restaurant or store signage never looks outdated. An easy way to avoid this is to choose elements of modern design such as simple fonts, fresh colors or interesting geometric combinations.
Photo: lumoscustom.com
Dainty cutouts on semi-transparent acrylic set against beautiful greenery create a delicate combo in this unique store signage. The sign is suspended by two chains, which allows for minimal movement and makes it look light and dynamic.
Photo via nubbytwiglet
Strong colors and high contrast are always a good idea when you want to make your sign stand out.
Photo via Pinterest
Combining vivid colors with light helps you emphasize your brand.
Photo via Pinterest
Finally, simplicity is always a good choice. Elegant fonts, a restricted color palette that suits the urban setting, and just the right amount of lighting make this sign project a good face to the world.
Photo via Pinterest
If you are thinking to open a new business or are in the process of rebranding and remodeling your existing business, contact us to get a free consultation from Mindful Design Consulting. Click HERE to price your project design.
Also, take a look at "Branding By Interior" e-book, the only book written on this subject at this time. It brings insight on how you can turn your business into a market-dominating competitor by using human cognitive responses.
https://mindfuldesignconsulting.com/wp-content/uploads/2021/03/Metal-Signage-Design.jpg
469
720
M T
https://mindfuldesignconsulting.com/wp-content/uploads/2015/07/mindful-design-consulting-logo.png
M T
2021-03-03 20:04:40
2021-03-03 20:04:40
New Trendy Signage Design