Clean Minimalism
This beautiful jewelry store designed by Atelier Du Pont is located on Rue de Paix in Paris. The store is a perfect example of luxury interpreted with minimalistic approach.
Overall selection of gray and gold colors create a great canvas for displaying fine pieces of jewelry. Below I put together a pallet that was used by the designer of this store. Learn more about this jewelry store design HERE.
Another fancy restaurant's, Ciel de Paris, interior design grabbed my attention because of the intriguing minimalistic color combination that was selected by designer Noé Duchaufour-Lawrance: warm gray and soft orange. This restaurant definitely provides food not only for your tummy but for your mind and senses.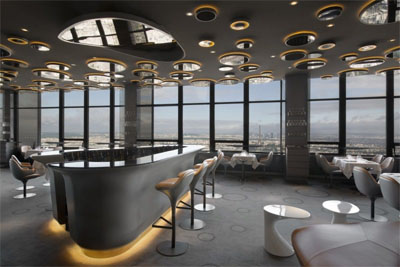 Learn more about this restaurant HERE.
Touch of Nature
If you work in your office 5 days a week, you know when you start missing clean air. Air Drop flower pot is a unique concept that provides a solution on purifying air in an urban environment. The main idea is to use Air plants or Tillandsias species of evergreen, which are the most effective for absorbing pollutants in the air. These elegantly crafted planters are hung from the ceiling and are powered by sun which make them self sustaining.
Learn morel about these unique planters HERE.
There are other ways to elegantly connect to nature while being inside. Green wall has become one of the most popular design elements in recent year. Read more about different ideas on green wall HERE.
Light as an Accent
It's not a secrete that light fixtures can transform any room tremendously. Contemporary designers provide incredible variation in lighting design for any taste and style. These unique and elegant pendants take their unusual names and beautiful organic shape from one of mother nature's own: the seed! Seed pendant lamp was designed by Joeri Claeys.
Learn more about these unique light fixtures HERE.
LZF light fixtures (above) are my favorite! And I had to stop by their booth at the 2013 Hospitality Design in Las Vegas, to see what else I could use for my next project. See more what I found at the HD EXPO 2013 HERE.
Emerald Color of the Years 2013
The Pantone Institute selected Emerald to be the color of 2013 . "Lively. Radiant. Lush… A color of elegance and beauty that enhances our sense of well-being, balance and harmony." We can see emerald color being used in fashion, furniture upholstery, and new interiors. Learn more about about how you could use emerald color in your life HERE.
Emerald is not only an interior design color. This cozy store (below) looks very stylish with emerald paint on its facade. Do you think your store could use some emerald?
Creating an Experience
Most contemporary designers are trying to create an unforgettable experience with their design. If you are too tired of boring restaurants, this "out of box" dining concept A380 airplane restaurant is a fine dining experience at its best inside of a lavish airplane interior. As a hungry passenger you don't need to go through a long line of check-ins or pay an air fare to get a fine airplane dining experience here. One of the locations of of this unique concept was opened in Chongqinig, China. See more images of this unique restaurants HERE.
This funky looking store (below) is founded by Johnny Earle, 28-year-old multi-million dollar business owner. Known by his brand name Johnny Cupcakes the owners is famous for making a life changing decision to drop out of college and do what he loves most – design clothing. His clothing label uses an unrelated theme to fashion such as cupcakes baking to promote the brand. So the cupcakes is not the main product here, clothing is! Johnny creates an unforgettable experience in his stores. Read HERE.
Are you thinking about making architectural changes in your business? Contact us HERE!