Greenhouse Nightclub is the first LEED certified nightclub in the US.  For those who don't know what LEED is… Leadership in Energy & Environmental Design. (The club was designed by Bluarch, all the photos are by Bluearch.)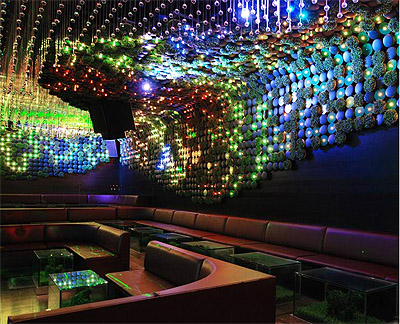 All the couches are made from recyclable material and the mysterious illumination is all LED lighting.
The restroom rooms are equipped with toilets that flush efficiently and waterless urinals. The table service comes with fresh juices and offers 360 Vodka in reusable bottle.
The eco-theme also continues in the interior design of this nightclub.  Here we have walls made of sustainable bamboo and covered in real leaves, moss, and green circles.
Multiple glass beads hung from the ceiling representing raindrops of maybe a rainforest?
What fascinates me the most are the tables with life plants inside.  Are these really sustainable? What does it take to keep them alive?
"Given its relatively small space the club promotes some skin-to-skin action, and the music will satisfy those with a penchant for the expected mix of Top 40, house, and hip-hop. " Clubplanet.com
The club was designed by Bluarch, all the photos are by Bluearch.
Learn about Suggestive Selling in a Retail Environment.
Are you ready to price your design project?  Click HERE to get your customized quote from Mindful Design Consulting team.
https://mindfuldesignconsulting.com/wp-content/uploads/2015/07/mindful-design-consulting-logo.png
0
0
Administrator
https://mindfuldesignconsulting.com/wp-content/uploads/2015/07/mindful-design-consulting-logo.png
Administrator
2011-07-18 12:27:11
2011-10-05 02:59:21
Nightclub Design – First LEED certified Club in the US – Commercial Interior News