An inspiring office interior does not necessarily have to be backed up by a high budget. In fact, the best displays of creativity often come from budget limitations. The Genband office in Petah Tikva, Israel, is a great example of a low-budget office design done right.
Genband is a communication company whose office was designed by Tel Aviv-based Ilana Moskovitz Design Studio to accommodate 80 high-tech workers. While the team of workers needed a large open space to make communication and collaborative work easier, there was also a need for private or semi-private spaces like meeting rooms for large or small groups.

Adding to the reality of the low budget, the fact that this was an environment designed for creative, dynamic personalities led to the idea of using the energy of color as the main decorative detail. There were no half measures in this decorative enterprise. Meeting rooms were painted in vibrant hues from top to bottom, ceiling included. The floor and even the furniture were part of the same rich color treatment approach.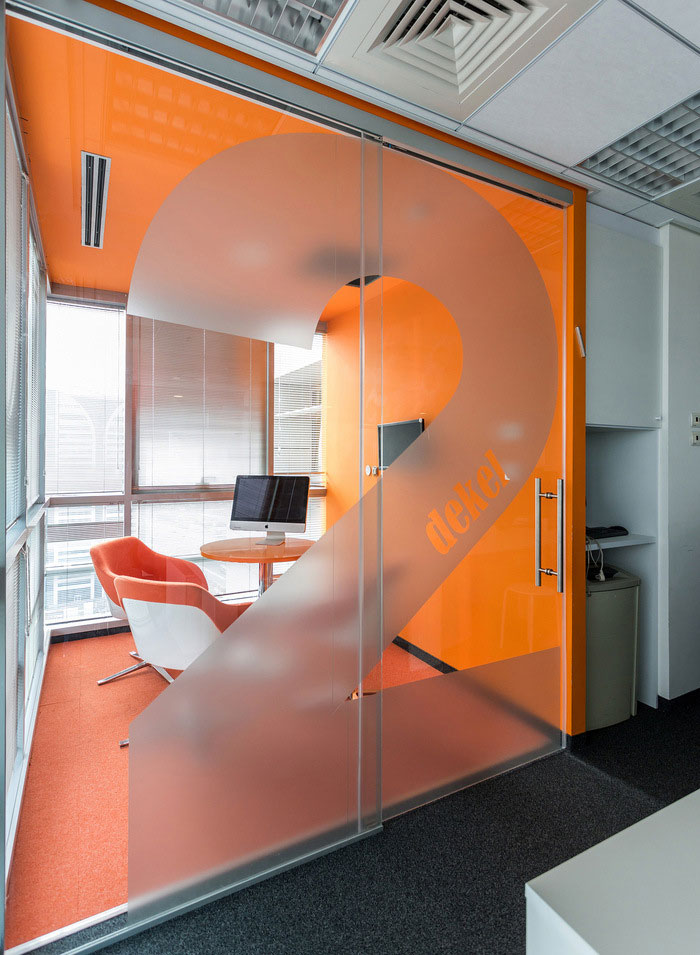 To distinguish between the rooms, large numbers were used on the glass walls and doors of the meeting rooms, with the additional benefit of giving these areas the impression of semi-private spaces.
The same idea of accentuating the otherwise simple and modern space was applied to other areas, whether in the shape of a single large solid-colored piece of furniture or bold wall graphics. This is an example of low-budget office design that proves the power of details, how they can change an interior, and how they can capture the culture of a group.
Via officesnapshots.com
Designer: Ilana Moskovitz Design Studio
All photos: Dude Moskovitz via officesnapshots.com
Please take a look at our Before and After images of selected projects from 2016 HERE.
If you are thinking to open up a new business or in a process of rebranding and remodeling your existing business, contact us to get a free consultation from Mindful Design Consulting. Click HERE to price your project design.

Also, take a look at "Branding By Interior" e-book, the only book written on this subject at this time. It brings insight on how you can turn your business into a market-dominating competitor by using human cognitive responses.
https://mindfuldesignconsulting.com/wp-content/uploads/2017/05/Strong-Colors-in-Modern-Office.jpg
387
700
M T
https://mindfuldesignconsulting.com/wp-content/uploads/2015/07/mindful-design-consulting-logo.png
M T
2017-05-24 17:14:08
2021-08-19 16:29:34
When Low-Budget Office Design Meets Creativity