Among a myriad other decision you have to make when opening your ice-cream parlor, choosing between an open and a closed ice-cream case is going to make a difference in the look of your interior and even in the way you conduct your business. If you are undecided and need some help in evaluating the two, here is a short list of pros and cons for each of these options.
Open Ice-cream Case
Howard McCray Ice Cream Display Showcase from ACityDiscount.com
Pros
Nothing can compare with a lavish display of ice-cream flavors in a rainbow of colors when it comes to tempting your customers. An open ice-cream case does just that. Customers can see the product, pick the flavors more easily and feel more involved in their choice. You cannot underestimate the beauty of such a landscape of frozen treats and the fact that it allows you to be creative in your displays, especially if you make your own ice cream and take pride in its looks.
While the front glass of an open ice-cream case is heated, the inside is cold, so your ice cream is safe while displayed. When it comes to the case itself, you have a large variety of colors, finishes and looks to choose from. Such a case and ice-cream display becomes a decorative item itself and contributes to the overall look of your store.
Cons
Due to the open construction of this type of display case, it's hard to keep the ice-cream looking fresh for long, since it tends to get frosted on top. That means that you have to replace it often, which is an extra chore and another responsibility for your employees.
Closed (Drop-in) Ice-cream Case

Closed ice-cream case in Scoops La Jolla ice-cream store design by Mindful Design Consulting
Pros
Closed ice-cream cases are all about comfort. First, the stainless steel construction helps retain the cold temperature and makes it easier to control. Because there is no need for the additional glass display above, this is a great space-saving option for small shops. In addition, the drop-in design allows you to store your products at the counter, so customers can order, pay and receive their treats quickly.
From a maintenance point of view, the stainless steel case wipe clean easily, so that it always looks impeccable. Despite the fact that a close ice-cream case hides your treats away from view, their slight industrial look is very trendy right now with new ice-cream shop brands. We have incorporated such drop-in cases in our ice-cream store designs with great esthetic results.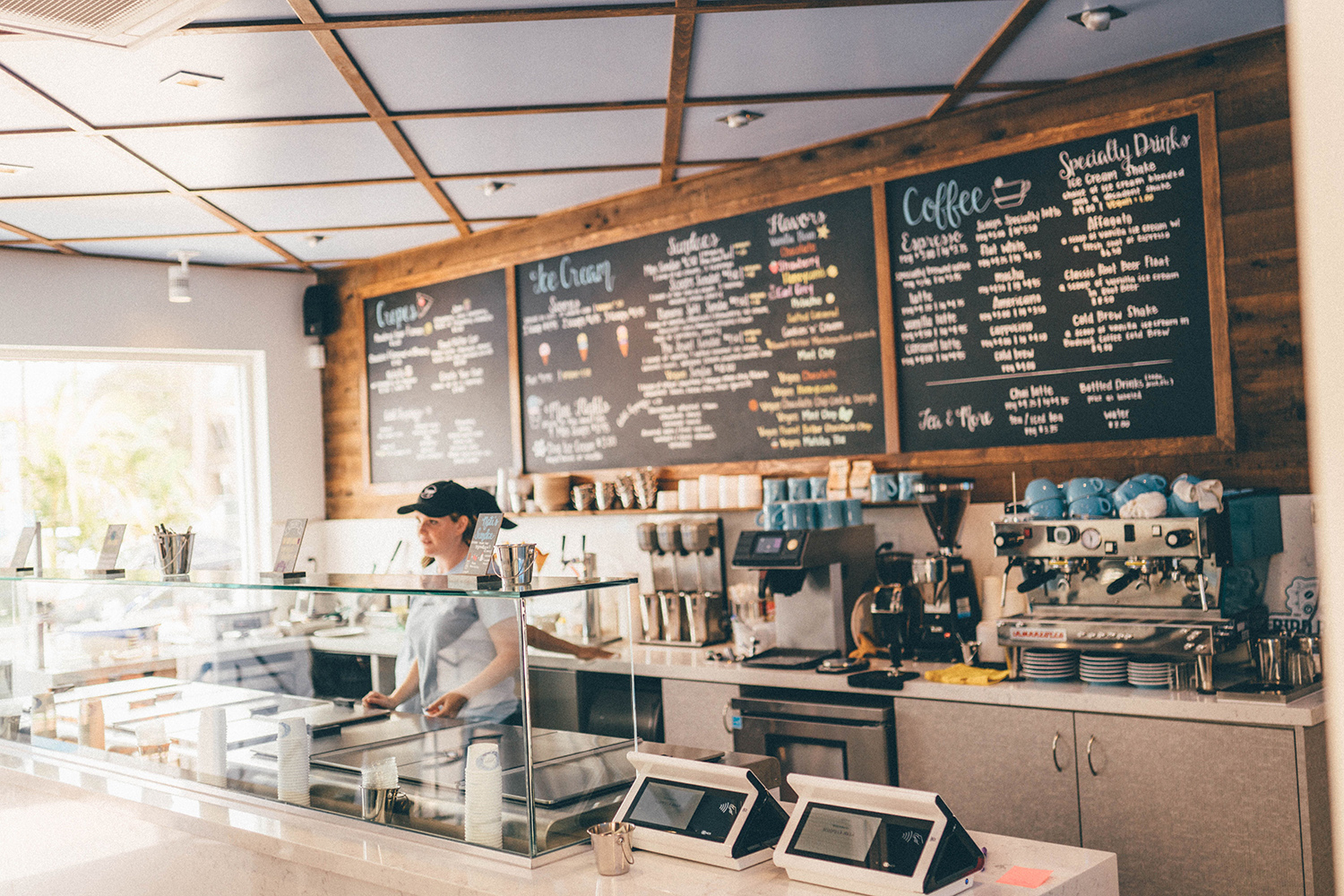 Closed ice-cream case in Scoops La Jolla ice-cream store design by Mindful Design Consulting
Cons
The obvious disadvantage of a closed ice-cream case is the fact that customers cannot see the ice-cream before buying it. This means less chances to tempt them if undecided, and the need for more creative ways to make your menu clear and appealing. Because they lack the colorful display of ice-cream flavors and appetizing toppings, drop-in cases tend to be a merely functional rather than a design element in the store. Unless, of course, you prefer a cool industrial or urban look, in which case they may be just what you're looking for.
In the end, it's up to you to decide between these two different looks – a drop-in case for a modern vibe or an open-display case for a more traditional look.
Closed ice-cream case in Scoops La Jolla ice-cream store design by Mindful Design Consulting
If you are thinking to open a new business or are in the process of rebranding and remodeling your existing business, contact us to get a free consultation from Mindful Design Consulting. Click HERE to price your project design.
Also, take a look at "Branding By Interior" e-book, the only book written on this subject at this time. It brings insight on how you can turn your business into a market-dominating competitor by using human cognitive responses.
https://mindfuldesignconsulting.com/wp-content/uploads/2021/02/Choosing-Ice-cream-Display-Case-Store-Design.jpg
480
720
M T
https://mindfuldesignconsulting.com/wp-content/uploads/2015/07/mindful-design-consulting-logo.png
M T
2021-02-10 20:20:00
2021-08-21 10:05:47
Open vs. Closed Ice-cream Case – Which is Better?