The Oriental Hotel of Kobe in Japan
Designed by Ryu Kosaka, Hiroyuki Iizumi, Sachio Suzaka / A.N.D.
Photography by Nacasa & Partners Inc
Via retaildesignblog.net
First opened in 1870, the Oriental Hotel in Japan has always been a gem in Kobe. From attracting celebrities like the Royal Family and Marilyn Monroe, to its post-earthquake closure in 1995, the Oriental Hotel has been a symbol of its city. In March 2010, the hotel reopened for the first time since the Great Hanshin-Awaji Earthquake fifteen years previously. Designed by Ryu Kosaka, Hiroyuki Iizumi, and Sachio Suzaka / A.N.D., the historic hotel was given new life through the combined interior designer genius.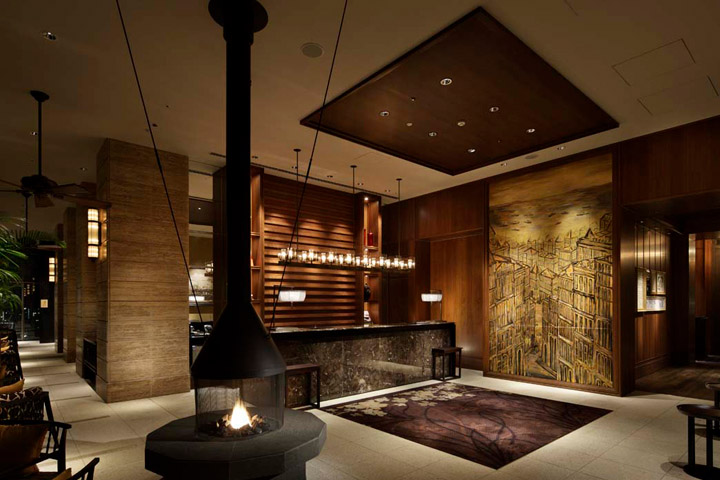 With careful attention to the textures of wood, marble and stone, the Oriental Hotel carries an air of both classic and modern appeal. Decorated in muted yet warm and earthy colors, the hotel design feels refined and somehow delicate. The lines created by the architecture and furniture of the hotel interior play back and forth with squares and circles. Light marble floors are contrasted with luxurious dark wood, while cleverly placed glass paneling both breaks up rooms and encourages a sense of openness.
With minimal artistic additions, the beauty of the Oriental Hotel comes primarily from its sophisticated design and styling. Paintings are not missed next to gauzy curtains, unique lighting fixtures and decorative green plants.
True to its cultural integrity, the Oriental Hotel incorporates determinedly 'oriental' ideas in its composition. Bonsai trees are set in corners just so. Kimono-style robes hang in the bathroom. The slotted railings and backs of chairs are reminiscent of bamboo. Slivers of green are found on the bedspread, and little floral cameos on the rug by the bar. The Oriental Hotel is clearly proud of its admirable roots.
To ask us questions about your commercial interior design project or to get a free consultation from Mindful Design Consulting, click HERE.
Also, take a look at "Branding By Interior" e-book, the only book written on this subject at this time. It brings insight on how you can turn your business into a market-dominating competitor by using human cognitive responses.
https://mindfuldesignconsulting.com/wp-content/uploads/2015/07/mindful-design-consulting-logo.png
0
0
Administrator
https://mindfuldesignconsulting.com/wp-content/uploads/2015/07/mindful-design-consulting-logo.png
Administrator
2014-11-18 11:15:49
2014-11-18 11:15:49
Oriental Hotel's New Look – Commercial Interior Design News