We have recently celebrated 15 years of being in business and of awesome design projects with a slightly different enterprise. Having been given this happy opportunity to look back at everything that we created along the years, we decided to capture some of our best project in our new interior design book Small Store Design Extravaganza. The book is now here and ready to delight our readers.
This is not only a way to showcase the beauty of creative retail design and to demonstrate what can be done even when customer resources are limited. It is also an opportunity to explain how our design process works, what lies behind every completed project, and how we take the important decisions that shape the final look.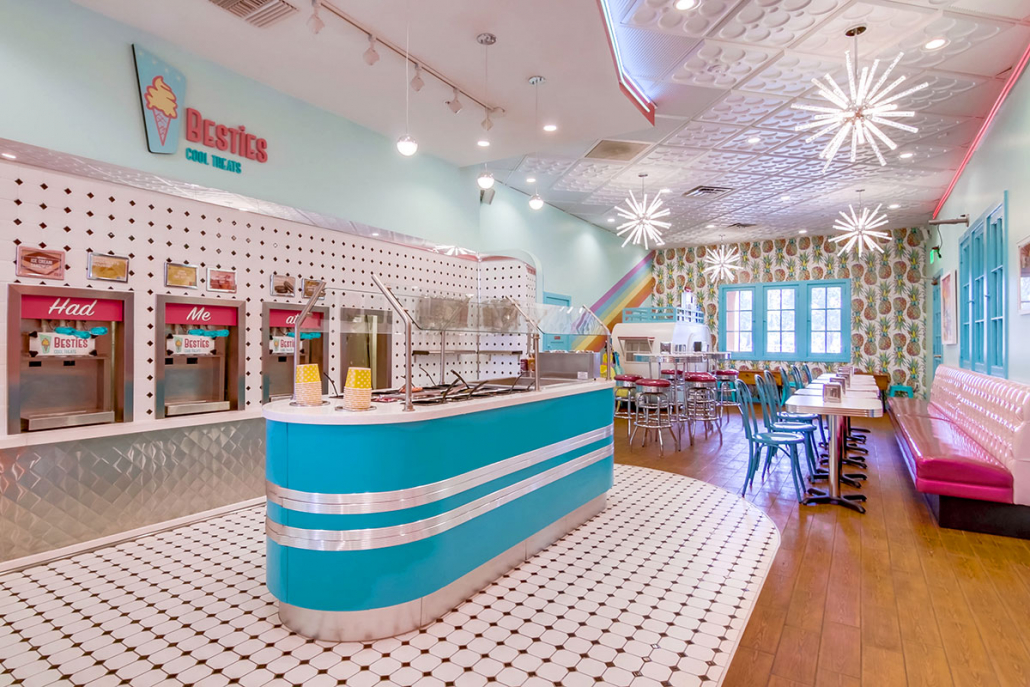 Besties Cool Treats final design from the new Mindful Design Consulting interior design book
The book brings together images of completed projects from frozen yogurt shops to cosmetics or lingerie boutiques, selected from our large collection of over 300 commercial projects. It also takes the time to explore the reasoning behind our designs, the materials and furniture used, and the 3D models of the stores.
We are laying it all out, including our working drawings such as floor plans and interior elevations with explanatory notes. Everything is accompanied by a detailed description of our goals, design process and final results.
Alpine Chill frozen yogurt shop elevations by Mindful Design Consulting
What our readers may find interesting is the fact that they can follow the evolution of our designs, with the inevitable changes and adjustments made during all stages. This helps them understand our process, which is essential for any successful collaboration, and puts our new interior design book in a category far beyond that of simple vanity projects.
The evolution of business logos is described as well, with all the versions that led to the final one. This is one of the most enjoyable parts of the book, since it reveals not only the great fun that went into designing them, but also how the business logos and branding colors are later incorporated into the interior design and marketing products.
Penny Lane frozen yogurt store logo versions by Mindful Design Consulting
This cohesive way of approaching all aspects of the design, from business logos to interior spaces, comes from our "branding by interior" philosophy. We believe that design is one of the most important ways of connecting with the customers on a subliminal level, and producing pleasant memories strictly related to a certain brand. The goal of all our design projects is to create an unforgettable experience, whether through graphics, colors, architecture, or that mysterious element that makes an interior unique and that entices customers to come back.
By revealing our work process, as well as the one-of-a-kind character of our designs, our new interior design book answers the questions of our prospective or current clients, but also the curiosity of other designers or even design students that want to learn or polish their craft. Not lastly, it shows that a successful project relies more on the creativity of the designer than on the abundance of resources that, in many cases, were limited.
My Yogurt frozen yogurt store completed project from the new Mindful Design Consulting interior design book
If your business profile is that of our typical clients, and if we think that we can offer you our help, you will receive this book as a present. We hope that the 200 glossy pages of Small Store Design Extravaganza will be both an opportunity for you to delight in beautiful design and to learn about how we work.
If you are thinking to open a new business or are in the process of rebranding and remodeling your existing business, contact us to get a free consultation from Mindful Design Consulting. Click HERE to price your project design.
Also, take a look at the "Branding By Interior" e-book, the only book written on this subject at this time. It brings insight into how you can turn your business into a market-dominating competitor by using human cognitive responses.
https://mindfuldesignconsulting.com/wp-content/uploads/2020/09/Mindful-Design-Consulting-Small-Store-Interior-Design-Book.jpg
630
960
M T
https://mindfuldesignconsulting.com/wp-content/uploads/2015/07/mindful-design-consulting-logo.png
M T
2023-05-02 21:21:07
2023-09-01 11:48:32
Our New Interior Design Book Is Here