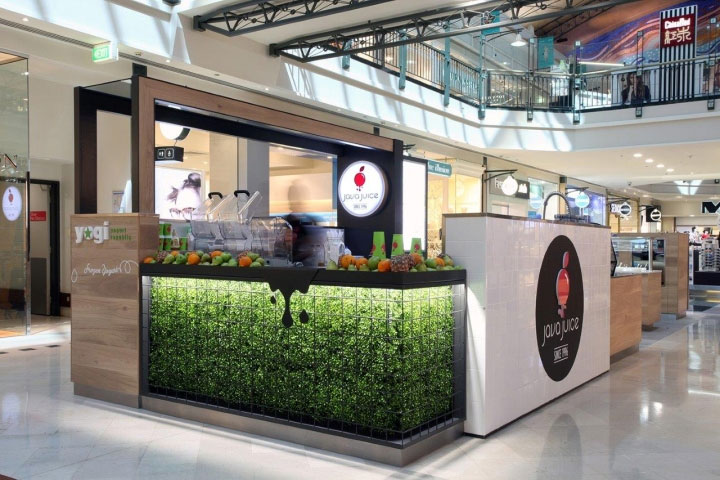 Kiosk Design Via retaildesignblog.net
Designer: Masterplanners
All photos: Trasko Industrial Photographics via retaildesignblog.net
If this Java Juice kiosk from a Perth mall in Australia wants to make a point, it definitely succeeds. Designed by Masterplanners, an agency based in the same city, the kiosk uses the unfailing appeal of nature to lure passers-by into a healthy treat.

Seen from the right angle, challenges often become opportunities. The challenge in designing the Java Juice kiosk was the limited space, which forced the designers to come up with an efficient layout and to condense a few "fun" elements into a small footprint.

As the main design component, the plant-covered counter becomes even more prominent when set against the white or earthy-colored kiosk structure. To the human mind, green signals abundance, shelter and relaxation. To the modern customers, a plant-covered juice kiosk is a reminder that what they are about to consume is healthy and guilt-free (even if they can also taste here frozen yogurt with various toppings).

This "vegetal" counter introduces an element of softness where rough materials and sharps angles are expected. It is another way to make the kiosk look friendly and appealing.

The plants serve as a perfect background for the Java Juice logo, reiterated in the shape of the dripping design of the tray placed in the middle of the counter. Fruits are made part of the design, in an appetizing display of vibrant colors.

Covered in luxuriant green, the kiosk counter is a great balancing element for this modern, simple and angular construction.

Please take a look at our Before and After images of selected projects from 2015 HERE.
If you are thinking to open up a new business or in a process of rebranding and remodeling your existing business, contact us to get a free consultation from Mindful Design Consulting. Click HERE to price your project design.

Also, take a look at "Branding By Interior" e-book, the only book written on this subject at this time. It brings insight on how you can turn your business into a market-dominating competitor by using human cognitive responses.
https://mindfuldesignconsulting.com/wp-content/uploads/2016/08/Nature-Inspired-Juice-Kiosk-Design.jpg
480
720
M T
https://mindfuldesignconsulting.com/wp-content/uploads/2015/07/mindful-design-consulting-logo.png
M T
2016-08-10 21:32:03
2019-10-25 17:07:44
Plant-covered Counter Creates Mouth-watering Kiosk Design