If you are dreaming of owning a dessert store, but building the business from the ground up seems overwhelming, buying into an existing franchise may be an option. We have discussed before the pro and cons of both alternatives in our franchise versus new brand article. If your decision leans toward getting the help that comes with buying into a well-established business, consider these 5 successful and popular dessert store franchises that have proved their worth and continue to grow.
Photo: Crumbl
1. Crumbl
Founded by two cousins with a love for baking, the Crumbl has expanded in just three years to more than 300 stores in 36 states. As the fastest growing cookie company in the U.S., Crumbl is known for its weekly rotating menu, its open-concept kitchens, and its instantly recognizable pink cookie box.
Crumbl's extraordinary growth is due to the careful selection of franchisees and the generous support the company offers them. The training of the new owners ensures they have all the tools they need to both bake the cookies and run the business, while the support extends to the construction of the new stores, including all necessary permits.
Kung Fu Tea store in Temecula, California. Designed by Mindful Design Consulting
2. Kung Fu Tea
While other trendy desserts have come and gone, bubble tea stays strong. In fact, the Taiwanese beverage that combines tea, milk and chewy tapioca pearls into one cool mix, is rapidly taking over the country. As America's largest bubble tea brand, Kung Fu Tea has built an impressive collection of more than 250 stores across the U.S. and also operates in Canada as KF Tea.
Made with tea leaves handpicked from the mountains of Taiwan and tapioca pearls cooked every two hours, the Kung Fu Tea beverage is made to order and recaptures the authentic taste of the original drink. When it comes to franchising, consistency is key. Kung Fu Tea makes sure that taste, quality and in-store experience are the same across all its locations and that each store is cozy, fun and appealing to young people, families and all those taking a well-deserved break from work.
Photo: Marble Slab Creamery
3. Marble Slab Creamery
With America's insatiable appetite for ice cream, owning a Marble Slab Creamery franchise may just be the path to commercial success. Opened in 1983, Marble Slab Creamery is a favorite stop for all those who enjoy creating their own sweet combinations and the special flavor of small-batch homemade ice cream.
The store also offers frozen yogurt, sorbets, ice-cream cakes for all occasions, sundaes, shakes and smoothies. Their unlimited mix-ins allow customers to come up with their own creations, no matter how ambitious. The Marble Slab Creamery dessert store franchises fit locations as diverse as traditional commercial spots, malls, airports or stadiums, and are an excellent way to bring together the community and become part of it. For international franchises, Marble Slab Creamery offers real estate support and help in choosing the right site for the new store.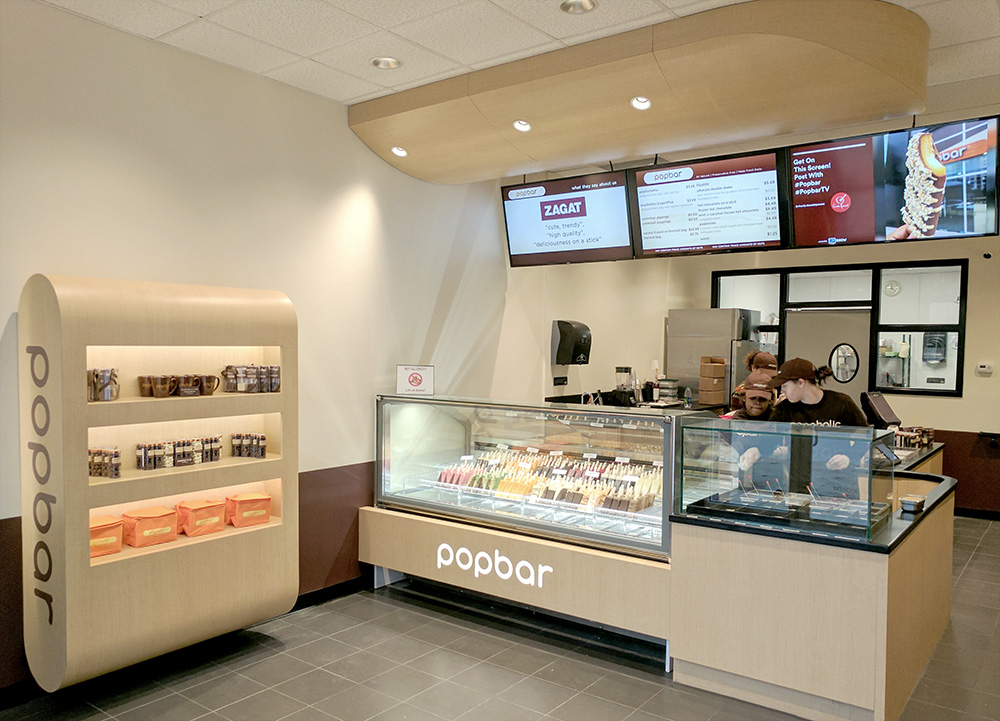 Popbar store
4. Popbar
Famous for its highly customizable Gelato on a Stick, a treat that turns the traditional Italian dessert into one easy to enjoy on the go, Popbar started in New York in 2010 and later extended to more than 20 stores in the U.S. The franchise has also gone international, with stores in Canada, Portugal, Panama, and Singapore. The star of the Popbar menu has received attention from the New York Times, Vogue, Elle, Time Out and Food Network's Cooking Channel among others. Made with all-natural ingredients, the Popbar choices include gelatoShakes, wafflePops and Hot Chocolate on a Stick, to name just a few.
As one of our favorite dessert store franchises, Popbar considers simple operations, low cost of goods and quick customer transaction time the advantages that gives it an edge. From a customer's perspective, the large array of choices (including vegan, gluten-free and nut-free options), the modern and original presentation and the ability to customize the treats are excellent reasons to make any Popbar franchise a success.
Photo: Bubbleology
5. Bubbleology
Aside from its delicious bubble tea (including its own alcoholic blends), Bubbleology takes the bubble concept into new territory. Its bubble waffle, initially a Hong Kong creation, wraps around a generous serving of gelato and is crowned with fresh fruits, toppings and sauces. The cool look of this treat is constantly winning followers and makes it a big hit with the Instagram crowd.
Founded in London in 2011 and having built itself as a "lifestyle brand" that goes beyond its teas and waffles to offers a unique and fun experience to its customers, Bubbleology is ready to take on the U.S. The store formats are flexible, the partnership with franchisees strongly cultivated, and the solid on-the-ground support part of the Bubbleology promise.
If you are thinking to open a new business or are in the process of rebranding and remodeling your existing business, contact us to get a free consultation from Mindful Design Consulting. Click HERE to price your project design.
Also, take a look at the "Branding By Interior" e-book, the only book written on this subject at this time. It brings insight into how you can turn your business into a market-dominating competitor by using human cognitive responses.
https://mindfuldesignconsulting.com/wp-content/uploads/2020/12/Colorful-Wall-Graphics-Boba-Tea-Store-Design.jpg
480
720
M T
https://mindfuldesignconsulting.com/wp-content/uploads/2015/07/mindful-design-consulting-logo.png
M T
2022-02-09 20:27:58
2022-02-09 20:35:35
Popular Dessert Store Franchises That Are Worth Buying