As a restaurant owner, you owe it to yourself to use every inch of your space to appeal to your customers. Many times, ceilings are underused or allowed to slip into visual anonimity. However, their design potential is extraordinary. Uninterrupted by furniture or functional structures, ceilings offer you a vast background against which you can project your most daring designs. To prove the point, here are some popular ceiling finishes in restaurant design.
Photo above: Pronto Pizza Restaurant, Ukraine, by Vymir Design Studio. Via behance.net
Ceiling Clouds
Despite their functional role in absorbing noise and creating a calmer, more intimate atmosphere, ceiling clouds can look as elegant and romantic as they sound. Different configurations, whether layered or not, in muted or vibrant colors can create a ceiling landscape that draws the eye upwards and makes the ceiling look higher.
Using them in rustic interior designs offers a contrast that emphasizes the nostalgic style of the space. Geometric or colorful ceiling clouds fit well modern or hip interiors, while textured clouds give ceilings a more prounounced 3D look and soften the architecture of this area.
ZenCloud MONO from Acoustic Design Lab
Pronto Pizza Restaurant, Ukraine, by Vymir Design Studio. Via behance.net
Ceiling Baffles
Similar to ceiling clouds, acoustic ceiling baffles help reduce the noise and absorb echoes. However, their vertical construction and placement give the ceiling even more depth. Even when their role is mostly decorative, their versatility makes them worth considering: You can choose to place them exactly where you need more color, depth, pattern or texture. When they come in undulating or geometric shapes, ceiling baffles may even become the visual focus of the room.
Atmosphera® Adaptive Ripple from Arktura
Clario Baffles from 3form
Felt Ceiling Products
Felt ceiling products are effective as noise-reducing tools and can easily mitigate the acoustic problems that come with high ceilings. Some shapes can make trapping noise even easier, while their soft texture balances the harshness of structural or furnising elements.
EchoStar ceiling product from Kirei. Photo: Jasper Sanidad via kireiusa.com
Streched Metal
Metal sheets cut and stretcehd to create regular patterns are very popular ceiling finishes in restaurant design, especially as part of industrial or urban spaces. Their beauty comes from the illusion of transparency that the panels create, despite the raw texture of the metal. They are a perfect way to mask an unsightly ceiling while preserving the sense of height, due to the fact that they don't completly block it. The fact that the panels can also bring you the color your space needs makes them even more popular ceiling options.
People's Choice Credit Union Offices, Adelaide, Australia. Via officesnapshots.com
Ripple Metal Panels
The specific texture of metal makes it an excellent option when you are after a spectacular visual effect. Ripple metal panels that create the illusion of flowing water give your space a dynamic feel and add eye-catching plays of light and shades to your interior. Other patterns are visually effective too: Depending on the particular color tone, they can give an unequaled feel of opulence to an elegant restaurant.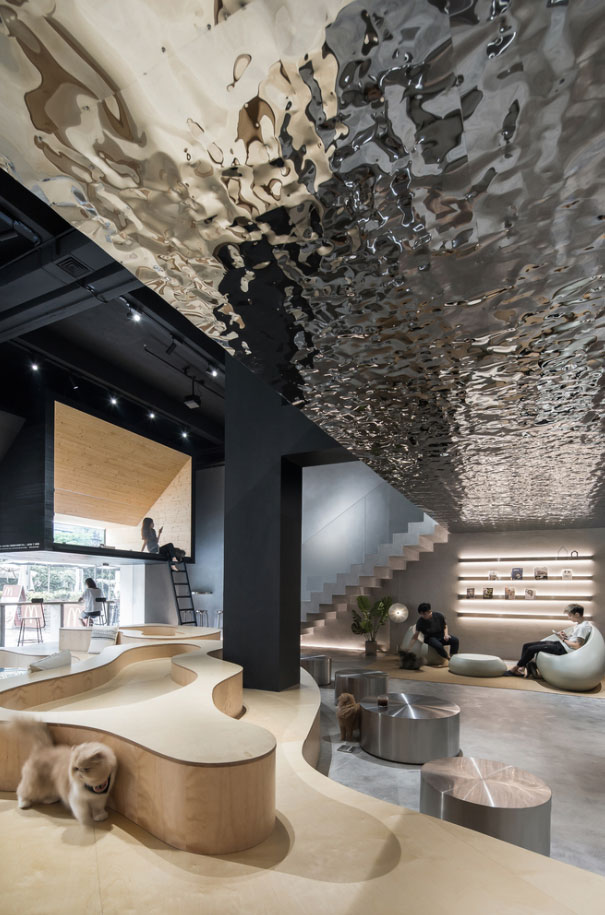 Meow Restaurant, Guangzhou, China. By E Studio. Photo: Chao Zhang via archdaily.com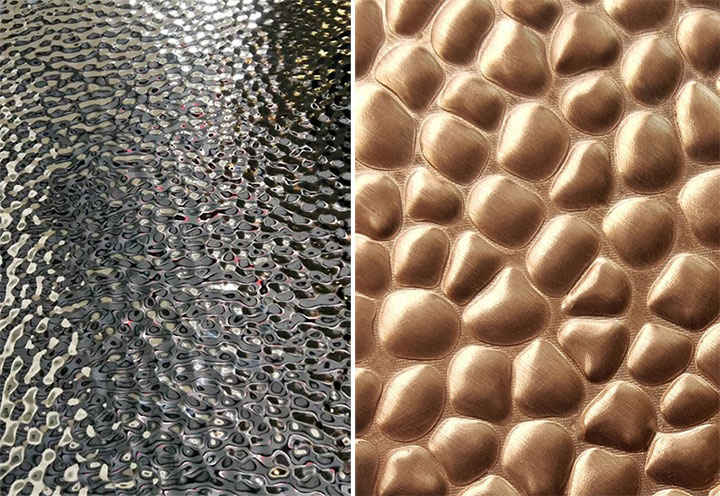 BWT Metal Sheets from Boweite Metal Technology
Decorative Panels
If you prefer a simpler look for your restaurant, you can satisfy the need for visual challenge by using decorative panels on your ceilings. Those with cut-out patterns allow you to integrate them with your lighting and to layer them with the colors of your ceiling behind them.
Photo via Pinterest
Wavy Layers
Layers are the very definition of a rich look. If this is your design vision, layering different elements, regardless of the material you use, is the way to go. Add to this wavy patterns, and your interior will gve off a sense of both warmth and adventure.
For example, creating ceiling landscapes that continue downwards into space dividers is achievable by using perforated aluminum sheets in different or gradient colors.
Zhongshu Bookstore in Suzhou, China. Architect: Wutopia Lab. Photo: Yijie Hu. Via archdaily.com
Artistic or Floral Ceilings
For artistic natures, however, ceilings can simply be your canvas where any type of material or idea can find a worthy home. The sky is the limit: Flowers that engulf your ceiling with deep colors, origami-inspired paper decor, umbrellas, empty bottles, books, glass globes are only a few of the materials – some recycled and ready for a secod life – that you can use in order to make your restaurant truly unique. You may even find yourself to be a trend-setter and open the door to new ceiling finishes in restaurant design.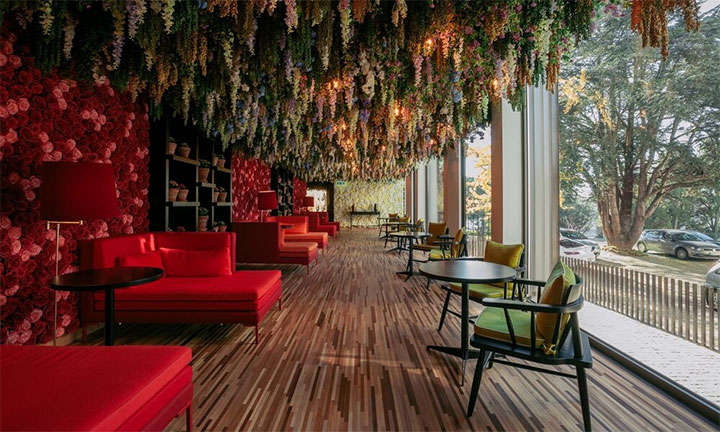 Isabel Sá Nogueira Hotel, Porto, Portugal. Photo: Carlos Vieira via Branca
Nozomi Sushi Bar, Valencia, Spain. Designer: Masquespacio. Photo: David Rodríguez y Carlos Huecas via archdaily.com
Photo via Pinterest
If you are thinking to open a new business or are in the process of rebranding and remodeling your existing business, contact us to get a free consultation from Mindful Design Consulting. Click HERE to price your project design.
Also, take a look at the "Branding By Interior" e-book, the only book written on this subject at this time. It brings insight into how you can turn your business into a market-dominating competitor by using human cognitive responses.
https://mindfuldesignconsulting.com/wp-content/uploads/2022/08/Gray-Ceiling-Clouds-Elegant-Restaurant-Design.jpg
632
720
M T
https://mindfuldesignconsulting.com/wp-content/uploads/2015/07/mindful-design-consulting-logo.png
M T
2022-08-03 19:23:11
2022-08-03 19:26:02
Popular Options for Ceiling Finishes in Restaurant Design