Starting in the 1960s, acrylic made its way into interior design and never left. Acrylic furniture became an attractive option for designers seeking an airy, versatile and modern-looking material to go with the interiors of the modern world. With no bulk or heaviness, and the transparency and elegance of glass, it proved to be a sleek and durable choice for retail stores and restaurants, including outdoor areas. Now, recycled acrylic adds one more benefit to all these qualities: sustainability.
Picture above: Recrylic custom art via Recrylic
What is Recrylic?
Obtained from recycled acrylic, and itself recyclable, Recrylic is a new product that offers an ideal answer to the sustainability problem. While it is the end result of a recycling process, it can become the raw material for another stage of recycling, and do so endlessly. This makes it the main actor in a closed process where materials and energy necessary for manufacturing are reduced to a minimum. In fact, the manufacturing process of recycled acrylic, such as Recrylic, reduces CO2 emissions by 90% compared to other materials, including virgin acrylic.
Recrylic sheets via Recrylic
What makes Recrylic different?
While there are other available types of recycled acrylic, Recrylic is the first one certified by GRS (Global Recycled Standard), that imposes strict requirements for environmental practices, as well as by RCC (Recycled Content Certification). In fact, the recycling certification logo can be used on your finished products, which shows your customers that you care about sustainable practices.
Another attractive aspect of Recrylic has to do with the details of its manufacturing process. One of its by-products is a distillate that can be introduced back into the recycling operation to fuel it, further minimizing the resources needed to produce the material.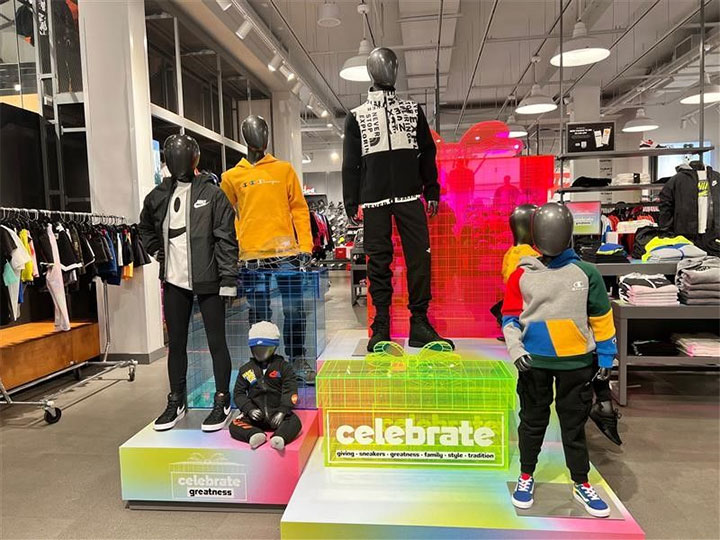 Recrylic store displays via Recrylic
There are two types of acrylic, each relying on its own manufacturing process: extruded and cast. Each has its own advantages and is more suitable for certain types of applications. Recrylic is a 100% cast acrylic, so it comes with important benefits for interior design, such as the possibility to add color and texture, or its suitability for engraving. It is also available in small, custom batches, due its specific production process.
Recrylic signage via Recrylic
Applications
Recrylic can be substituted in any project in which virgin acrylic is used. The applications in interior design are numerous, from the retail to the restaurant industry. Since its price is comparable with other recycled acrylic products, choosing Recrylic only comes with added benefits.
Store displays and signage
In stores, Recrylic displays offer you a light, airy and colorful background for your products, and a material that doesn't chip or bend. Its chemical resistance makes it ideal for perfume or cosmetics displays.
Recrylic display and signage via Recrylic
Restaurant furniture
When used in the manufacturing of furniture for resturants, bar, dessert shops and cafes, this type or recycled acrylic checks all the boxes: It has a modern look and can lend a light, ethereal feel to your interior. If color is what you're after, Recrylic furniture can deliver, allowing you to use your chairs and tables as elements of decor, and making them play an important part in your color scheme. Mixing and matching is also fun when working with Recrylic: The material is very easy to pair with other design elements, as long as all retain the same general decorating style.
Beyond aesthetic benefits, there are the important practical ones. Recrylic furniture is extremely easy to clean and maintain in optimal condition. The material is resistant to sunlight, therefore an ideal choice for outdoor areas. Its rare combination of lightness and durability makes it perfect for the constant use that restaurant furniture gets, and the need to easily move it around. In addition, pets generally dislike acrylic, so their occasional presence won't damage your furniture.
Recrylic furniture via Recrylic
Lighting
Because cast acrylic can be produced with different textures and color tones, it works great for light diffusion. Recrylic can have a softening effect and help you create the ambiance that you are looking for in your commercial interior. Smoked and fluorescent Recrylic versions are options available for custom lighting.
Recrylic works well with LEDs, helping distribute light evenly through light guide plates that are specially designed for this purpose.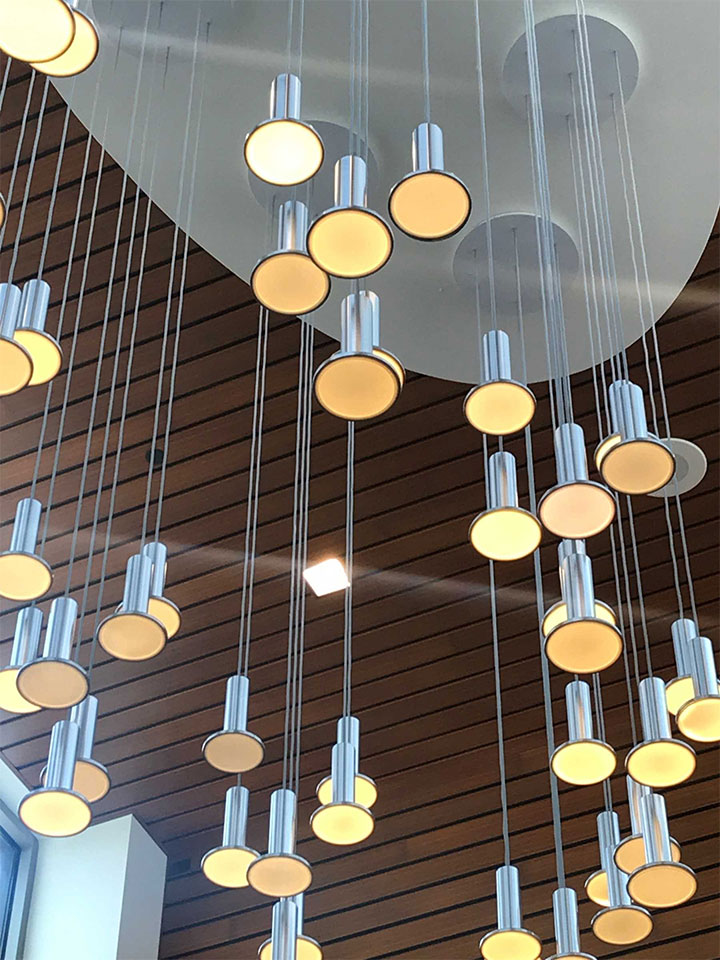 Recrylic lighting via Recrylic
Wall treatments and custom art
Recrylic is produced in clear, black and white versions, but can also be used for more intricate wall panel facing. In addition, Recrylic light guide plates provide uniform lighting for wall treatments that are hard to ignore. Cut into different shapes and layered into 3D designs, this type of recycled acrylic can become the basis for ingenious artistic creations.
Recrylic wall panels via Recrylic
If you are thinking to open a new business or are in the process of rebranding and remodeling your existing business, contact us to get a free consultation from Mindful Design Consulting. Click HERE to price your project design.
Also, take a look at the "Branding By Interior" e-book, the only book written on this subject at this time. It brings insight into how you can turn your business into a market-dominating competitor by using human cognitive responses.
https://mindfuldesignconsulting.com/wp-content/uploads/2023/03/Recycled-Acrylic-Custom-Art-Sustainable-Interior-Design.jpg
525
720
M T
https://mindfuldesignconsulting.com/wp-content/uploads/2015/07/mindful-design-consulting-logo.png
M T
2023-03-29 06:47:40
2023-03-29 18:12:38
Recycled Acrylic and Its Use in Sustainable Interior Design