If you are looking for a material that could give you some visual edge while being in tune with your desire to use sustainable materials, consider recycled glass countertops and floors for your bar or restaurant. They give your space a unique look, bring is the brightness of glass, and come with a worthy story.
The recycled glass collection from Glass Recycled Surfaces offers an elegant element of green design that easily blends with virtually any business's aesthetic and design plan. Crafted from sustainable material, such as readily available recycled glass and porcelain that would otherwise end up in a landfill, these materials are durable, stain-resistant and eco-friendly.
Since recycled glass slabs are fashioned from recycled materials, no two countertops or floors are alike. Each is a unique design statement and a one-of-a-kind piece for a one-of-a-kind business or home. Their sustainability, beauty and affordability also make them a natural choice for any commercial interior design projects.
Recycled glass floors are an atypical material that give you the luster and polished look you are after. Easy to clean, they also provide a visual depth that appeals to the eye.
A LEED AP designer will take note of the Glass Recycled Surfaces company's commitment to the environment. Most of the energy expended on the production of these slabs is human energy. When machines are required for polishing or grinding, they are used sparingly and are never left to idle. They only emit compressed air avoiding additional air pollution. Water is also used sparingly, almost exclusively to reduce dust particles and reduce any impact on workers' health during the production and installation process. All production waste is also reused.
A recycled glass countertop or flooring is a stylish addition to a modern, chic or folksy space that does not sacrifice on your commitment to green design. You can combine beauty, sophistication and sustainability with functionality by installing a recycled glass countertop or flooring into your next interior design project. Even more good news: Color selection is excellent.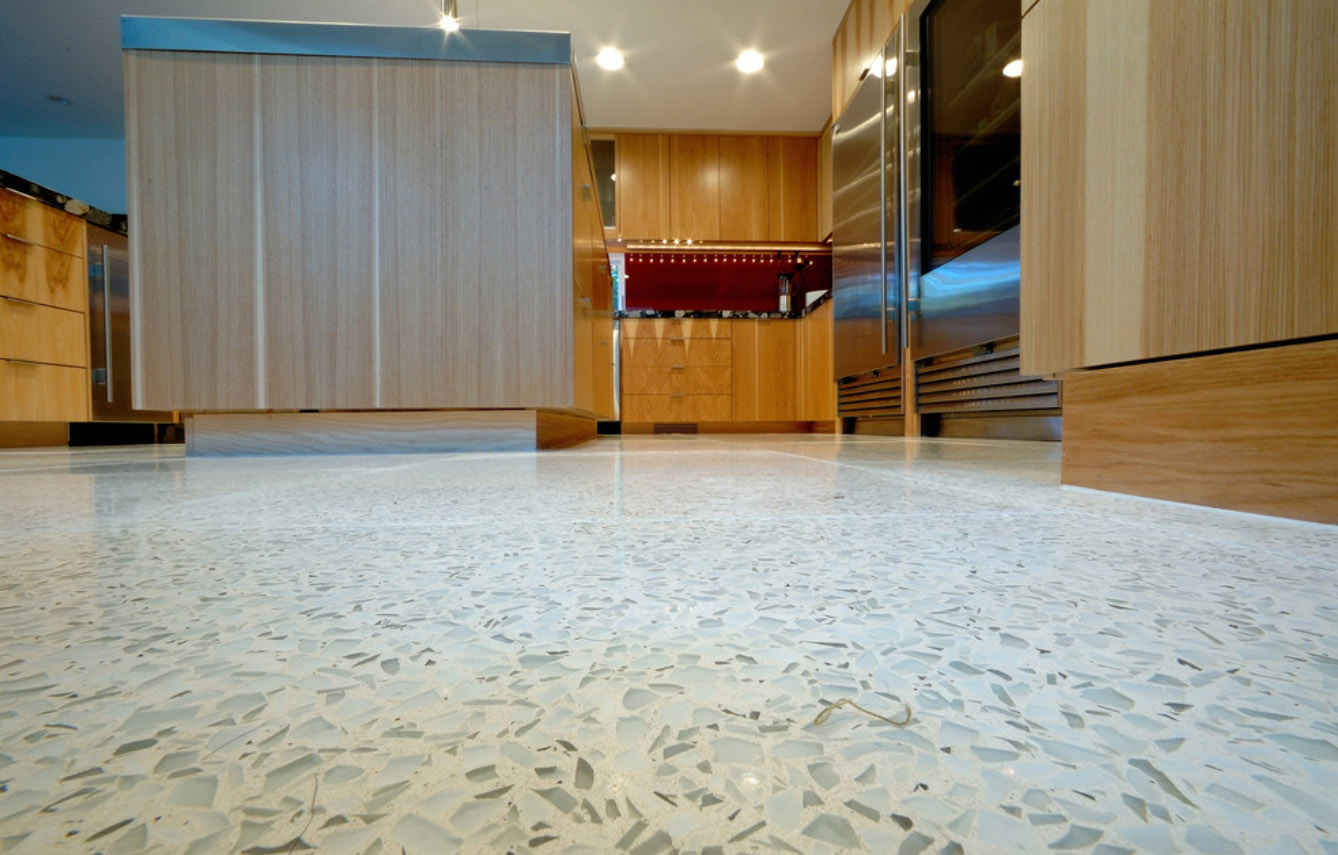 All images are via HOUZZ from Glass Recycled Surfaces.
To ask us questions about your commercial interior design project or to get a free consultation from Mindful Design Consulting, click HERE.
Also, take a look at "Branding By Interior" e-book, the only book written on this subject at this time. It brings insight on how you can turn your business into a market-dominating competitor by using human cognitive responses
https://mindfuldesignconsulting.com/wp-content/uploads/2015/01/Recycled-Glass-Countertop-Bar-Design.jpg
493
720
Administrator
https://mindfuldesignconsulting.com/wp-content/uploads/2015/07/mindful-design-consulting-logo.png
Administrator
2015-01-08 12:06:26
2022-04-18 11:32:14
Why You Should Consider Recycled Glass Countertops and Floors