How Much Does a Store or Restaurant Construction Cost? One of the first questions you'll want to answer when planning to open a store or a restaurant business is "How much will the construction of my space cost?" The answer depends on your particular space – its current state and where you want to take it from there. However, a rough estimate of your restaurant construction cost is possible and is exactly what our Tenant Improvement Calculator offers you.
Of course, your costs will depend on the size of your space, the products you choose and the designer and contractors you decide to employ. However, a tool like our calculator can help you start the planning process and even allow you to play with the numbers in order to see how you can better use your budget.
So, before you go ahead and start punching in numbers, here are a few things to consider, and a few major elements that drive the cost of a restaurant design project.
New vs. Old Restaurant
First, are you taking over an existing restaurant or are you starting from scratch? Converting an empty box into a restaurant will cost a lot more. You will need new plumbing, new lighting, new equipment, and new floor, wall and ceiling finishes. On the other hand, an existing kitchen with sinks, gas connections, grease trap, or an existing water heater and HVAC can save you lots of money and time. Building a kitchen from ground up will use the largest part of your budget.
Size of the Space
The larger your space, the more you must invest in it. All things are not lost, however, if you are trying to reconcile a large space with a tight budget. There are many creative ways to bring the cost down by choosing the right finishes or using what you have. In fact, a tight budget has been known to spark the creativity and be the driving force behind truly unique designs. Of course, a good designer is your first line of defense against unnecessary costs and uninspired designs that look cheap rather that creative.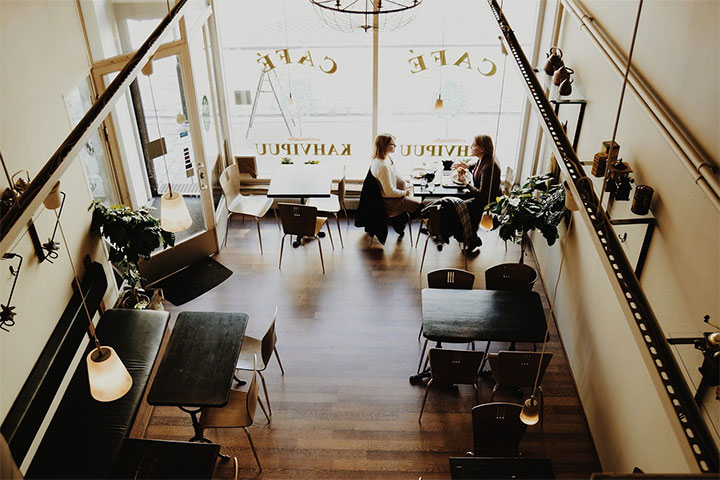 Style and Finishes
Depending on the style of your restaurant, your finishes will use a lot of your budget, whether it is your floor, walls and ceiling or your counter materials and furniture. Of course, a fancy style will cost more. By contrast, a restaurant that follows the new trend of minimalist decor or one that targets a younger audience is more economical.
However, regardless of your style, you can cut your expenses by taking advantage of any quirks in your existing interior. Why not allow that exposed brick to shine instead of covering it? Or why not embrace a concrete floor and make it the focal point of your space by treating it as your canvas for some artwork?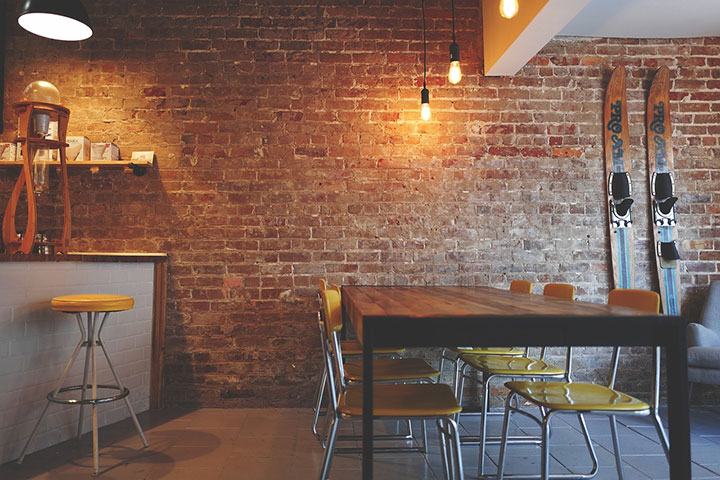 Lighting
While lighting may be one of the last things you may think about, it is actually one of the most expensive items on your restaurant construction cost list. This is especially true if you need to build or change the entire electrical conduit. But even when you are building on an existing one, the numbers add up.
First, a restaurant, even a small one, is a fairly large space, so one or two pendants won't do. But most importantly, lighting is an essential tool in creating mood, making your food look more appetizing and influencing your clients' behavior, appetite and spending.
Also, consider that fact that you need different types of lighting in the dining area, kitchen and bathroom, and that using light in order to create ambiance may involve structural changes in the ceilings or walls. While everything is said and done, when all your finishes are in place and all your appliances are working, it is the lighting that adds the last touch to the whole ensemble. Therefore, quality is not optional.
Keeping all these in mind, use our calculator as a starting point in estimating your store or restaurant design cost. More than just generating a number, this tool will introduce you to what goes into designing a space and what you should expect when it comes to how far your budget can take you. Finally, don't forget that using the services, talent and experience of an excellent designer will, in fact, help you get more value for your money – and make all your financial efforts worth it. Restaurant construction cost may in fact be lowered by using design professionals that know what they are doing.
Please take a look at our Before and After images of selected projects from 2018 HERE.
If you are thinking to open up a new business or in a process of rebranding and remodeling your existing business, contact us to get a free consultation from Mindful Design Consulting. Click HERE to price your project design.

Also, take a look at "Branding By Interior" e-book, the only book written on this subject at this time. It brings insight on how you can turn your business into a market-dominating competitor by using human cognitive responses.
https://mindfuldesignconsulting.com/wp-content/uploads/2019/08/Restaurant-Interior-Design-Cost.jpg
480
720
M T
https://mindfuldesignconsulting.com/wp-content/uploads/2015/07/mindful-design-consulting-logo.png
M T
2019-08-07 23:59:29
2019-10-15 23:40:09
How Much Does a Store or Restaurant Construction Cost?