Via contemporist.com
Restaurant interior design: Studio Hekla
Photos: Julien Fernandez via contemporist.com
When one element of design is repeated throughout an entire interior space, it brings a relaxing feel of unity and cohesiveness. This is exactly what the design of the Indonesian restaurant djawa in Paris achieves by using CNC cut panels to line up its walls – and not only.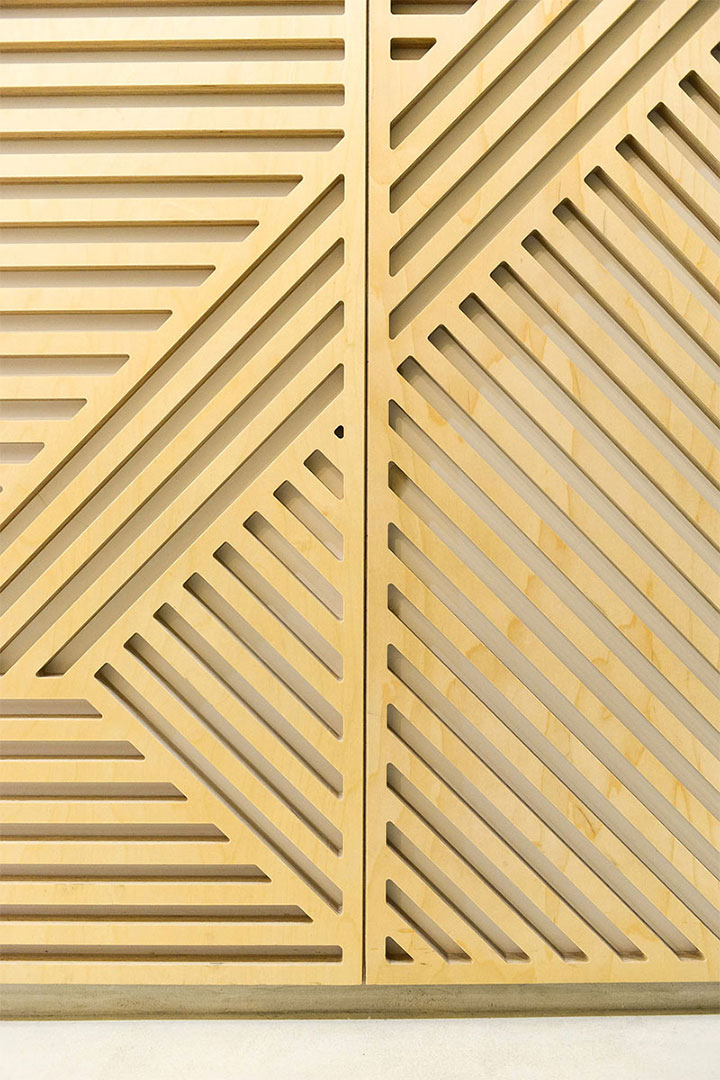 Designed by Studio Hekla, the restaurant makes heavy use of wood as wall treatment, yet the result is a light and luminous space, refreshed rather than weighed down by this abundance of natural materials. First, a glass entrance door and large windows take full advantage of natural light that, combined with the light-toned wood, sets up the mood for the restaurant.
Mixing vertical, horizontal and oblique cuts in an abstract pattern that extends across the walls, the wooden panels introduce an element of visual interest, but never overwhelm the space. There is a sense of order in the geometrical patterns that stretch from the light-colored ceiling to the floor.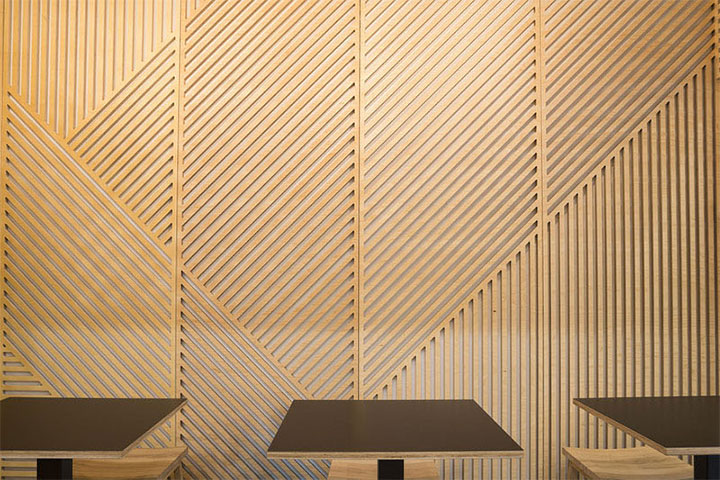 The wood panels are used in more than one way: first, to cover the walls for enhanced aesthetic appeal; second, to create dividers and small niches in an architectural attempt to achieve a quirky space with character. They also line up the sides of the counter, but eschew the wall behind the counter, so that the design does not become overpowering.
In the back of the restaurant, the panels take on yet another role. They are used in combination with light to cast shadows on the ceiling and walls. This darker corner, where the raw texture of the wood panels is enveloped in an ethereal show of lights and shadows, is ideal for an intimate gathering.
If the light pendants are modern and simple throughout the restaurant, they take a more daring shape in this corner. Peeping from behind a series of nested woven shades, the light is filtered and softened. The gentle illumination provided by these luminous globes becomes as much an essential part of the restaurant interior design concept as the wood panels. The lights and shadows cast by the lampshades mix with the ones from the panels to create rich, interesting patterns.
The light hues of the wood have an Asian vibe, almost evoking the serenity of a spa. The feeling is emphasized by the presence of greenery in corners that would otherwise go unused.
Learn about emerging trends of 2015 in commercial interior design HERE.
If you are thinking to open up a new business or in a process of rebranding and remodeling your existing business, contact us to get a free consultation from Mindful Design Consulting. Click HERE to price your project design.

Also, take a look at the "Branding By Interior" e-book, the only book written on this subject at this time. It brings insight into how you can turn your business into a market-dominating competitor by using human cognitive responses.
https://mindfuldesignconsulting.com/wp-content/uploads/2017/11/CNC-Cut-Panels-in-Restaurant-Interior-Design.jpg
481
720
M T
https://mindfuldesignconsulting.com/wp-content/uploads/2015/07/mindful-design-consulting-logo.png
M T
2017-11-22 10:05:31
2022-05-20 15:30:41
Serene Restaurant Interior Design Mixes Light and Wood Panels