If you have been dreaming of opening a new restaurant and are finally ready to put your plans into motion, congratulations! You are about to embark on a great adventure that will most likely bring you lots of satisfaction. However, there is a lot to do before opening your doors to the public. The list is long and sometimes intimidating.
To make things a little bit easier, we came up with a 13-point checklist of what you need to do, that shows you how to start off on the right foot in this new adventure. Making sure you cross off all the items on the list will ensure an easier journey from dream to reality.
1. Pick a solid concept
Every restaurant needs to be built around a clear concept, whether this means a type of food, a drink you want to introduce and make famous, something that you are good at or something that is hot on the market. As an example, consider all the new desserts that are flooding the US right now: rolled ice cream, snow dessert, Boba tea, food from exotic places such as Africa or Middle East etc. Each of these has been embraced by a restaurant, dessert store or coffee shop and become their central concept and point of attraction.
The concept you choose for your restaurant can be anything – from your best menu item to your specific location. Make sure, however, that you carefully research your concept and that you do not build it around temporary trends with no chance of long-term appeal. You will also need to choose between a fast food restaurant or a dining-experience type. For more on this, read our article on how to choose a restaurant style.
Above: SimSim Shawarma – Carmel Mountain location, San Diego, CA – design by Mindful Design Consulting
2. Create a menu
Having a well-thought and well-defined menu does not only serve its obvious purpose of offering your customers some food options, but helps you answer a few business-related questions: How many employees do you need in order to cook and serve your food? How large does your space need to be? What type of kitchen equipment do you need? etc.
3. Select a good location
Your location can make or break your business, so give it a lot of thought. Know what your local competition is and how you can create interest, what parking is available, if the location you found is appropriate for the layout of your restaurant etc. Then crunch the numbers to find out if the location you chose allows you to put your restaurant idea into practice. For a detailed analysis, read our article on how to choose your restaurant location. You can also calculate how many customers you can expect in your particular location based on demographics.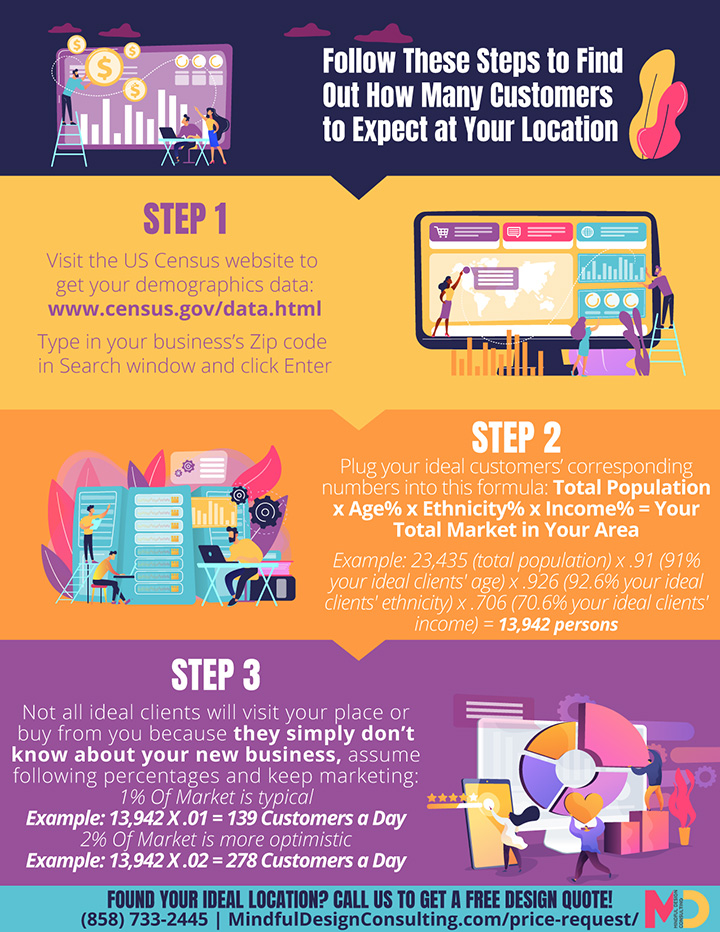 4. Negotiate with landlords
Landlords will be part of your life as a restaurant owner, so do yourself a favor and negotiate with them while you still have negotiating power. For instance, landlords are often responsible for the ADA (handicapped) upgrades in their buildings. They will also pay for items that remain after the tenant leaves, including restrooms, ADA access, exterior doors, HVAC units, water heater, and sometimes ceiling and flooring. Good landlords will allow restaurant owners not to pay rent until the grand opening. Keep all this in mind and make it part of your negotiations.
5. Crunch some numbers
A clear business plan is essential for the success of your restaurant. Take your time and delve into all the details – location, main concept, expected revenue etc. In case you need help, we have developed a business plan that can serve you as an example. Please contact us to get a copy of this plan.
6. Secure funds
Your business plan will come in handy when you will start looking for funds. The thought you put into it and the way you present it will make a huge difference whether you try to convince your family, your bank or an investor that your business idea is worthy of support. When using personal funds, clear goals and a clear idea on how you intend to achieve them will give you the necessary energy to put in the work and invest your life savings in your dream.
7. Hire a design company or companies
You may need at least three designers: a graphic designer, a restaurant designer and an architect. Alternatively, you can hire a company that can play all these roles at once and produce everything you need. Mindful Design Consulting is such a company that has been designing new restaurant brands for the last 10 years. We can provide all your branding materials, interior design and construction documents that you need in order to get your permits. We can also help you during the process of obtaining permits and even during the construction process as needed. (For more details, see our article about what Mindful Design Consulting can do for you.)
Sometimes, it is a good idea to hire a designer even before securing your location, for two reasons. First, landlords prefer businesses with serious prospects to occupy their space, so they may ask for your business plan, proof of funding and branding materials. By creating your logo and all these materials, your graphic designer will help you find a better lease.
Second, an architect or designer can figure out if the space you are considering may cause problems in the future. For example, the space may not be ADA-compliant, or may not have enough restrooms, power or gas. It is always preferable to be aware of these shortcomings before you start the construction process, since it will cost thousands of dollars to fix these problems once the construction has begun.
8. Obtain all the necessary permits
The list is relatively long, including a business license, a liquor license, a food service license, then a food handler's permit and an EID (employee identification number). Do not forget the building permit and, in case you intend to use a restaurant sign, the sign permit.
9. Start marketing
It is never too early to start marketing, so start telling everyone about your restaurant as soon as your branding materials are finished. Do not wait until your restaurant is ready to open its doors to start marketing your great idea. While the building process is taking place, the word will have time to spread around, and your marketing efforts to start working. Do not limit yourself to one medium. In order to reach as many people as possible, you need to be active everywhere: on social media, local newspapers, radio, TV…
10. Hire a contractor
Once the design is finished, obtain estimates from contractors. Compare different bids and select the company that is best suited to your needs. Make sure, however, that the contractors include everything in their bids, so that you don't have unpleasant surprises later.
11. Order equipment and furniture
This is a game of patience, since it takes time for your equipment and furniture to be made or delivered on site. Make sure yours is appropriate for your menu, kitchen size and restaurant layout.

12. Hire Staff
Finally, it is time to deal with the human element. When it comes to your personnel, especially the one that interacts with your clients, personality, openness and a friendly nature is a good combo. Do not let yourself tempted to hire friends or family members. What works in the family does not always work in business, so ending in conflict is always a possibility. A resentful employee is not the face you want to present to the world.
13. Enjoy your grand opening day
This is your day to shine after all the hard work you put into your project. If you want to test your idea first and have time to iron out a few last wrinkles, have a first opening with friends or family or a quiet unadvertised one. Then step with confidence into your grand opening day, hoping that all your marketing efforts will pay off. If not, remember that you have the first few months to catch up.
For an even more detailed list that shows you step by step what to do before opening a new restaurant, check this pre-opening checklist provided by the Golden Gate Restaurant Association, this detailed prospective timeline, or its simpler version.
Above: Restaurant Design by Mindful Design Consulting
Please take a look at our Before and After images of selected projects from 2018 HERE.
If you are thinking to open up a new business or in a process of rebranding and remodeling your existing business, contact us to get a free consultation from Mindful Design Consulting. Click HERE to price your project design.

Also, take a look at "Branding By Interior" e-book, the only book written on this subject at this time. It brings insight on how you can turn your business into a market-dominating competitor by using human cognitive responses.
https://mindfuldesignconsulting.com/wp-content/uploads/2019/07/Opening-New-Restaurant-Checklist.jpg
453
720
M T
https://mindfuldesignconsulting.com/wp-content/uploads/2015/07/mindful-design-consulting-logo.png
M T
2019-07-25 00:15:58
2020-09-25 13:53:55
Road Map to Opening a New Restaurant