Via retaildesignblog.net
Designer: Robert Kolenik
All photos courtesy of retaildesignblog
Fletcher Hotels' newest location in Amsterdam resembles an upright cylinder on stilts. The roundness of the hotel building posed several interesting challenges for the interior designer, Robert Kolenik. Due to the circular shape of the building, he was faced with many difficult spaces to decorate, especially when it came to serving as a restaurant interior designer. His designs are elegantly simplistic because he works with modern, yet eco-friendly, materials. Ultimately, he produced a look that he describes as "eco chic" with the use of biodegradable and homely resources.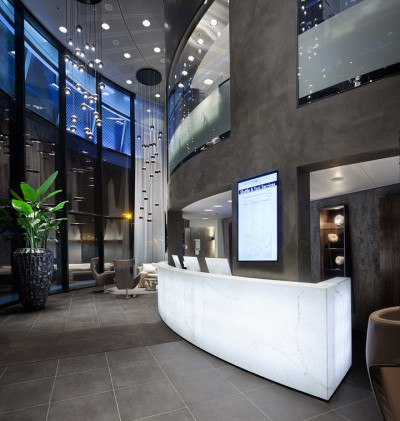 For the living spaces and rooms of the hotel, he used feathers taken from organic chickens to create the comforters. Furthermore, he substituted oil-based foam with soy-based foam for the pillows to minimize pollution. For the colors of the rooms, he coupled basic whites and natural wall paints to further radiate an earthy but luxuriously minimalistic feel. For the common areas, he utilized radial perimeters and sleek, modern furniture to produce symmetrical seating with tastefully low lighting. Overall, his designs are simple, classy and clean.
Kolenik served as a restaurant interior designer of the hotel as well. For the center of the restaurant interior, he used a grand chandelier. The highlight of the restaurant design is the whale-shaped grand piano, which was also made out of sustainable materials and without ivory keys. He also used eco board, made out of agricultural waste, for the couches to add a marbled, brown and homely look to the restaurant design. The elevator is constructed from recycled aluminum. Gas was injected in the aluminum to create a sparkling, bubbled texture. All these elements come together to make a modern, sustainable restaurant interior.
Learn about emerging trends of 2015 in commercial interior design HERE.
If you are thinking to open up a new business or in a process of rebranding and remodeling your existing business, contact us to get a free consultation from Mindful Design Consulting. Click HERE to price your project design.

Also, take a look at "Branding By Interior" e-book, the only book written on this subject at this time. It brings insight on how you can turn your business into a market-dominating competitor by using human cognitive responses.
https://mindfuldesignconsulting.com/wp-content/uploads/2015/07/mindful-design-consulting-logo.png
0
0
Administrator
https://mindfuldesignconsulting.com/wp-content/uploads/2015/07/mindful-design-consulting-logo.png
Administrator
2015-08-17 16:25:23
2015-08-17 16:25:23
The Interior Design of Fletcher Hotel, Amsterdam – Commercial Interior Design News