Those who have ever glanced through the colorful Mindful Design Consulting portfolio can only imagine that, behind all the beautiful pictures and designs, there must be a creative force equally full of color.
The assumption is correct. Katerina Kohlwes, the founder and designer of the successful San Diego design firm, is as cosmopolitan a figure as you can get. Of Ukrainian origins, she was born in Asia, studied in Europe and the United States, and created an outstanding design company in California. She continues to travel and design spaces all over the world, while her openness to trends, international influences and out-of-the-box visions shows in the freshness of her creations.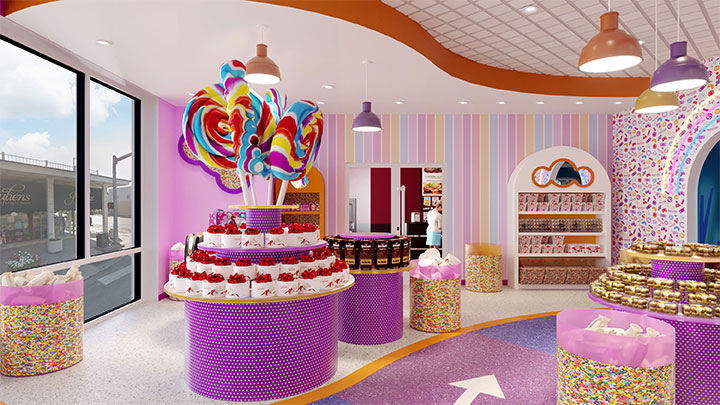 Sweet Life candy store design by Mindful Design Consulting
Always on the move as a child due to her father's job, Katerina had the rare chance to live in some of the most beautiful and history-filled places in the world, including cities along the famous Silk Road. The rich past of these places, as well as the poetic beauty of Asian architecture permeate to this day her creative process. Her later studies in Paris and Florence, the two largest design centers of the world in the hearts of France and Italy, gave her the solid classic foundation so important in the development of every designer.
Building on this background, Katerina received a Master of Arts in Architecture from The New School of Architecture and Design in San Diego, California, and went on to work for several high-profile architecture firms in San Francisco and San Diego, such as FPBA, BPA, Tucker Sadler Architects, Powell & Partners Architects and Hendler Design. A keen interest in sustainable alternatives to traditional design was later put in practice when working for Alison Whitelaw at Platt/Whitelaw Architects in San Diego, a firm that specializes in green architecture.
Beauty Bakerie cosmetics store design by Mindful Design Consulting
Katerina's portfolio is diverse and colorful. Her rammed earth self-sustaining house design was part of the environmentally-focused path that she has been following her entire career. Drawing from the oldest construction techniques in the world, including Roman heating practices, all improved by modern capabilities, the ingenious design reinvents the concept of a house. It imagines a living "machine" made of already available non-toxic natural materials, and able to sustain itself by assigning each of its walls a function supported by natural resources. When the house no longer serves its purpose, the rammed walls can be leveled down to the ground and reenter the natural cycle.
Entered into the C2C – Green House Design competition, the project was picked by a Roanoke, VA contractor for construction, and is just one of her contributions to different design competitions.
Another project Katerina remembers fondly is her work with a Chinese developer on a 100-acre project, which enabled her to travel to China and meet with local mayors of the Jurong province. The result was the design of a small sustainable community called Jade Dragon, which brought together her interest in Asian architecture and green design.
Jade Dragon Hotel Lobby Design by Mindful Design Consulting
Katerina's projects received well-deserved attention from several trade journals and magazines that published her work, including the "Architecture" magazine. Beyond her designs that grace cities in the United States and all over the world, Katerina's focus on commercial brand building and on helping her clients take the less glamorous everyday steps to get there led her to build her own solid Mindful Design Consulting brand. From creating branding packages to assisting her clients in getting the necessary building permits, she covers everything that pertains to bringing designs to life as part of business branding.
Katerina had the good inspiration to put in writing much of what she had discovered in her prolific career. Her unique "Branding by Interior" e-book explores the relationship between business environments and customer emotional responses, and gives excellent advice on how to use powerful elements such as color, sound or lighting to get the reaction business owners want.
She continues to learn about new cultures, keep open to fascinating sources of inspiration, and allow them to trickle into her very distinctive designs. With a slight preference for dessert stores, but never overlooking restaurants, bars, offices, salons, pet stores, car washes, malls, hotels and even doctor offices, she makes cities all over the world more beautiful one design at a time.
A taste of Mindful Design Consulting's work in the upcoming "Small Store Design Extravaganza" book
If you are thinking to open a new business or are in the process of rebranding and remodeling your existing business, contact us to get a free consultation from Mindful Design Consulting. Click HERE to price your project design.
Also, take a look at the "Branding By Interior" e-book, the only book written on this subject at this time. It brings insight into how you can turn your business into a market-dominating competitor by using human cognitive responses.
https://mindfuldesignconsulting.com/wp-content/uploads/2018/05/Besties-Frozen-Yogurt-Shop-and-Ice-cream-Store-Branding-Design-by-Mindful-Design-Consulting.jpg
667
1000
M T
https://mindfuldesignconsulting.com/wp-content/uploads/2015/07/mindful-design-consulting-logo.png
M T
2021-12-19 17:54:16
2022-10-20 19:27:38
The Mind Behind Mindful Design Consulting