As restaurant interior and brand designers, we are invested in the success of our customers and always looking for ways to improve their business operations. Along the years, we have witnessed how restaurant owners can benefit from digital signage and in particular from incorporating digital menu boards in their designs. From menu and pricing flexibility to reducing food waste, and from creating awareness about loyalty programs to simply improving the interior ambience, digital menus for restaurants are invaluable tools in the operation of today's businesses.
Photo above via Voolsy Screen
So where do you start if you are a business owner, and a digital menu board is on your wish list? Here are three companies that you may want to consider.
Photo via Screenly
If you are new to the idea of digital menus for restaurants and you are overwhelmed by the whole process, don't be. You can start with the very short introduction to digital signs offered on the Screenly website. Once you understand what you need in order to implement your digital signage system, consider the benefits this company offers you.
With 10,000 screens operated in more than 75 countries, Screenly can accommodate any number of screens you have, and can help you manage them from an online platform. You can sign up for an online Screenly account, purchase the smartphone-sized and energy-efficient Screenly digital signage player from Amazon, and start the process. The software automatically optimizes your content for each screen and updates automatically to keep your system secure.
Screenly allows you to schedule content in different timezones for international operations, and to monitor the screens remotely from an online dashboard, so that any malfunctions are addressed immediately. The images are displayed in a gorgeous 1080p Full HD resolution.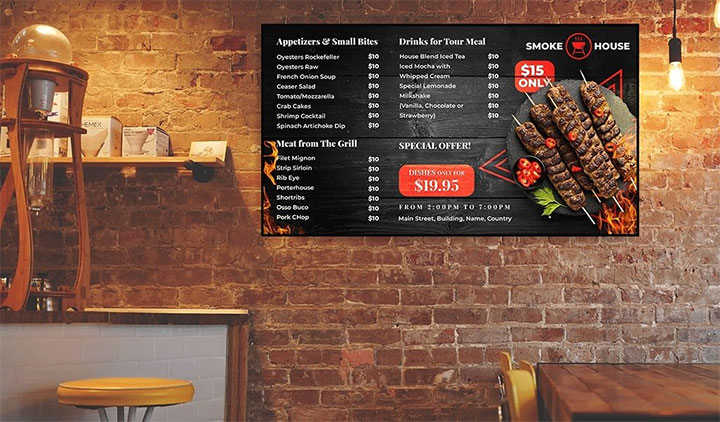 Photo via Voolsy Screen
Voolsy Screen offers business owners more than 100 menu board templates grouped in different template categories, from pizza and burgers to ice-cream and drive-thru. The menu template editor is complete with stock images that make it possible for you to circumvent the hiring of a costly professional photographer. A team of designers is ready to help if need arises. A scheduler can be used to display different menus at different times of the day. Voolsy Screen can be operated in an offline mode.
Voolsy Screen works with Amazon Firestick and with all android devices. The company simplifies the process of procuring the hardware by offering a list of the supported media players, so that you can plan for the costs or work with what you already have.
The beauty of Voolsy Screen lies in the ability to create interactive menus. You can use it to create a feedback section where you invite your customers to evalutae your products and services. You can also simplify the ordering process by taking orders from your tablets and have them printed in the kitchen.
Digital menu template from NoviSign
NoviSign provides high-impact customizable templates and an eSeries that guides the digital signage novice through the terminology and process of installing digital menus for restaurants. Its cloud-based digital signage software works on any screen and offers the additional benefit of making dynamic social and interactive content possible. For example, you can ask your customers to post on the screen pictures of themselves having fun in your restaurant or dessert shop, then use this feature to increase your social media presence.
Even if your network is down, the NoviSign software continues to work, helping you navigate graciously and away from the public eye any networking problems you might have. NoviSign can also assist in centrally manging your products and prices, and in always keeping up to date with FDA menu requirements.
Digital menu template from NoviSign
If you are thinking to open a new business or are in the process of rebranding and remodeling your existing business, contact us to get a free consultation from Mindful Design Consulting. Click HERE to price your project design.
Also, take a look at the "Branding By Interior" e-book, the only book written on this subject at this time. It brings insight into how you can turn your business into a market-dominating competitor by using human cognitive responses.
https://mindfuldesignconsulting.com/wp-content/uploads/2022/09/Pizza-Restaurant-Digital-Menuboard.jpg
422
720
M T
https://mindfuldesignconsulting.com/wp-content/uploads/2015/07/mindful-design-consulting-logo.png
M T
2022-09-13 23:06:33
2022-09-13 23:09:07
Top Companies for Creating Digital Menus for Restaurants and Dessert Shops