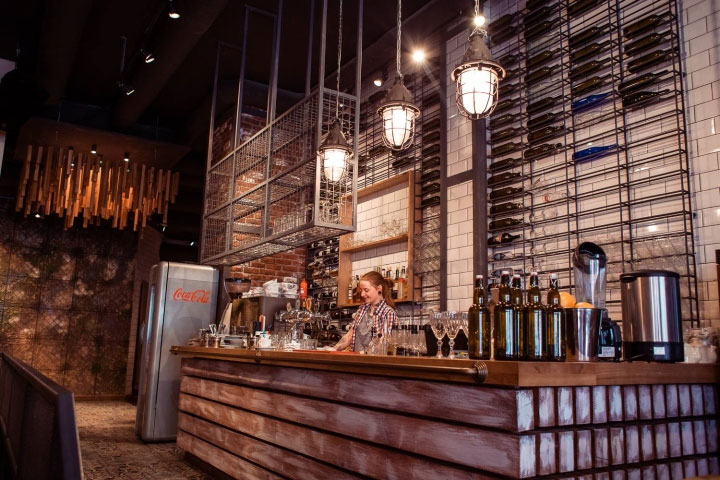 Via retaildesignblog.net
Designers: Seventh Studio – Kiev, Ukraine (Yuriy Yumashev, Yuriy Cherebedov, Dmitriy Zhukov)
All photos courtesy of Alexandr Usanov
Metal meets wood, and industrial decor meets rustic touches in the Lucky Luciano restaurant located in Kiev, Ukraine. Designed by Seventh Studio, this trendy restaurant is worth visiting even if only for its hip decor.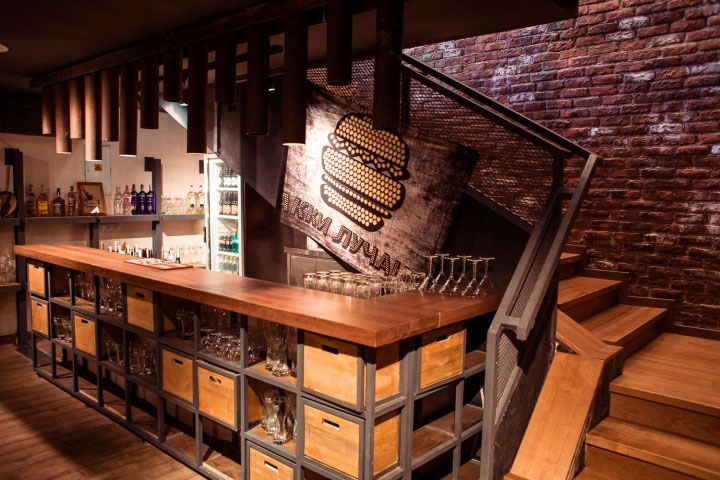 Underneath the kitchen counter, an oversized metal-and-wood structure serves as the restaurant's focal point. It is both a storage and display area, with the sight of fire logs infusing the place with the warm, familiar atmosphere of a pleasantly heated lodge.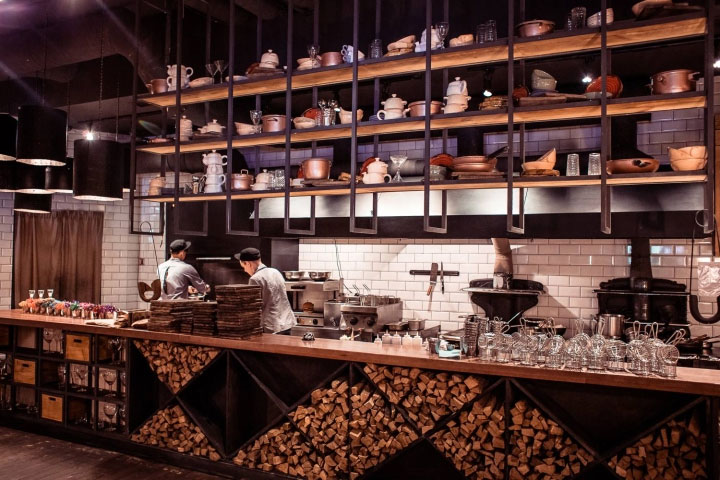 Above the counter, long wood shelves rest on a suspended metal structure, turning the impressive collection of kitchenware into an element of decor. The same combination of materials continue across the restaurant, with simple wooden tables on metal legs, extra shelves, and even walls encased here and there in rectangular metal frames.

The walls play an important part in the general feel of the restaurant. Sometimes, horizontal wood planks give the place the nostalgic feel of a mountain hut. Brick walls mix aged copper tiles and plastered walls, while a few areas are covered with large metal mesh panels. This mix creates the impression of an old establishment with a story to tell.

The interior is softened by the upholstered couches and the occasional upholstered chairs that combine with industrial pieces. Industrial pendant lights are grouped in small clusters of similar designs, giving the sense that light is abundant.

The metal frames are a reoccurring detail found in multiple elements of decor, such as the metal cage suspended over the bar, the hallways mirrors and even the outside rails.

The terrace is suggestive of what patrons find inside, with metal mesh panels, wooden crates and unexpected piles of fire logs coming together into a mix of industrial and rustic inspiration.

Learn about emerging trends of 2015 in commercial interior design HERE.
If you are thinking to open up a new business or in a process of rebranding and remodeling your existing business, contact us to get a free consultation from Mindful Design Consulting. Click HERE to price your project design.

Also, take a look at "Branding By Interior" e-book, the only book written on this subject at this time. It brings insight on how you can turn your business into a market-dominating competitor by using human cognitive responses.
https://mindfuldesignconsulting.com/wp-content/uploads/2015/12/Rustic-Restaurant.jpg
480
720
M T
https://mindfuldesignconsulting.com/wp-content/uploads/2015/07/mindful-design-consulting-logo.png
M T
2015-12-02 19:14:08
2015-12-02 19:21:14
Trendy Restaurant Interior Design Is at the Junction of Industrial and Rustic