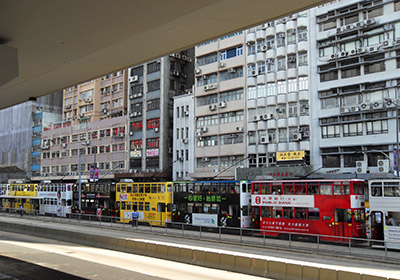 Typical street of Hong Kong with public transportation.
Hong Kong and China were always an unreachable land of mystery for me, until we had a chance to visit it for a project.  The last few days I was reviewing my photos from the trip and realized I never shared my experience on my blog.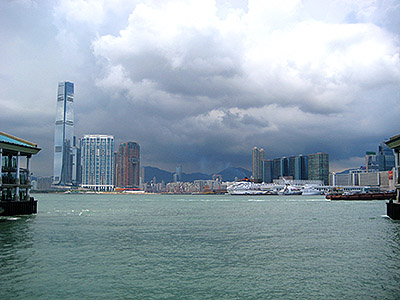 So today I would like to share just a few images and thoughts about Hong Kong.
One of the first things that I noticed was the large gap between a condition of residential apartments (usually at tops of tall buildings) vs. commercial spaces (occupying lower levels.)  (see image above)  Nobody takes care of the apartments above and they deteriorate fast.  Stores below are taken care by the owners of the operations.  They look shiny and slick.  It was a sharp juxtaposition that can not be unnoticed in Hong Kong.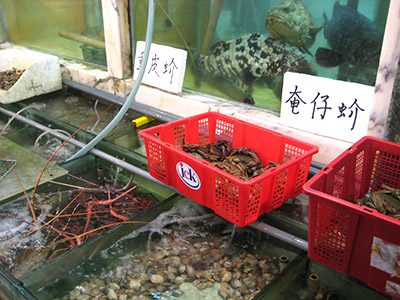 Incredible sea food markets, located right next to the waterfront, bring fresh fish and other creatures from the boats daily  (Kowloon Bay, Kowloon, Hong Kong.)  You can pick anything you like and go inside of a restaurant located next door (you can pick a restaurant you like as well.)  Your food will be freshly prepared for you and brought to your table in no time.
Typical older buildings in Hong Kong can look something like this, image above.  But newer buildings are incredibly tall, image below.  A huge amount of people has to fit in the city and the only way to grow is up.
In Hong Kong construction companies use bamboo to construct scaffolding even on large buildings construction sites.  It's beautiful when you see something like on the image below.  But it also looks dangerously fragile.
Overall Hong Kong looked very European to me.  It has its history and some architecture has classical lines, even though it's being accented with beautiful Chinese characters.
A few contemporary looking cafes and retails stores attracted my attention by its simplicity and well designed signage.  Ironically this place, image below, is also called: Simplicity.
And finally a Yogurt Shop design in Hong Kong!  Clean and simple!
I like the logo and the overall brand of this store, image below, called "Go Ape."
Believe it or not, but KFC was our savior in Hong Kong and overall in China when we were tired of the local food on our 3 weeks trip.  Their stores are well designed and very clean.  I felt like home, even though I never go to KFC in the US.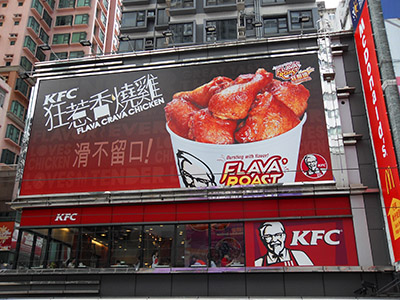 The image below is a bit out of sequence, as it was taken in Beijing, at the end of our trip, but I wanted to share what KFCs look like inside in China.  I also was impressed by the use of the vinyl print with an image of the Great Wall of China in this restaurant.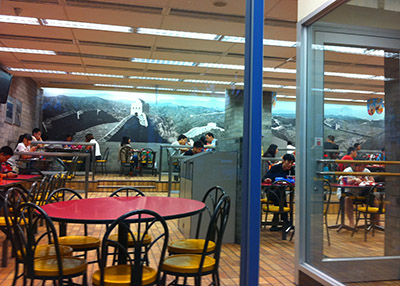 This window display shelving on image below caught my attention. What a great use of lights and acrylic panels!
Some high end stores had beautiful store front designs.  And I think yellow and grey are definitely in style there.
I am not sure what type of business is in this building but it attracts attention in an instance. Very smart store front design!
This piano needs no comments.  The store was closed but we could see the design through the open glass.  I need to add this one on my wish list.
Night life in Hong Kong is busy.  Every business is lit up and ready to go till late.
If you ever travel to Hong Kong, Victoria Point is a must place to visit.  An incredible panoramic view opens up as you get to the top.
Every building can be seen from this spot if you did not have much time to visit them all.
If you have one extra day, definitely visit the back side of the iseland Hong Kong (Stanley Promenade.)  You will find a quiet bay with boats and local fishermen trying to catch their daily lunch.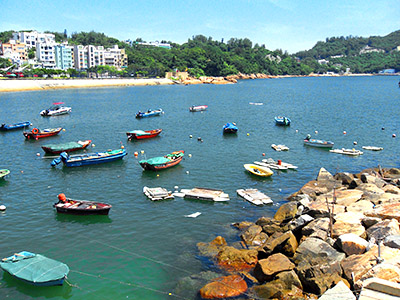 This image of a beautiful pavement pattern was taken at Stanley Promenade, Hong Kong.
But try to obey local rules when visiting any local parks.  We found this funny sign in one of them.
And off we go to Nanjing on local Dragon Air airline, to present our designs to the local government.  I will try and share more travel adventure pictures in future blogs.
To ask us questions about your commercial interior design project or to get a free consultation from Mindful Design Consulting, click HERE.
Also, take a look at "Branding By Interior" e-book, the only book written on this subject at this time.  It brings insight on how you can turn your business into a market-dominating competitor by using human cognitive responses.
https://mindfuldesignconsulting.com/wp-content/uploads/2015/07/mindful-design-consulting-logo.png
0
0
Administrator
https://mindfuldesignconsulting.com/wp-content/uploads/2015/07/mindful-design-consulting-logo.png
Administrator
2013-09-02 15:50:43
2013-09-08 22:09:46
Trip to Hong Kong – Commercial Interior Design News