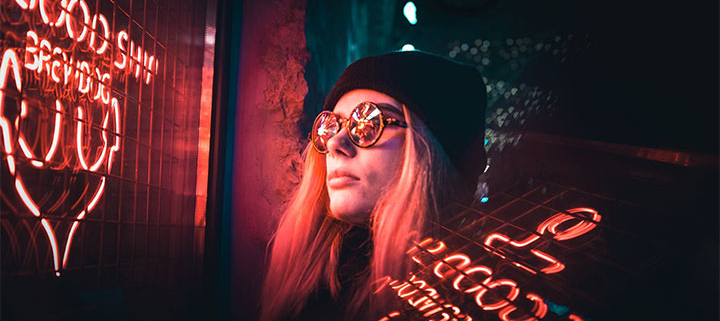 Used on a large scale in the commercial interiors of the '70s, neon signs have never lost their popularity. In fact, they are as popular as ever in restaurant, cafe and bar design, and there are good reasons for it.
When it comes to neon signs, it's all about the cool factor. There is something inviting and warm, but also hip and artistic about a simple or multi-colored neon light that demands attention and seems to promise a good time. They are hard to miss, affordable as signage or decor, and have a great visual impact. In addition, they are energy-efficient, even more so in the case of LED neon.
So how can you incorporate them into your interior design? Here are some ideas.
1. Tell customers who you are
One of the best ways to take advantage of neon signs is using them to display your logo or business name. When used as outdoor signage, they attract customers and make your business more visible. When placed in full view inside, they help visitors remember your logo and have their own contribution in creating brand recognition. When your customers choose to take and share some selfies with your cool logo in the background, you get some free marketing with no extra effort.
Your neon sign can also be a simple image that lets your patrons or passers-by know what your products or services are. A massive neon sign in the shape of an ice-cream cone can be seen for a distance and attract people in search of a sweet treat. Placed inside, such a sign can offer a decorative touch with some pizzazz or define a specific space such as the self-serve corner or the seating area.
2. Use neon signs to send a message
Neon signs can communicate any message you want, so take advantage of them and find unique way to use them in promoting your business. A fun or quirky saying or a clever plug is all you need to stir the attention, make people smile or start the conversation. You can even use neon signs to define your business the way you want it to be recognized. When doing this, try to find a line that amuses your clients and is easy to remember.
If your business has a unique take on products and services or a certain strength you want recognized, capture it in a neon sign so that your clients get the message as soon as they enter your door.
3. Create ambiance
Of course, it's all about light. The very appeal of neon signs is that they illuminate your space and bring into play another visual dimension. In fact, you can use neon sign as your sole source of light to create an intimate seating corner or to control the ambiance of your interior. Seasonal use of neon sign are also a good way to celebrate an event.
Of course, creating ambiance may simply mean controling the mood with a fun neon sign.
4. Send inspiring messages
Regardless of your products or services, the ultimate goal of your business is to make your customers happy. Your neon sign can provide an inspiring message that could serve as a quick pick-me-up or make them feel special. Combine this with exuberant patterns or vibrant colors in your interior design, and create a space that puts your customers into a good mood.
5. Be cute
The messages you choose to send with your neon lights can give your space a charming look. You have the opportunity to increase its degree of cuteness with a fun twist, melt hearts and make phone cameras start clicking. Think out of the box and come up with a message that puts your products in a great light, yet is not blatantly self-promoting.
6. Be Instagrammable
On of the most important role of your neon sign is to make your space worthy of an Instagram picture. The Instagram crowd is always hungry for a chance to immortalize their experience and can work for you if you offer them something fun to share.
Especially in a dessert shop or ice-cream store, a simple neon sign on a solid background can provide an amazing background against which your customers can snap pictures of themselves or, even better, your products.
7. Be creative
Finally, who said that neon signs cannot be classy, romantic, elegant – or any way you want them to be? Think beyond the simple neon sign that hangs on your wall, on your door or in your window, and combine them with different backgrounds to create a rich and original look. Your background can be a brilliant wallpaper, a green wall, a striped pattern, or any other daring wall treatment with a rich look that attracts the eye and captures the attention.
If you are thinking to open a new business or are in the process of rebranding and remodeling your existing business, contact us to get a free consultation from Mindful Design Consulting. Click HERE to price your project design.
Also, take a look at the "Branding By Interior" e-book, the only book written on this subject at this time. It brings insight into how you can turn your business into a market-dominating competitor by using human cognitive responses.
https://mindfuldesignconsulting.com/wp-content/uploads/2022/04/Neon-Signs-in-Commercial-Interior-Design.jpg
467
720
M T
https://mindfuldesignconsulting.com/wp-content/uploads/2015/07/mindful-design-consulting-logo.png
M T
2022-04-25 22:35:55
2022-04-25 22:46:37
7 Ways to Use Neon Signs in Commercial Interior Design