The easiest way to completely change the look and mood of a room and guarantee instant visual impact is finishing off the space with plants. The same goes for restaurant and cafe designs, where the green element can become more than just a final accent. Every designer or business owner should consider greenery, flowers and plants as part of their creative arsenal. Planning to use plants in restaurant or cafe interiors can in fact have spectacular results if done right.
Unlike residential areas or smaller interiors, adding plants to a commercial venue is a little more complicated. In a restaurant, plants should not be used only as pretty accent, but they should be allowed to play a functional role. Used right, they may even be the decisive factor when people choose your restaurant over your competitor's and decide to stay for a while and consume more.
Add to this the cost and maintenance of a large collection of plants, and you get an issue that you should ponder well before springing into action.
To make it easier, here are a few tips on how to choose and use plants in restaurant or cafe interiors.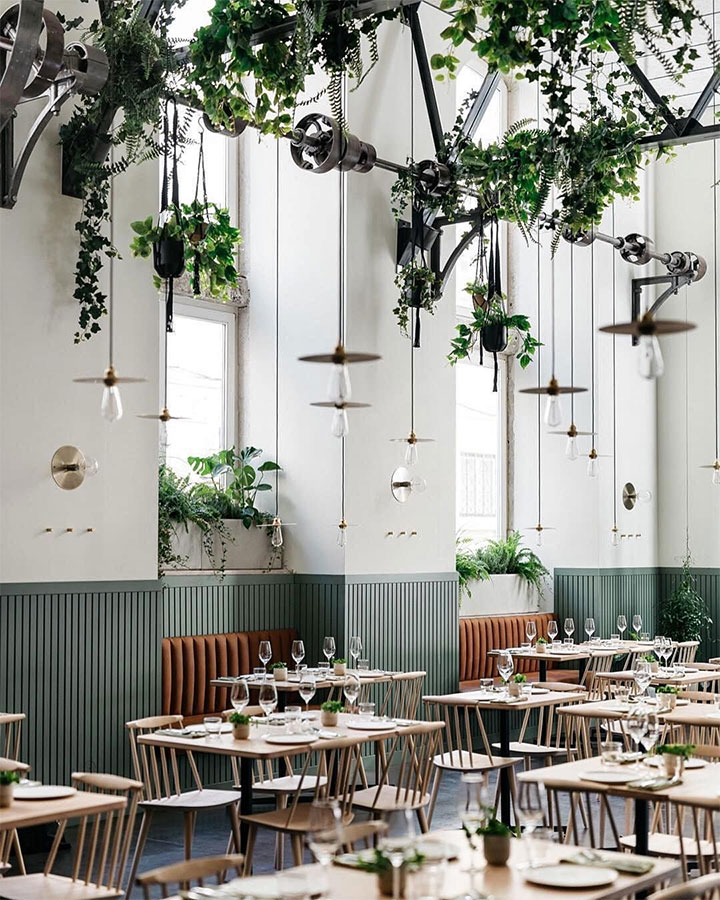 Photo via Wit & Delight
1. Pick plants that complement your interior
Like every other element of design, plants should work together with the rest of your interior to achieve a coherent design. There are some that suit well modern interiors, such as sculptural or geometrically shaped plants or plants with small-scale leaves. Others work best with more traditional looks, such as heavily blooming flowers or foliages with rounded shapes.
Your plants should be an extension of your theme (and your menu). If yours is a Mediterranean restaurant, one with Scandinavian looks or one celebrating tropical beauty, choose your plants accordingly. Do not overlook the beauty of herbs when planning for your plants. Basil, rosemary and thyme have all great visual appeal. They can create a wonderful Mediterranean garden in an outdoor area of your Mediterranean restaurant.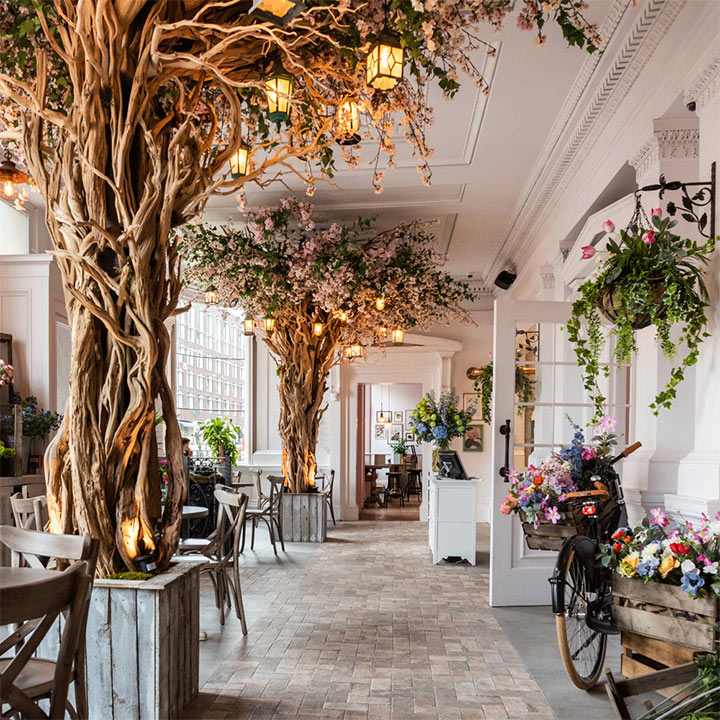 Photo via Chantelle Lighting
2. Make plants your best ally
Keep in mind that you can use plants in restaurants or cafes to influence customers' behavior or anticipate their needs. If you want them to linger, for instance, use plants to surround and create intimate areas which your customers may feel too comfortable to leave. If you think they crave a green oasis in the middle of a hot and impersonal city, offer it to them and they will likely respond.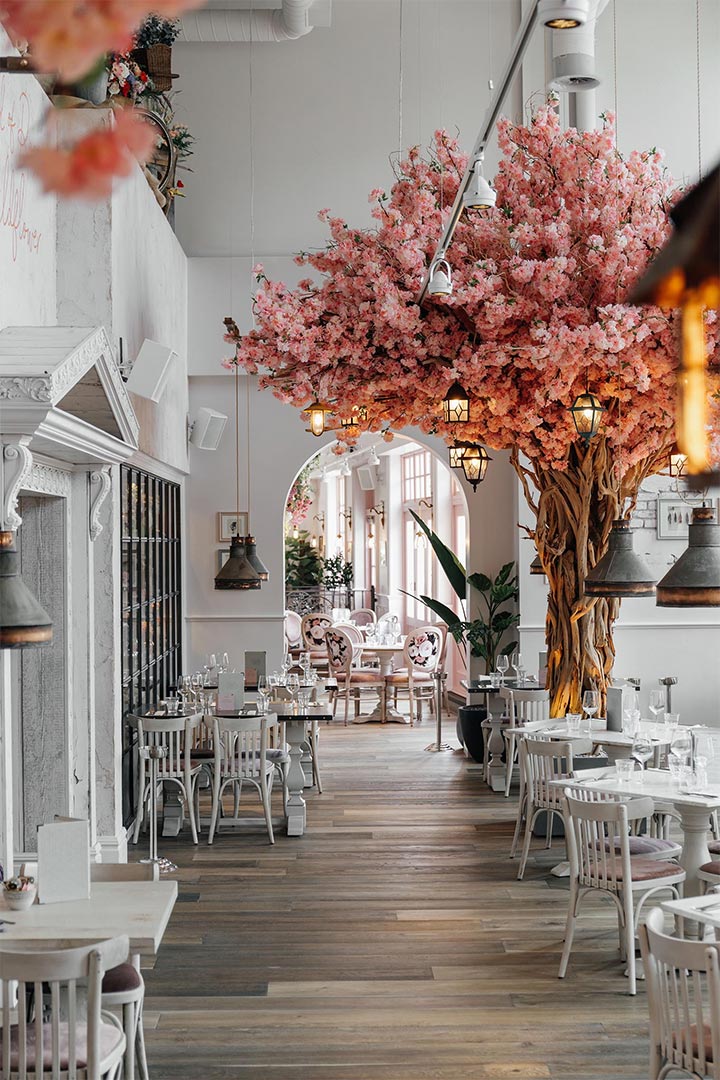 The Florist, Watford, England. Photo via venuereport.com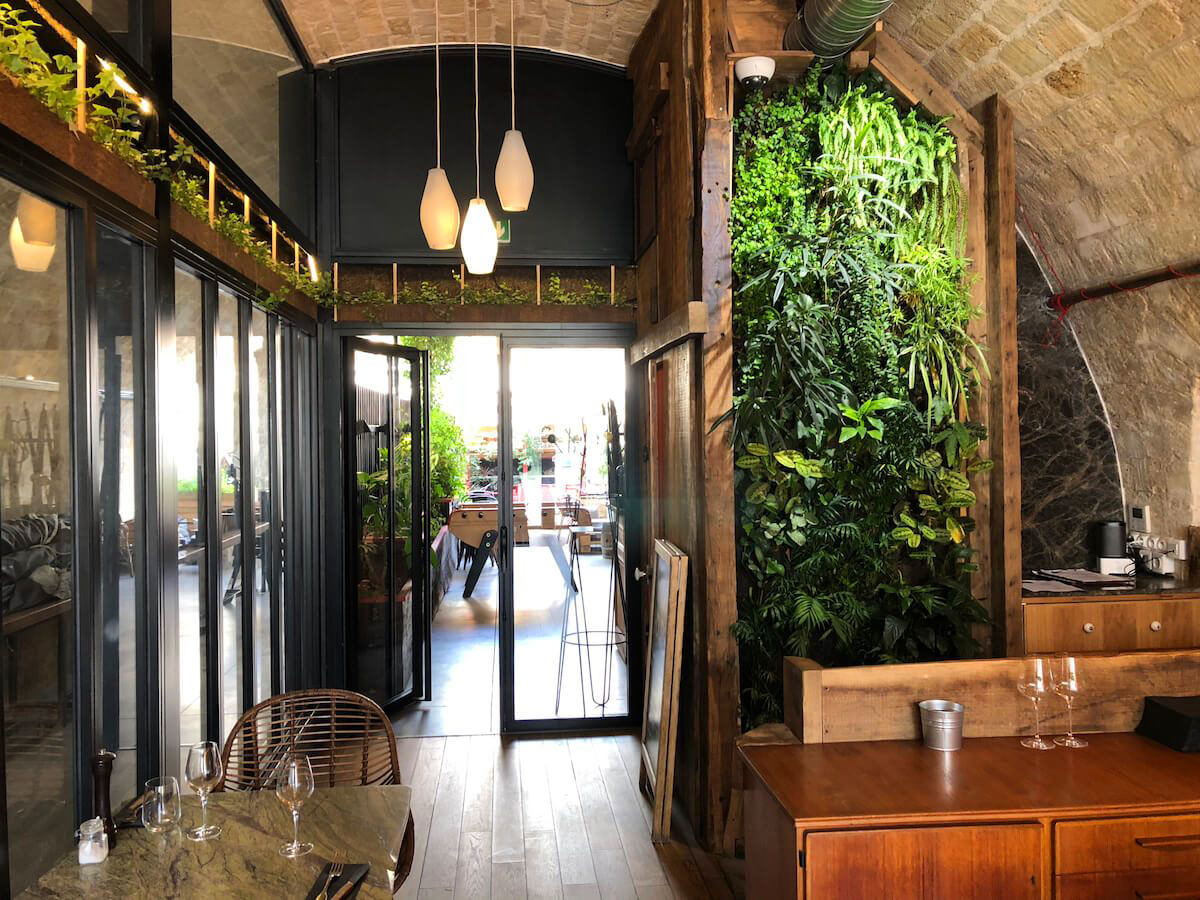 Photo via https://neogarden-mursvegetaux.com/realisations/
3. Use plants as structural or functional elements
While plants are primarily used for their beauty, don't underestimate their potential as structural elements. A row of plants can divide two seating areas or create a private nook where customers want to linger. Another one can shelter an outside area from the street and the street traffic. Well-placed plants can lead the eye towards a particular spot in your cafe, or create a path to direct traffic with much more grace than a row of ropes or metal grids.
If you want to use plants this way, placement is essential and should be part of the initial design.
Expandable Faux Privacy Fence from CoveAce
4. Be mindful of your plants' needs
While it's important to weigh your needs when choosing your plants, it is vital to consider theirs if you plan on having them around for a while and maintaining them in good shape. No matter how beautiful plants are when you first bring them in, they are living (and sometimes moody) creatures that need optimal conditions for optimal results.
Soil, water and light is the trifecta of plant survival and flourishing. While you can easily control the first two, light is trickier. Do not underestimate your plants' need for light, and make sure you place them in a spot that doesn't leave them crave for more. If your space does not have adequate lighting, weekly fresh flower bouquets are better.
When using plants in an outdoor area, know the needs of sun-loving and shade-loving plants, and incorporate evergreens to keep your winter decor appealing. A seasonal refresh of your plant pots is an excellent way to keep things new and exciting and may even become a mini-event that your customers eagerly anticipate.
Don't forget about maintenance. It is best to choose drought-resistant plants that require less effort from your part. If a regular watering schedule is hard to implement, install a drip irrigation system. You can also consider weekly or monthly care services and free yourself from the job.
Sometimes, when real plants are not an option, fake plants are the answer. Do not fear them – artificial plants today are very close to the real thing and hard to identify. They are a one-time investment and have the added benefit of zero maintenance. They can also be mixed with real flowers to trick the eye into believing they are real.
Meteor Lights from Frontgate
5. Add lighting for visual effect
Plants and lights are a match made in heaven. If you want to take full advantage of the beauty of your plants, emphasize their colors or unique shapes with directional light. In a space warmed up by soft dimmed lights or in a drak corner, such a combination can be stunning. Green walls, potted plants or flower arrangements can all benefit from strategically placed lights.
Another option is to mix plants with lights, whether they are simple string lights or fixtures such as the Meteor Lights from Frontgate. Lighting effects can serve you well when what you need is a dynamic space that customers like to spend time observing.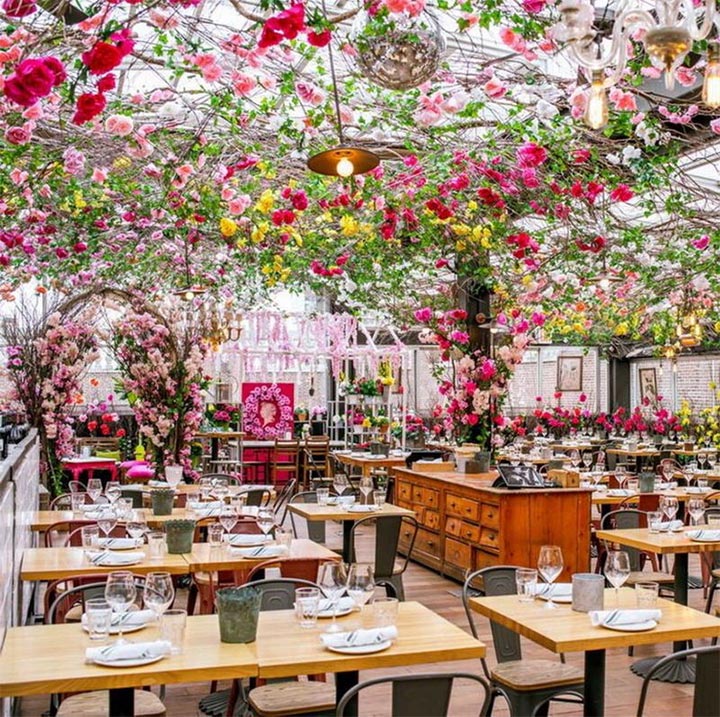 SERRA Fiorita, NYC. Photo via Pinterest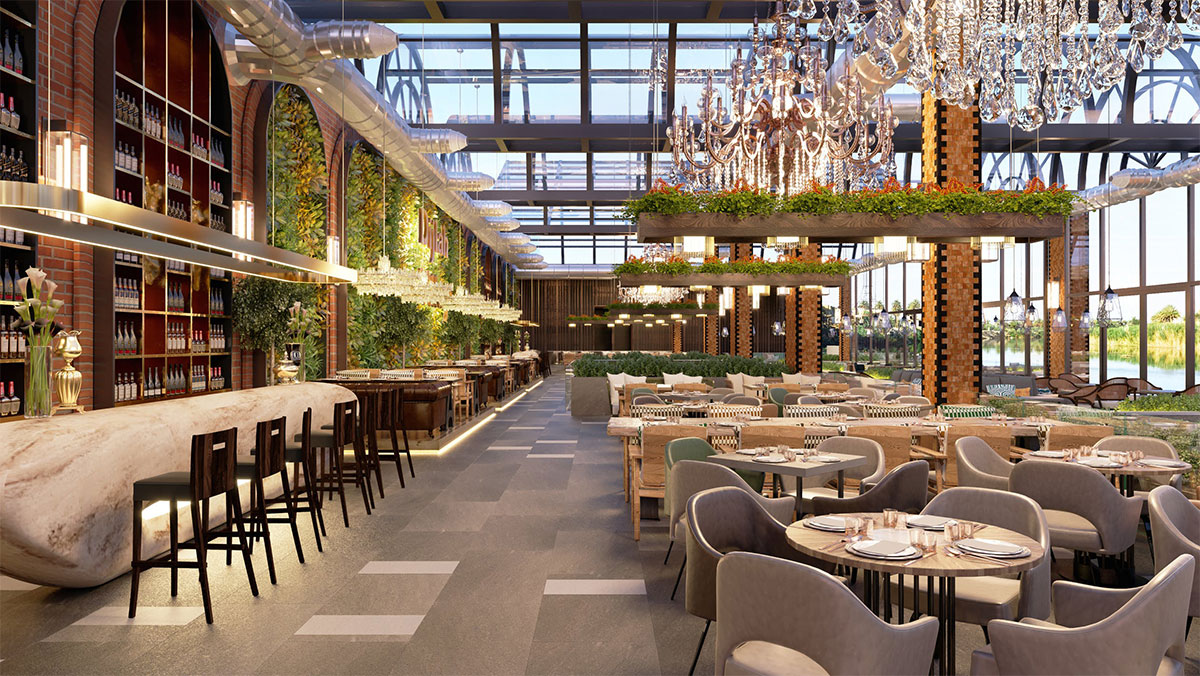 6. Think outside the box
Plants should not be just an afterthought in your general design. In fact, they can become the principal actor and the focal point of your interior. A ceiling heavy with climbing plants can create a romantic or out-of-this world look. A tree or a shrub brought inside may break visual expectations and make for breathtaking decor. Green walls can add depth and dimension without having you sacrifice valuable space. So get adventurous, rethink the idea of plants as just simple add-ons, and wow your customers with something that is uniquely you.
Photo via Pinterest
7. Use plants as accent pieces
Of course, in the end, the reason to use plants in restaurant or cafe interiors is because they are beautiful and respond to a human need for nature. So allow yourself to use and style them the way you do it in your own home and landscaping. Create pots with plants of different heights, and include some tabletop pieces – whether small potted plants or fresh or dry flower bouquets. Fill an awkward spot with a large container or use tall or climbing plants to hide ugly walls or a feature that you'd rather have out of sight.
In short, make plants part of your design and treat them with the same attention that you pay to all the other details of your interior.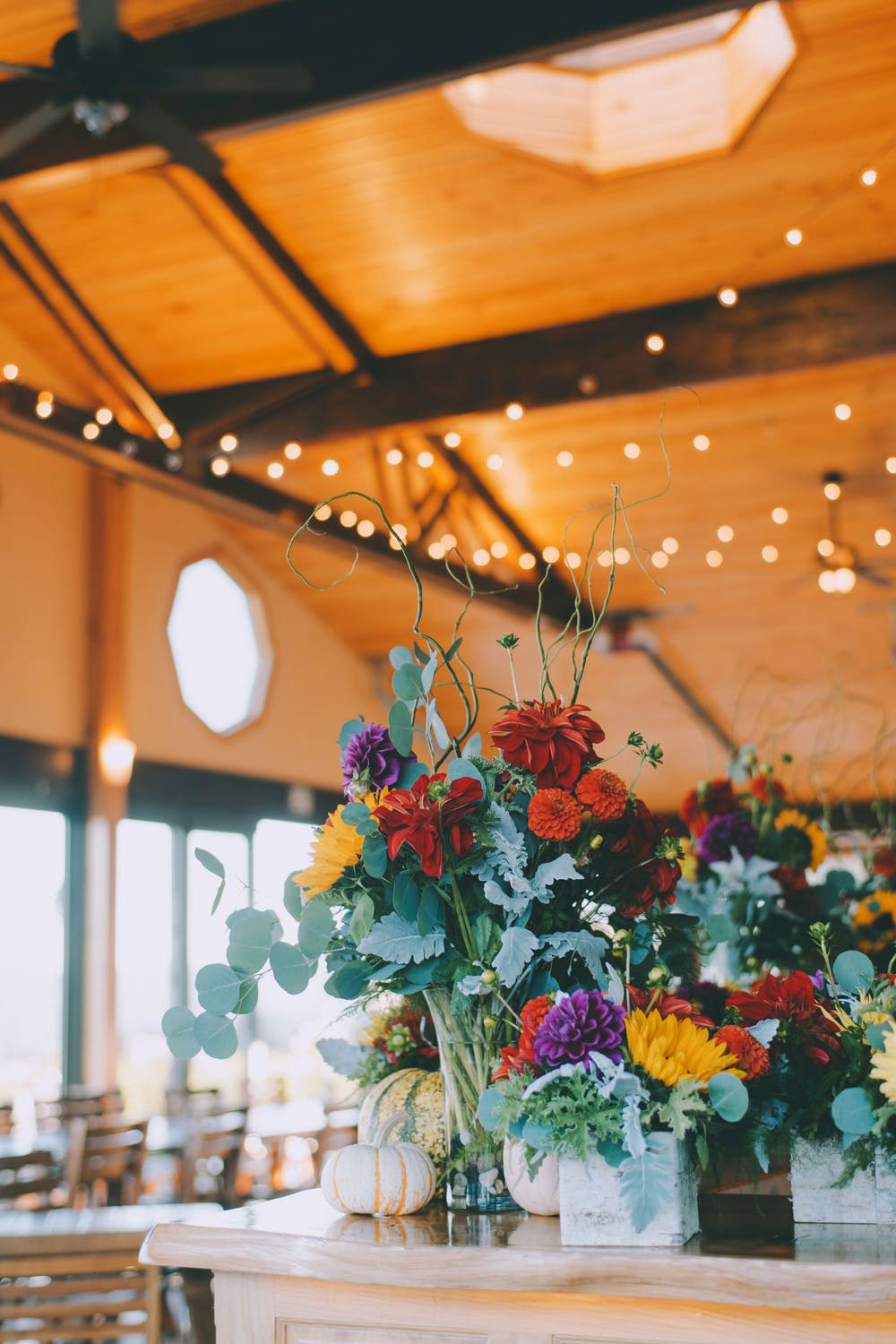 If you are thinking to open a new business or are in the process of rebranding and remodeling your existing business, contact us to get a free consultation from Mindful Design Consulting. Click HERE to price your project design.
Also, take a look at "Branding By Interior" e-book, the only book written on this subject at this time. It brings insight on how you can turn your business into a market-dominating competitor by using human cognitive responses.
https://mindfuldesignconsulting.com/wp-content/uploads/2021/06/Plants-in-restaurant.jpg
794
1200
M T
https://mindfuldesignconsulting.com/wp-content/uploads/2015/07/mindful-design-consulting-logo.png
M T
2021-06-16 23:15:26
2021-07-27 09:05:53
7 Tips on How to Use Plants in Restaurant or Cafe Design