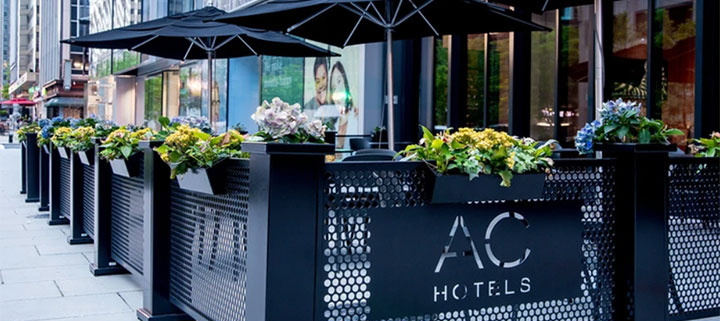 Restaurants, cafes and desert shops with an outdoor area, especially the ones located on a busy street, have the additional challenge of separating their space from the public one. Enter the movable outdoor partitions that solve the problem and bring in a few additional and significant benefits. Whether aluminum panels, wooden planters or other ingenious options, they provide privacy, shielding diners from the bustling outdoor settings and giving them a sense of exclusivity.
Picture above: Branded oudoor partition panels and stands from Select Space Partitions
But that's not all. Outdoor partitions can serve as effective windbreakers and even sunshades, protecting guests from undesirable weather conditions. They allow restaurants to extend their space into the street and accommodate more customers. They offer patrons the alternative to enjoy the outdoors, do some people watching, soak up the sun and drink in a gorgeous day. Above all, they create a sense of privacy and guard diners from the unpleasant perspective of eating their meal watched or disturbed by passers-by, all this without compromising the sense of belonging to the vibrant city life.
Planter stands and partitions from Crowd Control Direct
Movable outdoor partitions don't require any professional help in assembling and installing around an outdoor area. Generally, they consist of stands (that can turn into planters) and panels made of materials such as aluminum, glass or wood that can serve as a canvas for design creativity. Business owners should take full advantage of partition panels and use them as the perfectly positioned background for their brand.
Branded outdoor partition from Crowd Control Direct
Partitions are a wonderful medium for other artistic designs or greenery installations that captivate and delight patrons. From panel patterns, colors and materials to customizable stands of different heights, a restaurant's generous options can help turn its outdoor area into its main selling point.
Crowd control fencing from Select Space Partitions
Lighter options for movable outdoor partitions can be made of aluminum and plexiglass, They serve the same purpose, while taking less space and allowing for a private dining area to expand even into fairly narrow streets.
A modular construction makes building and defining the perimeter of the outdoor seating area easy and convenient. The simple setup and takedown makes it ideal for temporary use, and provides the flexibility to be easily adapted for permanent installation if preferred.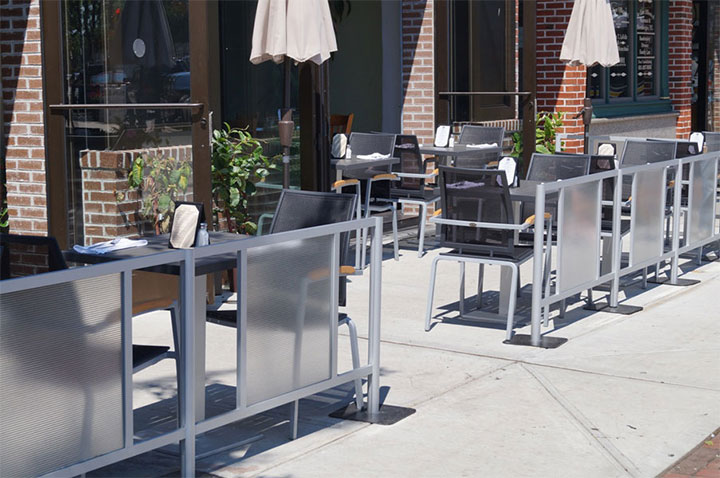 Outdoor cafe barriers from Fortuna Visual
For a more consistent option that lets the owner's creativity come into play, using exclusively planters as partitions combines the solid feel of three-dimmensional structures with the universal appeal and exuberant colors of plants. The dimmensions of the planters can be customized, which can result in some spectacular constructions.
However, it would be a mistake to use generic planters that can fall apart after a few years of facing the elements. Choosing instead restaurant planters specifically designed as outdoor privacy partitions ensures the longevity of the structure.
Outdoor restaurant planters from Deep Stream
When it comes to planters, the options are endless. Business owners can choose pieces that have screens walls, gates or wheels. They can opt for concrete, aluminum, fiberglass, hardwood or even food-grade planters. Wood and glass, for instance, is an elegant combination that, coupled with a simple display of greenery, elevates the look of a restaurant outdoor area.
Wood restaurant planters with modular glass screen wall from Deep Stream
Finally, flowers remain the important detail. From a show of monochrome green to an explosion of colors and textures, they are main actors of the entire set-up. Using planters that come with trellises can be an ingenious way to ensure excellent privacy while building a vertical wall of luxuriant vegetation. Finally, regardless of the type of outdoor partitions you choose, always keep you plants in good shape: The outdoor area is a good predictor of the level of cleanliness inside, so make sure that you send the right message.
Restaurant planters with trellises from Deep Stream
If you are thinking to open a new business or are in the process of rebranding and remodeling your existing business, contact us to get a free consultation from Mindful Design Consulting. Click HERE to price your project design.
Also, take a look at the "Branding By Interior" e-book, the only book written on this subject at this time. It brings insight into how you can turn your business into a market-dominating competitor by using human cognitive responses.
https://mindfuldesignconsulting.com/wp-content/uploads/2023/07/Branded-Outdoor-Partition-Elegant-Pattern-Restaurant-Design.jpg
337
720
M T
https://mindfuldesignconsulting.com/wp-content/uploads/2015/07/mindful-design-consulting-logo.png
M T
2023-07-19 22:26:50
2023-07-19 22:37:50
Using Movable Outdoor Partitions for Restaurant Privacy