If you are looking for one simple change that could give your restaurant or cafe a fresher look, but you don't have the budget for major upgrades, consider plants. Whether in residential or commercial interiors, plants bring in something that no other type of decor does: They respond to the instinctive human search for shelter, abundance and safety. In short, using plants as decor may be just the thing that make your clients enter your business and linger.
So how can you achieve just that? We have talked before about our 7 tips on how to use plants in restaurant or cafe design – if you want an in-depth look about how to incorporate them into your interior. But what if what you need is a quick update rather than rebuilding your interior around your green features?
Let's look at some examples. You can simply start with nothing more than a few containers that you could use to fill an empty corner, reshape your ceiling, or add some height to your interior decor. In this coffee shop, for instance, the Boho design, soft accent pillows and wooden accents are the perfect companion to plants and contribute to the comfortable, intimate and familiar vibe of the space.
Different plant pots are used in both expected and surprising ways – on the table, behind te counter, on a lower shelf of a display table, or hanging from the ceiling. While in the absence of plants, the cords of the simple light fixtures may have conveyed an unfinished look, the plants entirely change the perception and make them evoke the look of vines. The addition of the ladder-like wooden structures turns the uninspiring ceiling into one of the main visual feature of the space.
The surprising ways in which plants can be used as decor are in fact part of their appeal as versatile accent pieces. In this restaurant, a simple metal structure with shelves is the background against which container plants, light fixtures and small accent pieces paint an exotic image. This simple combination serves as a beautiful living divider that creates a feeling of privacy and intimacy without interrupting the flow of the space or blocking the light.
The same original placement of plants allows the eye to travel along the metal structure and discover a new detail every single time. The plants even grow into a green "ceiling" that shelters a cozy seating area.
To create the illusion of the luxuriant outdoors or of a tropical setting, you can take your plant pots outside and build your own green space visible from inside. A few additional containers brought in give the impression that nature has creeped into your cafe or restaurant.
When it comes to plants, never underestimate the potential of your ceilings. Regardless of their initial state, they can be transformed into veritable artistic displays, bring in a feeling of extraordinary freshness, and make any decorative shortcomings look intentional.
This restaurant, for instance, seems to have been built in the middle of a lush tropical forest. The earthy color palette and the light flooding through the large windows only emphasize this feeling.
If you want a spectacular display of plants, building a green wall is the way to go. Done on a large scale, the look is dramatic. Paired with large containers filled with plants and used as dividers, green walls create the feeling of a refreshing green oasis.
You can create this look on a modest budget by using vertical wall flower pots or building a wooden structure that could support this feature. A self-watering system ensures minimal maintenance and great plant health.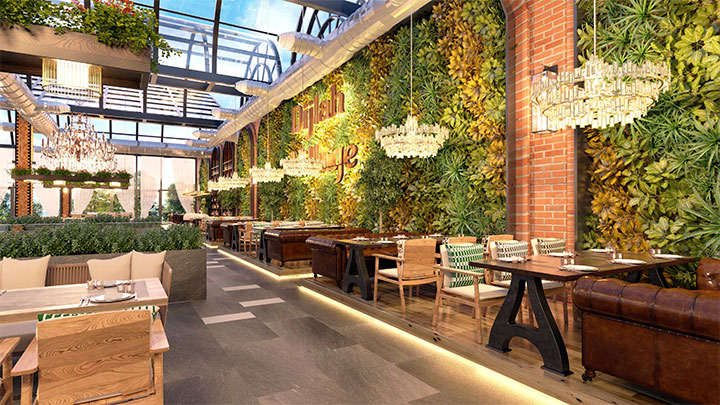 However, for a much simpler and quicker look, using a few floating wall shelves can instantly give you the supporting structure you need. Don't forget that the same look can be achieved in an outdoor area, where you should not always rely only on the surrounding nature. It is not always about bringing the outdoors in. By using potted plants to bring the indoors out, you give your customer the best of both worlds.
When using plants as decor, make sure, however, that they are in great shape and are apt to reenergize your customers with their fresh look. Thriving plants in containers create an informal homelike vibe and make customers feel that they can expect to be treated with the same care and attention.
If you are thinking to open a new business or are in the process of rebranding and remodeling your existing business, contact us to get a free consultation from Mindful Design Consulting. Click HERE to price your project design.
Also, take a look at the "Branding By Interior" e-book, the only book written on this subject at this time. It brings insight into how you can turn your business into a market-dominating competitor by using human cognitive responses.
https://mindfuldesignconsulting.com/wp-content/uploads/2022/04/Elegant-Restaurant-Interior-with-Ornamental-Green-Plants.jpg
405
720
M T
https://mindfuldesignconsulting.com/wp-content/uploads/2015/07/mindful-design-consulting-logo.png
M T
2022-04-13 22:33:50
2022-04-13 22:42:03
Using Plants as Decor in Restaurant Design