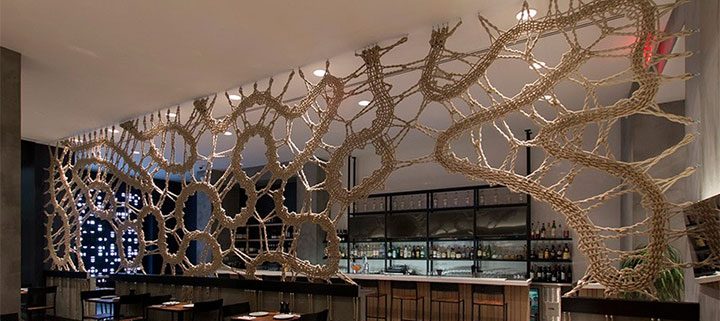 Far from being only a background for other elements of decor, sometimes walls become the story. Reinventing the concept by using unexpected materials, shapes or details, designers can create walls with character that are more than just functional architectural components.
Photo above: Mantzalin via contemporist.com
Here are, for instance, the walls designed by Presledek, a Ljubljana-based Slovenian architecture and design office. Intended to guide visitors through a large exposition, these floating walls are made with black thread stretched on a thin solid brass structure. Unlike those in a typical museum, where the next room is always a mystery, these walls do not cut off the visitors for the rest of the exposition. At the same time, this delicate structure ensures that the visitors approach all the important objects in the collection.
Photo: Ana Gregorič via archdaily.com
Thread is used on a smaller scale yet with ingenuity in the Float House of Vancouver. Designed by the Office of Mcfarlane Biggar architects + designers, the space includes a 17-foot-tall screen made of birch wood hexagons completed with colorful strings of hemp twine. The screen achieves multiple purposes. It serves as a divider, yet does not break the flow of the space. It adds just a touch of color to an otherwise simple and modern space without demanding all the attention. It gives the space an illusion of transparency. Finally, it brings in the surprise element that every interior needs.
Photo: Ema Peter Photography via contemporist.com
As a background for the Bonpoint 2016 summer clothing collection, this Havana-inspired decor in Paris, France, includes a wall of luxurious tropical leaves. Breaking up the white space of the wall, the vertical leaf display takes it from a two-dimensional to a three-dimensional element that infuses the interior with life, yet remains simple and fresh.
Photo via Pinterest
Serving as a divider between the bar and the dining area of the Stix (a Mediterranean restaurant in Chelsea, New York), a large "lace" screen calls to mind a seaman's rope and the round, appealing shape of grapes and olives. Designed by Mantzalin (who builds on the structure of bobbin lace to achieve architectural and decorative wonders), and perfectly pinpointing the character of the place, the screen achieves its functional role while giving the space a unique, unmistakable vibe.
Photo by Mantzalin via contemporist.com
When building walls with character, incorporating light in an unexpected way can take them to a new level. Created by Valérie Boy, an artist in Nantes, France, metal walls with flower cutouts become a three-dimensional work of art. Enhanced by light, they turn the space into a dreamland by night, and add dimension and graceful beauty to the interior during the day.
Photo via apartmenttherapy.com
Please take a look at our Before and After images of selected projects from 2016 HERE.
If you are thinking to open up a new business or in a process of rebranding and remodeling your existing business, contact us to get a free consultation from Mindful Design Consulting. Click HERE to price your project design.

Also, take a look at "Branding By Interior" e-book, the only book written on this subject at this time. It brings insight on how you can turn your business into a market-dominating competitor by using human cognitive responses.
https://mindfuldesignconsulting.com/wp-content/uploads/2017/08/Unique-Walls-Restaurant-Interior-Design.jpg
450
720
M T
https://mindfuldesignconsulting.com/wp-content/uploads/2015/07/mindful-design-consulting-logo.png
M T
2017-08-09 19:39:40
2022-06-27 20:27:14
What Makes Great Interior Design – Walls with Character