Photo above: Coffee Icon interior branding by Mindful Design Consulting team
We are often asked for more details regarding our work and how we can help business owners. Even though our Services page offers you a great summary of what we are all about, here are a few more answers to some of the most frequently asked questions.
What can Mindful Design Consulting do for a new business?
As a branding and an interior design agency, we work with small to medium businesses, most often directly with business owners, on creating new brands. If a business owner has an idea for a new store or a restaurant chain and needs help in transforming his or her vision into a tangible design package they come to us. Sometimes these design packages are only implemented in one location, other times they are used to create a franchise and applied in multiple locations.
So what exactly is a design package? It is a translation of your business message into visual elements such as graphics and the interior of your space. Such design packages can go from creating logos and royalty cards to the design of your store interior, getting building permits and sometimes help during the construction phase. We offer all these services in price-competitive packages that allow you to choose the one you need, according to where you are in the creative process. Here are our packages, from the simplest to the most comprehensive one.
Burger restaurant logo design options by Mindful Design Consulting team. As part of our Interior Concept Package you will receive over 10 options of your new logo.
Interior Concept Package
The perfect package for the business owner who is just looking for a logo, graphics or conceptual ideas like interior design or finishes. This package includes services such as space planning and code analysis, as well as design drawings and 3-D renderings of how your space will look in real life (including store front graphics).
Logo design for Zest Frozen Yogurt shop in US Virgin Islands by Mindful Design Consulting team. With your final logo design you will receive your Pantone colors and fonts information.
Hotel lobby and conference room Materials Board designed by Mindful Design Consulting team
MyExpress Car Wash branding card design by Mindful Design Consulting team
Design Permit Package
This package includes the Interior Concept Package, but comes with additional permit architectural drawings that you need in order to obtain your building and health permits. It also includes the MEP engineers' drawings which provide plumbing, electrical, and sometimes structural details, as well as other calculations necessary in the construction phase.
Happy Cow frozen yogurt shop kiosks designed by Mindful Design Consulting team
Beauty Bakerie cosmetics store in San Diego, CA, by Mindful Design Consulting team
Design, Permits and Construction Support Package
This package includes the two packages above, but offers additional help and services during the actual construction phase. We guide you through the process of value engineering or balancing your budget and the labor/material cost. We assist you in solving problems that arise from unforeseen onsite conditions, incorporate possible changes into a redesign of the space, and help with additional explanations related to the design plans, so that mistakes are avoided.
Beauty Bakerie store during construction, San Diego, CA, design by Mindful Design Consulting team
Olala Crepes kiosk in San Diego, CA, designed by Mindful Design Consulting team
If you are not ready to purchase a design package, you can purchase some of our services separately. Contact us and we'll work with you in the area that you need help.
You can find more information about our design packages here.
Loyalty card design for Beary Bliss yogurt shop in Big Bear, CA, designed by Mindful Design Consulting team
Can you do it for cheaper?
We understand that, as a business owner, part of your mission is to keep your expenses as low as possible, so we keep our prices very competitive. In the 10 years we have been serving our clients, we have tried to adjust to the market as much as possible without compromising quality. If you shop around, you may come upon cheaper services, but remember that these prices may negatively impact the quality of the final design. Our goal is to accommodate our clients and still be able to deliver a quality design product.
In addition, keep in mind that the design process cannot be artificially rushed. Design concepts emerge from multiple trials and a constant look for new ideas and inspiration. Because this takes time, effort and constant work in educating ourselves regarding your specific requirements and how they can be met, it is always wise to allow enough time for the design process. It is better to allow your designers to comfortably work on your project, so that you end up with perfect results, than to speed the process and invite mistakes, thus delaying or extending both permitting and construction time.
Finally, we only work on a few projects at a time because being on schedule is important to us.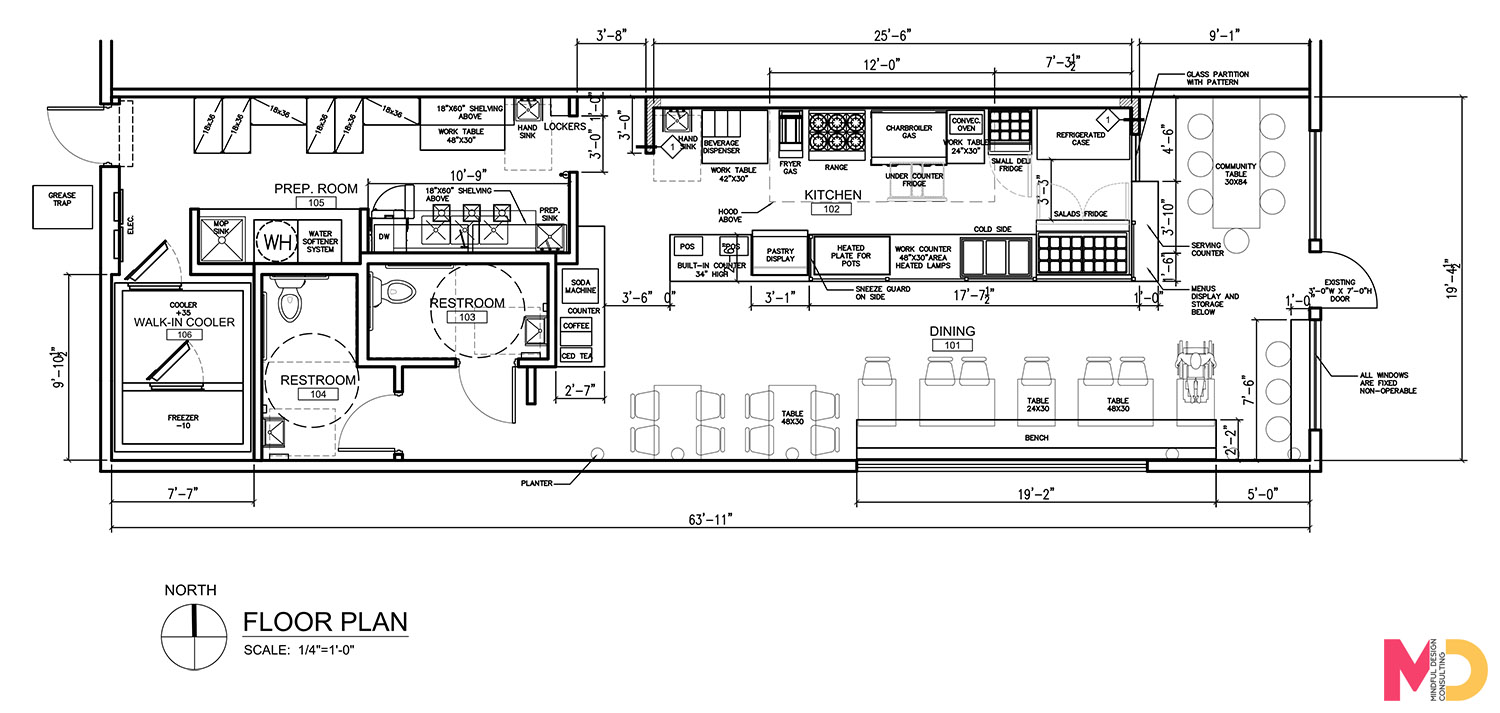 Urban Farm Restaurant design floor plan, El Cajon, CA, by Mindful Design Consulting team
Urban Farm Restaurant interior design, El Cajon, CA, by Mindful Design Consulting team
Artista Dolce Dessert Cafe Studio interior design and branding by Mindful Design Consulting team
Please take a look at our Before and After images of selected projects from 2017 HERE.
If you are thinking to open up a new business or in a process of rebranding and remodeling your existing business, contact us to get a free consultation from Mindful Design Consulting. Click HERE to price your project design.

Also, take a look at "Branding By Interior" e-book, the only book written on this subject at this time. It brings insight on how you can turn your business into a market-dominating competitor by using human cognitive responses.
https://mindfuldesignconsulting.com/wp-content/uploads/2018/01/Coffee-Icon-interior-branding-by-Mindful-Design-Consulting.jpg
908
1500
M T
https://mindfuldesignconsulting.com/wp-content/uploads/2015/07/mindful-design-consulting-logo.png
M T
2018-01-31 19:44:05
2020-04-16 16:41:19
What Mindful Design Consulting Can Do for Your Business – And a Word about Our Prices