Now that you have your location and you are looking into hiring a restaurant designer and getting your new restaurant building permits, how do you proceed? It's easy if one of your friends have had a great experience with an interior designer or interior architect, since a referral takes the guessing out of your search. But what if that is not the case?
Here are a few things to look for before hiring a restaurant designer.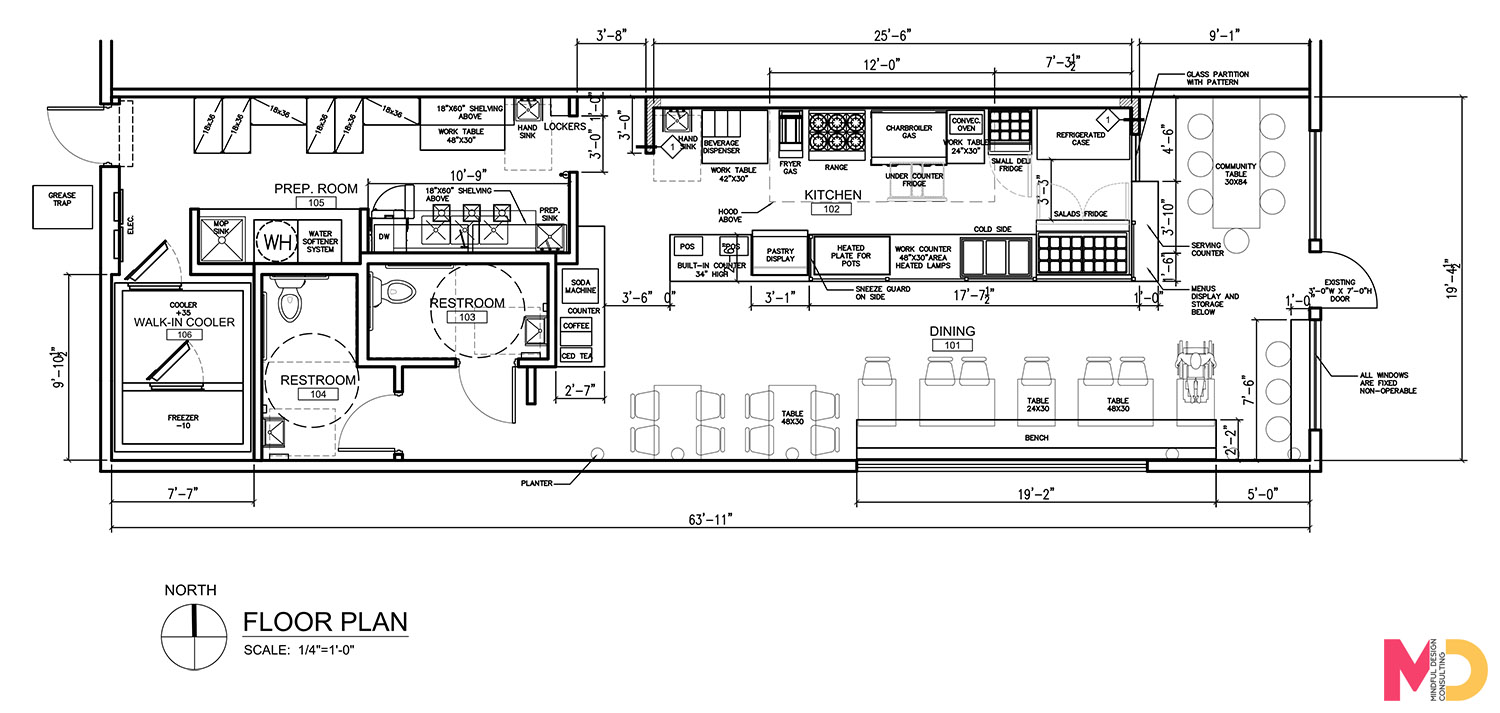 1. Going for the branding package
Your new restaurant's brand and image are as important as your menu and your vision. Ask yourself these questions: Will the designer you want to hire understand the importance of your new brand? Or will you have to hire a separate company to create your logo, do your graphics, pick your branding colors and coordinate all these together? Will your interior designer pick finishes and materials that relate to your brand and philosophy?
It is much easier if the company you decide to go with can create a branding package which may include logo, business card design, menu board design, wall graphics and the overall interior concept reflecting your restaurant philosophy and menu.
2. Getting permits
When opening a new restaurant, you are required to get a few permits. Two of your permit applications will have to include architectural drawings which will be provided by your designer.
When pricing your interior designer or interior architect, make sure you will receive, in addition to architectural design drawings, electrical, mechanical and plumbing engineers' drawings that you will use for your Health and Building permits. You cannot apply for your permits without these.
3. Perfecting the interior design
Sometimes it is very difficult to express verbally to your designer what exactly you are looking for in the interior of your new restaurant. It may also happen that what the designer has in mind doesn't match your goals.
Don't be shy: Ask your designer if they will work with you to correct the design until your are satisfied, or to at least have 3 free design revisions included in your package price.
4. Support during construction
When you are done with your design and have received your permits, the construction phase begins. This is when your contractor may uncover some unexpected conditions on the site that are unaccounted for in the design. These usually get uncovered during the demolition of existing walls or equipment.
When talking to your potential restaurant designer, make sure you receive ongoing support during the construction of your restaurant. Having your designer make corrections and send you updated details will save you lots of headaches and money – and will free you from having to put your all trust instead in your contractor's design skills.
5. Avoiding surprises
The last thing to ask yourself is whether you want to go through the process without huge surprises or not. If you are trying to save money on your project and are looking for a deal, you may end up hiring someone without much experience in restaurant design. This can lead to unforeseen problems later in the construction phase or even earlier during your permitting process.
Most of the time, saving money upfront doesn't mean you will be saving overall. One little mistake can end up costing thousands of dollars later on. Saving on a well designed ambiance for example can backfire even if you picked a great location.
Try looking for a restaurant designer with some experience in design and the permitting process. A good restaurant designer will let you know where you can save money in your design and what your priorities should be.
Article by Ekaterina Kohlwes
To ask us questions about your commercial interior design project or to get a free consultation from Mindful Design Consulting, click HERE.
Also, take a look at our "Branding By Interior" e-book, the only book written on this subject at this time. It brings insight on how you can turn your business into a market-dominating competitor by using human cognitive responses.
https://mindfuldesignconsulting.com/wp-content/uploads/2018/09/Industrial-Restaurant-Design-San-Diego.jpg
480
720
Administrator
https://mindfuldesignconsulting.com/wp-content/uploads/2015/07/mindful-design-consulting-logo.png
Administrator
2015-01-27 20:44:08
2021-07-20 13:31:10
What To Look For When Hiring a Restaurant Designer