Your image is your brand which also provides a glimpse of the quality of services you are offering. Tired of the same boring interiors all around you? Today let's take a small virtual tour around the world and see how some really whimsical business interiors created fantastic brands for their businesses!
If you missed our newsletter on Suggestive Selling in Retail Environment, check it out HERE.
Have Some London Gelato
By creating a sharp contrast between raw concrete and soft furniture pieces, a new exciting brand appeared. This London ice cream parlour called Polka Gelato, clearly breaks all the traditional rules of balancing out the use of different materials. The gelato cups, packaging and signage were all branded in similar monochromatic palette and geometrical patterns. The only bright colors you will find in this gelato store are inside the gelato display cabinet. See more images HERE.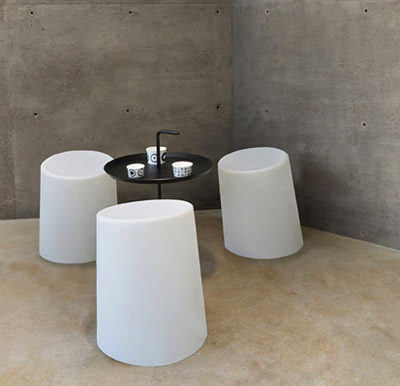 Bakery With Chocolate in Queens
This small bakery was designed with chocolate and freshly baked bread in mind. Omonia Bakery is in Astoria, Queens, a next-door addition to the corner cafe. The chocolate effect was achieved by using small brown tiles (1/4″ Bisazza) on freely flowing walls and the ceiling. An imitation of fresh dough hangs suspended from the ceiling which is actually red cedar wood spheres. The spheres are lit up by 6″ incandescent light bulbs. To see more images of this business interior look HERE.
Vitrine Jungle in Barcelona
"Replay", Barcelona boutique store, is a green jungle of bushy ferns and begonias surrounding displayed products. Whimsical looking mannequins and giant spiders occupy the vitrine, in front of the green wall. Landscape architects Vertical Garden Design created this interior garden and a second green wall facing a rear courtyard. See more images of this whimsical interior HERE.
Circus Fun in Tokyo
The Camper store in Tokyo was recently completely remodeled and rebranded. The inspiration for the design came from circus: red and white stripes. The overall interior color of the store is white. Even the images on the walls have a white background with the brightly colored products being the main focal point. See more HERE.
Experience Neogothic Style in Paris
This sophisticated jewelry store was opened in Paris by the Podium Fashion Group from Moscow. Interior designers recreated neogothic interior by using aged textured wallpaper, antique wood furniture and aged metals. I love the central piece – massive armoire with the bubble of glass over the top at the center of the room for display! See more images HERE.
Ready for architectural changes in your business? Contact us HERE!
Read more news and information on what we do:
7 Steps To Shape Up Your Business Space!
Commercial Interior and How it Affects Us
How To Get an Excellent Quality Interior Design
To lean more on how you can brand your business interior continue reading HERE or purchase our book "Branding By Interior."
https://mindfuldesignconsulting.com/wp-content/uploads/2015/07/mindful-design-consulting-logo.png
0
0
Administrator
https://mindfuldesignconsulting.com/wp-content/uploads/2015/07/mindful-design-consulting-logo.png
Administrator
2011-11-30 20:17:13
2012-03-30 02:09:58
Whimsical Business Interiors Create New Brands – Business Interior Design News