While every successful business takes hard work and dedication, being a successful franchise requires even more effort. Since your reputation as a franchisor depends on each and every one of your franchise locations, your success has a lot to do with how well you control your brand. In order to achieve this, "franchise brand consistency" should become your motto.
This is because the success of a franchise is more than just the sum of a few successful franchise stores. Even if one location does everything right, another one may ruin your reputation and bring your entire brand down to its knees. You can avoid this unfortunate outcome by taking the steps below.
Kung Fu Tea franchise in Temecula, California. Branding and interior design by Mindful Design Consulting.
1. Create a brand package for your franchisees
If you are expecting your franchisees to respect your brand, you have to make this an achievable goal by clearly defining your image. So ask yourself how you are different from your competitors and what exactly you want your brand to be known for (quality of products, speed, healthy ingredients, fun environment etc.) Define your target audience, how you want to be perceived, and what your message or story is. Clarify your objectives and fine tune your mission statement.
Then delve into the details of your operations, from how you reach and market to your potential customers to where you buy your products, and from how you interact with clients on location or online to how you deal with complaints.
Because stores deal with image and perception, it is extremely important to create a brand package with documentation that shows exactly how the franchise stores should look like. Having worked with franchise businesses in creating their brands and brand packages to be taken across multiple locations, we know well that, without such documentation, franchise brand consistency is almost impossible to achieve.
A well-rounded interior design package should include floor plans layouts and guidelines, interior and exterior graphics and signage variations, 3D renderings of the store interior, typical interior elevations in color, materials, finishes, colors, furniture and lighting selections with allowed variations to be used in the store, menu design etc. Nothing should be left to guessing or improvising.
You should also have a general stationery and branded graphics package ready to be provided to your franchisees. Details such as logo, color palette, fonts, business or loyalty cards and even email templates should be part of the package and ensure that your image remains consistent across your locations.
If you need help in getting your brand package ready, take a look at our services and how we include your brand vision in all aspects of design.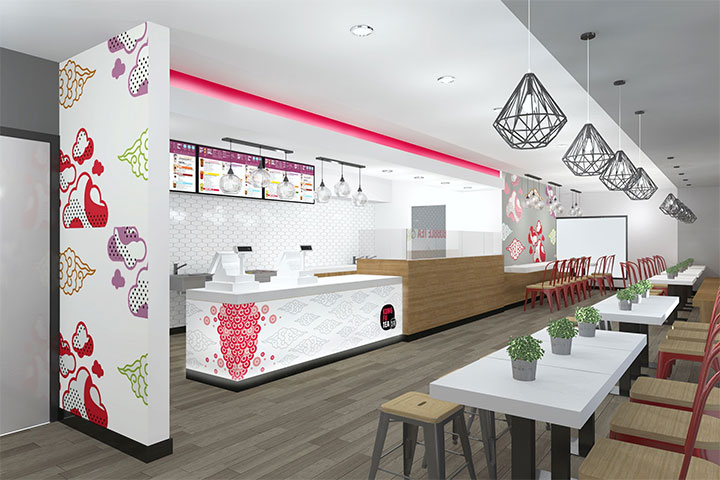 Kung Fu Tea franchise in National City, California. Branding and interior design by Mindful Design Consulting.
2. Train your franchisees
Once you have defined your brand in clear terms, you need to impart the importance of following the rules to your franchisees, and show them that their success depends on how much they align themselves to your successful brand. This can be done during a training stage before your franchisees start building and operating at their new location.
A training manual is an excellent tool in avoiding confusion, setting clear requirements and, not lastly, for future reference. The manual can include everything that pertains to your brand, from hiring procedures to advertising techniques. Include both the corporate team and all employees in your training, so that everybody grasps the character of your brand and what your requirements are.
Not lastly, while this is one of the most challenging aspects of being a franchiser, it is important to establish the limits beyond which a franchisee can infuse a particular store with a touch of local flair. Achieving franchise brand consistency should not impede on the effort to appeal to a local audience.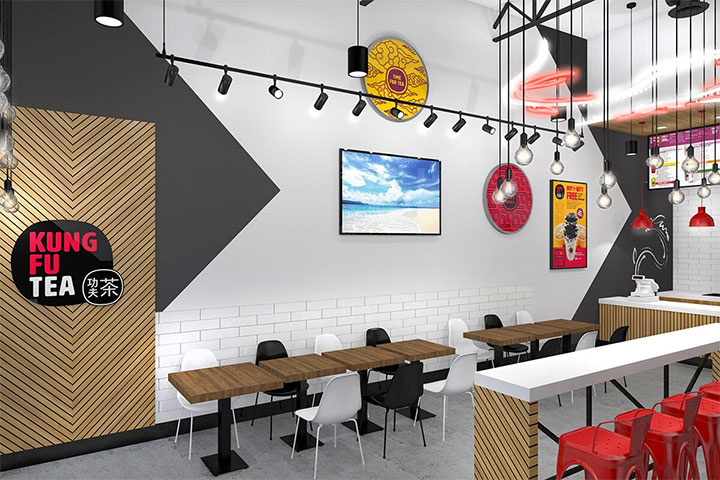 Kung Fu Tea franchise at Carmel Mountain Gateway Plaza Shopping Center, San Diego, California.
Branding and interior design by Mindful Design Consulting.
3. Make communication an ongoing thing
It's not enough to train your franchisees, send them into the world and hope for the best. Maintaining communication will ensure that all unknowns are demystified as they come, and all hurdles are overcome in a manner that serves your brand.
As a franchisor, you should provide both positive and negative feedback, according to how well your franchisees are keeping consistent with your brand. In order to do that, conduct periodic audits at each physical location, followed by discussing your conclusion with the franchisees. Do not forget to keep an eye on their online activity, whether their website or their social media presence and interactions with clients.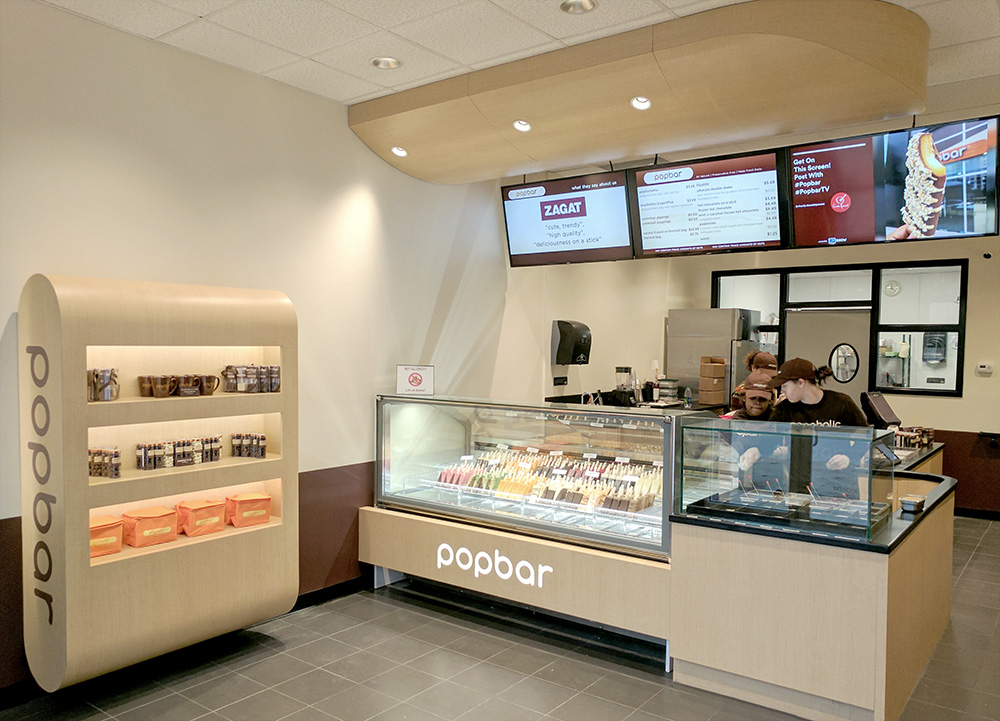 Popbar franchise store interior
4. Help with marketing
You have already worked hard to create your marketing materials and have already had a chance to test their effectiveness. Share these materials with your franchisees. This will ensure that your message will remain consistent, and it will ease the burden on the new business owners.
Popbar franchise store interior
5. Simplify operations
Franchise brand consistency is not only about a coordinated way of delivering a message or promoting your product or services. It is also about uniform operations, procedures and techniques, whether it is the way you procure and maintain inventory, do your accounting, or manage orders. The best way to achieve this is by automating all these procedures, so that the final result is a consistent experience on both the business and the customer side.
Inventory is one of the areas in which you can truly help and control your franchisees at the same time. Establishing the suppliers from whom the new franchises procure their inventory or, even better, becoming this common supplier yourself is a great way to ensure that the quality and character of your products are consistent across all your locations.
If you are thinking to open a new business or are in the process of rebranding and remodeling your existing business, contact us to get a free consultation from Mindful Design Consulting. Click HERE to price your project design.
Also, take a look at "Branding By Interior" e-book, the only book written on this subject at this time. It brings insight on how you can turn your business into a market-dominating competitor by using human cognitive responses.
https://mindfuldesignconsulting.com/wp-content/uploads/2021/06/Kung-Fu-Tea-Store-Design-Temecula-2.jpg
667
1000
M T
https://mindfuldesignconsulting.com/wp-content/uploads/2015/07/mindful-design-consulting-logo.png
M T
2021-08-11 23:10:13
2021-08-21 10:11:24
Why Franchise Brand Consistency Matters and How to Get There