Behind every beautiful picture of a completed design project, there is a lot that cannot be seen. It's not just the work that went into it, but also the background on which all these elements of designs are built. We are talking about what goes on behind the walls, floors and ceiling of each building, and about the art and science of MEP engineering.
MEP engineering is just a fun acronym for a serious concept: mechanical, electrical and plumbing engineering. While these three disciplines provide very different services, MEP engineering combines them into one and eliminates the coordination problems that come with hiring different specialists.
MEP engineering, however, offers more than just a communication solution. While mechanical, electrical and plumbing systems are different, the one common denominator in a successful project is optimizing all these elements for each specific building. This cannot be done by disparate entities without a common path to follow. MEP engineering ensures that the client's budget is respected, utility needs calculated, codes considered, the best design completed and documentation carefully drawn. In short, MEP engineering means less time and money spent on a project – and a better outcome.
The documents provided by engineers shows contractors what they need to do and are essential in obtaining building permits or soliciting construction bids.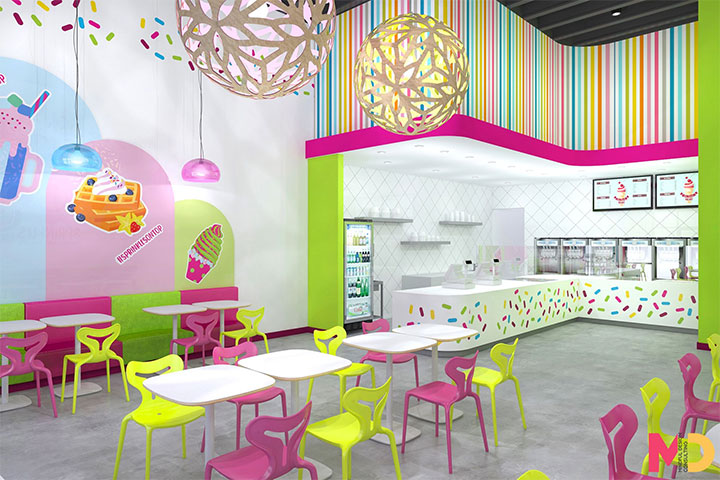 Sprinkles on Top frozen yogurt store in Elk Grove, CA, benefitted from MEP engineering by Myint Aung
About Our MEP Engineer Myint Aung
So who is providing all these invaluable services when we take on a commercial project? Our MEP engineer Myint Aung from Aung Engineers has worked with us on projects such as The 20 Boba Tea in La Jolla, Frosted LUV in Stockton, Sprinkles on Top in Elk Grove, and all the Kung Fu Tea franchises (San Diego, National City and Temecula) that we completed in the last years – all these in California.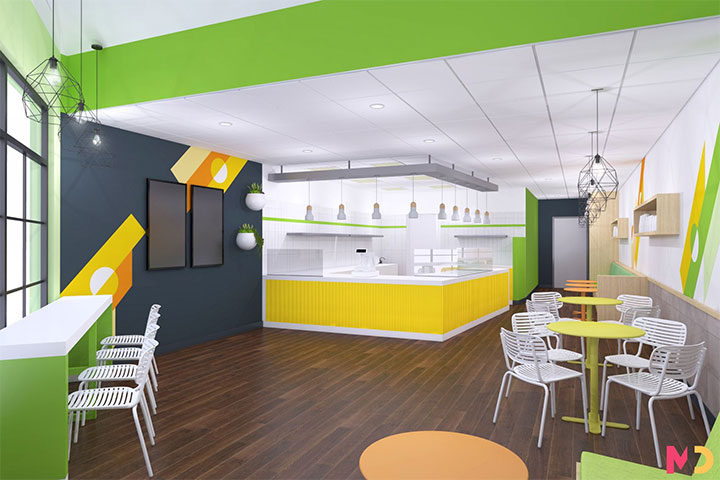 We collaborated with Myint Aung for The 20 Boba Tea shop project in La Jolla, CA.
Aung Engineers' expertise goes far beyond these. The company offers consulting for projects as diverse as restaurants, retail stores, offices, wineries, warehouses, entertainment and fitness centers, as well as residential spaces. Myint Aung's LEED AP BD+C credentials ensure that our interest in green design is reciprocated by the knowledge necessary to design energy-efficient systems. His experience in HVAC, electrical and plumbing system design is paired with his availability to assist our clients in all the phases of the project.
We worked with Myint Aung on the Frosted LUV yogurt shop in Stockton, CA
If you are thinking to open a new business or are in the process of rebranding and remodeling your existing business, contact us to get a free consultation from Mindful Design Consulting. Click HERE to price your project design.
Also, take a look at the "Branding By Interior" e-book, the only book written on this subject at this time. It brings insight into how you can turn your business into a market-dominating competitor by using human cognitive responses.
https://mindfuldesignconsulting.com/wp-content/uploads/2021/12/MEP-Engineering-for-Commercial-Interior-Design.jpg
325
720
M T
https://mindfuldesignconsulting.com/wp-content/uploads/2015/07/mindful-design-consulting-logo.png
M T
2021-12-20 20:54:44
2021-12-20 21:26:22
Why You Need MEP Engineering for Your Commercial Design Project