Via www.treehugger.com
Designer: Jean Louis Iratzoki
All photos courtesy © Jean Louis Iratzoki & Alki
In order to take the feeling of guilt out of sitting, French designer Jean Louis Iratzoki (http://www.iratzoki.com) introduces Kuskoa Bi, the world's first bioplastic chair. This unique piece was designed for Alki, a Basque Country furniture manufacturer with a vision. According to its creator, the chair's story started with the search for an eco-friendly material similar to plastic that could be molded into the curved shell of this all-enveloping chair.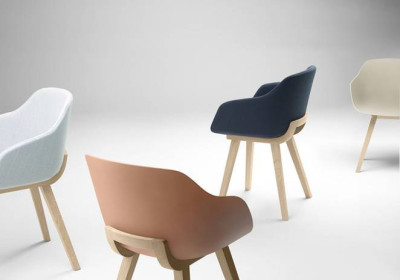 Made of natural materials such as corn, beets and sugarcane, bioplastic turned out to be the solution. The material retains the strength, flexibility and malleability of plastic while being entirely biodegradable and recyclable. This means that the chair does not end its useful life by adding another pollutant to the landfills.
In addition, bioplastic can be easily shaped through injection molding, extrusion or thermoforming. Its production is less polluting than that of plastic and more frugal in terms of resources.
With clean lines and a semi-concave shell designed for comfort, Iratzoki's chair fits well minimalist decors and small spaces. Reminiscent of the 1950's Eames chair, it retains the modern silhouette of this classic piece while improving on the choice of materials.
The bioplastic seat is pleasantly balanced by the oak frame, with the wood coming from forests that are systematically replenished.  The frame softens the look of the chair and gives it a natural vibe, in perfect harmony with the idea behind this piece. An upholstered version of the chair is also available.
Learn about emerging trends of 2015 in commercial interior design HERE.
If you are thinking to open up a new business or in a process of rebranding and remodeling your existing business, contact us to get a free consultation from Mindful Design Consulting. Click HERE to price your project design.

Also, take a look at "Branding By Interior" e-book, the only book written on this subject at this time. It brings insight on how you can turn your business into a market-dominating competitor by using human cognitive responses.
https://mindfuldesignconsulting.com/wp-content/uploads/2015/07/mindful-design-consulting-logo.png
0
0
M T
https://mindfuldesignconsulting.com/wp-content/uploads/2015/07/mindful-design-consulting-logo.png
M T
2015-04-29 17:35:49
2015-04-29 17:35:49
World's First Bioplastic Chair Is Entirely Recyclable – Commercial Interior Design News