Shop Interior Design San Diego by: Mindful Design Consulting
Contractor: Stone Co.
Another yogurt shop wears our signature, this time in Tierrasanta, San Diego, a community with a definite preference for small eateries with a personal touch. Heavenly is an independently owned frozen yogurt shop that opened in October, 2015, and offers fresh (including vegan) treats. Mindful Design Consulting has dreamed up its interior and created a place where contemporary elements are softened by the familiar vibe of well-placed rustic touches, making the shop's patrons feel comfortable and relaxed.
Having created the interiors of My Yogurt and Alpine Chill, Mindful Design Consulting is not a new name in the landscape of San Diego frozen yogurt stores. This time, Heavenly was designed to feel open and airy, so the chromatic palette gravitates around light colors – white and robin's egg blue, a combination with a slight country vibe. The color choice is also meant to evoke pastoral scenes of happily grazing cows under great blue skies, an appropriate image for a yogurt shop. A few touches of earthy colors are just what Heavenly needed to round up such a pleasant image.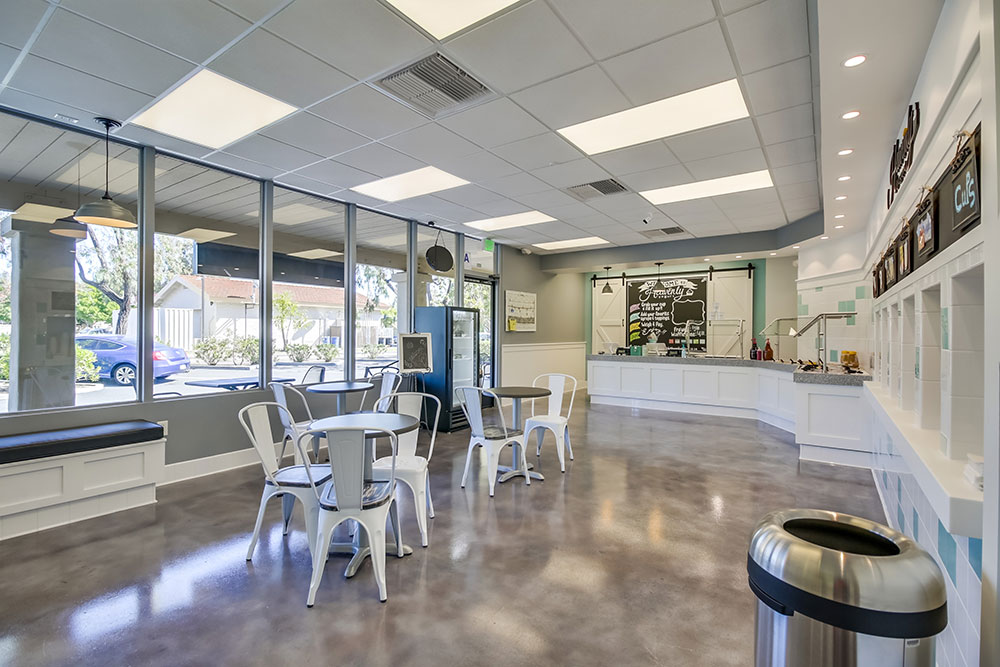 The interior is spacious, with large windows generously letting in the light and opening the shop to the view of the neighborhood. The feeling of openness is enhanced by the shiny concrete floors and the reflective surface of the wall tile that amplify the light. This is a place designed to make people feel light and happy, and the sunlight entering the place and bouncing off the walls and floors is sure to help.
White is predominant, giving the place a fresh, clean look, and creates the perfect background for a few personal touches. At one end of the shop, a console table evokes the homey feel of a farm house, while milk containers recall the image of fresh milk and green pastures. Barn doors bring another country element into the mix, and a few chalk paint touches provide some chromatic contrast and decorative details.
White contemporary chairs are placed around pedestal tables and keep with the same chromatic choices, while well-padded benches are lined against the windows as another seating option. The wainscoting look of the counter brings in the warmth of the wood against the wall tile.

While other yogurt shops tend to flaunt ultramodern interiors, Heavenly is looking for the homey feel that warms the heart and delights the soul. So stop by this already popular shop when you happen to be on the Tierrasanta Boulevard, just off I-15, and indulge your sweet tooth in the cozy atmosphere of the Heavenly Frozen Yogurt shop.
Please take a look at our Before and After images of selected projects from 2015 HERE.
If you are thinking to open up a new business or in a process of rebranding and remodeling your existing business, contact us to get a free consultation from Mindful Design Consulting. Click HERE to price your project design.

Also, take a look at "Branding By Interior" e-book, the only book written on this subject at this time. It brings insight on how you can turn your business into a market-dominating competitor by using human cognitive responses.
https://mindfuldesignconsulting.com/wp-content/uploads/2016/01/Heavenly-Frozen-Yogurt-Shop-Design.jpg
533
800
M T
https://mindfuldesignconsulting.com/wp-content/uploads/2015/07/mindful-design-consulting-logo.png
M T
2016-01-06 21:44:13
2018-12-07 22:47:03
Yogurt Shop Interior Design in San Diego Gets a Country Twist