Crompy is a tasteful little eatery boasting a pared-down, modern bistro interior design. Located in Prague, the restaurant features an achromatic background composed of contrasting black and beige colors. These bland hues set off the warm tones of the wooden furniture and the ornament on the floor tile. The unique tile pattern further accentuates the sharp contrast with the adjacent blackboard-style wall.
With the drum pendants lights and rows of seats, the restaurant interior still feels very open. This effect is achieved through the use of a neutral color palette and cozy light.
The light fixtures alone are quite dramatic. They hide the actual ceiling through a smart mix of directional light and dark shades, yet subtly define it.
The elegant floor tile spreads onto the sides of the counter and helps light bounce around. While this bistro interior design heavily relies on the contrast between the light wood and the dark wall and could easily become too stark, the tile unifies the look, introduces patterns into the mix, and ties in the colors of the space with minimal chromatic additions.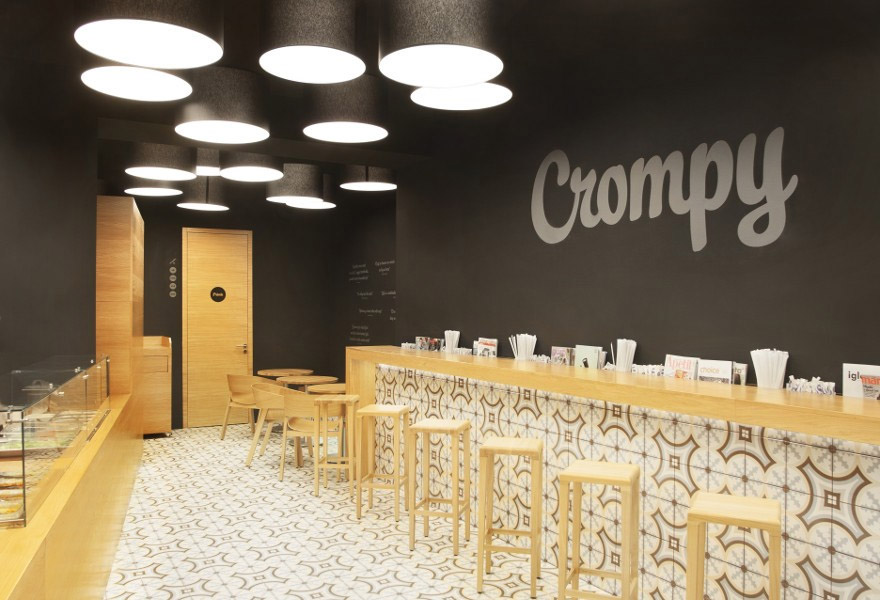 At the far end of the bistro, an eating nook boasts inspirational quotes against the dark background. This solves the problem of facing the wall when eating and allows for the maximum use of the space. Offering a few ideas to reflect upon, this cost-effective decorating strategy changes the vibe of the entire corner.
The exterior sign is done in black with hidden LED lights, which creates the impression that the word "Crompy" is hovering in the air. Overall, the bistro's natural oak furnishing and clean, natural lines impart a sense of understated elegance and simplicity.
Designed by VRTIŠKA • ŽÁK
All photos via restaurantandbardesign.com
Learn more about this restaurant HERE.
Learn about emerging trends of 2015 in commercial interior design HERE.
If you are thinking to open up a new business or in a process or rebranding and remodeling your existing business contact us to get a free consultation from Mindful Design Consulting. Click HERE to price your project design.

Also, take a look at the "Branding By Interior" e-book, the only book written on this subject at this time. It brings insight into how you can turn your business into a market-dominating competitor by using human cognitive responses.
https://mindfuldesignconsulting.com/wp-content/uploads/2015/03/Tiled-Counter-Sides-Elegant-Bistro-Interior.jpg
600
880
Administrator
https://mindfuldesignconsulting.com/wp-content/uploads/2015/07/mindful-design-consulting-logo.png
Administrator
2015-03-20 00:19:17
2022-05-20 05:42:19
Elegant Bistro Interior Design in Prague Redefines the Fast-Food Venue