Replay, Barcelona boutique store, is a green jungle of  bushy ferns and begonias around displayed products. Landscape architects Vertical Garden Design created this interior vertical garden and a second green wall facing a rear courtyard.
The interior of this store was redesigned by an Italian architects Studio 10.  Whimsical looking mannequins and giant spiders occupy the vitrine, in front of the green wall.
Plants on the exterior green wall infill the spaces between weathered metal tiles, which brings out the industrial urban look.
Partially shadowed by surrounding buildings, the southwest facing wall has the upper area well exposed to the hot mediterranean sun, and the lower part is mostly in shadow.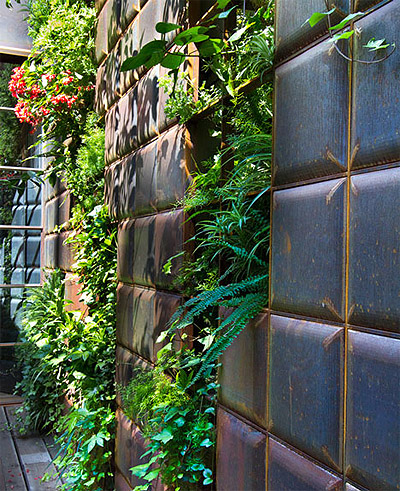 This difference in sun exposure makes it possible to have more typical mediterranean plants at the top part of the wall – such as Lavandula, Rosmarinus and Artemisia – and more shadow preferring plants like Chlorophytum and Fatsia in the lower part.
The main idea in designing this store was to create a contrast between rough weathered metal and bright green, tender plants. To learn more about this project click HERE.
See how different colors of your interior can change your emotions HERE.
To request your project's personalized design quote from Mindful Design Consulting click HERE.
https://mindfuldesignconsulting.com/wp-content/uploads/2015/07/mindful-design-consulting-logo.png
0
0
Administrator
https://mindfuldesignconsulting.com/wp-content/uploads/2015/07/mindful-design-consulting-logo.png
Administrator
2011-11-03 01:38:09
2014-01-15 23:39:54
Green Vertical Jungle in A Store Design – Commercial Interior Design News